MartinLogan Dynamo 1500X Conclusion
MartinLogan Dynamo 1500X Conclusion
This was my first hands on experience with a MartinLogan subwoofer and the Dynamo 1500X left me with a good impression of their product line. I especially liked the small size, reasonable weight and uncluttered, basic connection and controls provided with the 1500X. I also like the shape shifting option provided by the switchable feet which I think can be quite useful in some circumstances. I confess that I am not a fan of the actual feet themselves or the grille which both just seem a little out of place on a subwoofer in this price range. The other miss for me was simply the heavily applied internal equalization used, but once properly setup and blended with the mains in room the 1500X provided a strong performance with 2 channel music and concert DVD's, producing punch and clean note reproduction. The 1500X wasn't quite as strong with the heavy handed LFE of blockbuster action movies but still did a fine job in a large and difficult room. Despite not being able to pressurize the room with 20Hz effects like some much larger subwoofers the 1500X also never drew any attention to itself with bad noises or ever seemed to be in any trouble no matter what was sent to the input jack. The 1500X is absolutely rock solid in that sense. It does what it can without fuss and doesn't kill itself attempting to reproduce what it cannot. While not the most visually arresting face on the subwoofer block the 1500X is well finished and constructed with quality components and despite packing a 15" driver it is small enough to fit into and disappear into most spaces. Speaking of small…Small sealed subwoofers seem to be getting more and more popular since few people want to make room for a black cube the size of a refrigerator in their living room but as most people interested in audio now know, the smaller you make your subwoofer the less likely you are to get real deep bass out of it. The Dynamo 1500X seems to be positioned in somewhat of a sweet spot in the market. The 1500X is small enough to fit into even challenging spaces but is still large enough to produce useful deep bass in a bigger space. At $1595 it isn't what most would consider inexpensive but it is quite reasonable compared to many other offerings sold at brick and mortar establishments and offers the advantages of being able to: Personally go have an audition and look at the product without having to commit to buying it first and also an extended dealer and service network when compared to internet direct offerings. Also consider that the only sealed subwoofers that I have reviewed to this point that have outperformed the 1500X were multiple times the price and also much larger like the FW18.0 and Velodyne DD18+. If you are in the market for a compact subwoofer in this price range I would recommend giving the MartinLogan Dynamo 1500X some consideration.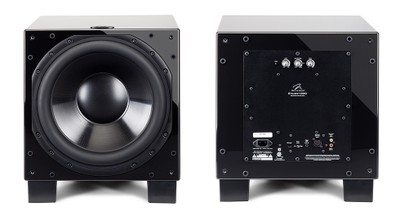 MartinLogan Dynamo 1500X Front Firing Configuration
The MartinLogan Dynamo 1500X is a very compact, sealed offering and yet it still manages to meet the required output thresholds to receive the Audioholics Bassaholic Large Room rating. It is one of the smallest subwoofers to be able to do so. The Large room rating indicates that this sub is recommended as maintaining adequate headroom in rooms or spaces of 3,000-5,000 cubic feet and/or for users who usually listen at moderate volume levels with occasional high volume playback. For further information in how we make these recommendations see the full article here.
See: Audioholics Subwoofer Room Size Rating Protocol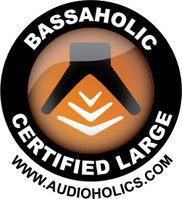 MartinLogan Dynamo 1500X Review
(785)749-0133
MSRP: $1,595
The Score Card
The scoring below is based on each piece of equipment doing the duty it is designed for. The numbers are weighed heavily with respect to the individual cost of each unit, thus giving a rating roughly equal to:
Performance × Price Factor/Value = Rating
Audioholics.com note: The ratings indicated below are based on subjective listening and objective testing of the product in question. The rating scale is based on performance/value ratio. If you notice better performing products in future reviews that have lower numbers in certain areas, be aware that the value factor is most likely the culprit. Other Audioholics reviewers may rate products solely based on performance, and each reviewer has his/her own system for ratings.
Audioholics Rating Scale
— Excellent
— Very Good
— Good
— Fair
— Poor
| Metric | Rating |
| --- | --- |
| Bass Extension | |
| Bass Accuracy | |
| Build Quality | |
| Fit and Finish | |
| Dynamic Range | |
| Performance | |
| Value | |
Confused about what AV Gear to buy or how to set it up? Join our Exclusive Audioholics E-Book Membership Program!
Recent Forum Posts:
everettT posts on February 10, 2018 15:57
AVphile, post: 1233076, member: 17100
So can you confirm 1500X is made in Canada? I thought only the Balanced Force and ESL subs were, and entire range of Dynamos were China, but this might actually make sense since it has PBK and the smaller Dynamos don't.
Why does it matter if they are made in Canada? SVS Canada and Funk Audio should be your choice for higher end.
theJman posts on February 10, 2018 15:22
You do realize this thread has been inactive for 2 1/2 years, right?
AVphile posts on February 10, 2018 14:14
copmagnet82, post: 1012413, member: 68154
2 months later, but…

when you factor in the fact that 1500X is made in Canada and not China
So can you confirm 1500X is made in Canada? I thought only the Balanced Force and ESL subs were, and entire range of Dynamos were China, but this might actually make sense since it has PBK and the smaller Dynamos don't.
DaMaster posts on August 15, 2015 14:39
Cant tell by the pictures which OEM manufactures their woofers. Looks like a Dayton or Morel cone but the frame is different .
copmagnet82 posts on January 23, 2014 04:33
shadyJ, post: 994028
I don't know what you are looking at but the SB12 does not approach the output of this sub, it looks like the ML maintains about an average 5 dB lead over the SB12 across the entire measured frequency range. You would need at least two SB12s to match a single 1500X. I don't think this sub is a bad deal when you consider its size, and remember the street price is likely to be lower than the MSRP.
2 months later, but…
I just wanted to second that. I'm in the market for a sub now, and I don't know why some people don't give this sub the credit it deserves. It seems like the general consensus is that if it is not a SVS sub, it is not an good sub. Don't get me wrong, SVS, Hsu, Rythmik and other internet companies have great products, in fact if I wasn't getting the deal I'm getting on 1500X, I'd most likely get a SVS sub, but even then a comparable SVS sub is SB13-Ultra, which is the price of 1500X (albeit in satin black finish vs piano black), so it's really not as overpriced as some people say it is. Also, when you factor in the fact that 1500X is made in Canada and not China like SVS and some of the others (which is probably the reason for a higher price of the 1500X), then I really don't think it's that bad of a deal …and of course I'm not implying that Canadian made subs are better than Chinese ones, but I'd rather pay a little more and support North American economy (…and I am not Canadian ).
my $0.02
Post Reply