Aperion Audio Bravus II 12D Subwoofer Introduction
Aperion Audio Bravus II 12D Subwoofer Introduction
Aperion Audio is an internet direct retailer and manufacturer of a full line of speaker systems including bookshelf, floor standing and architectural speakers, plus a line of powered subwoofers. The Bravus II line of subwoofers are compact passive radiator equipped models with down firing drivers and efficient class D amplifiers. The Bravus II 12D is the largest, most powerful subwoofer in the Aperion lineup and carries a price tag of $899 shipped. The box that the Bravus II 12D arrived in was moderate in size and weighed about 65lbs. The packaging is a thick single layer cardboard outer box with top and bottom foam inserts that slide down over top of the subwoofer. The top insert also holds the accessory pack containing the power cord, both rubber and spiked feet, owner manual, etc. The subwoofer itself is inside of a very nice royal blue color velvet bag which is in turn inside of a plastic bag. The packaging looks plenty adequate for a sub of this size and mass and appears to afford the protection needed for most "handling" encountered during shipping.
Unpacking of the 12D subwoofer was a short and relatively easy affair involving removing it from its protective bags and screwing in the rubber feet supplied (Spikes are also available). After doing so the first thing I noted was the diminutive form of the 12D, more similar in size to miniature sealed designs than most 12" bass reflex units. The second thing that hit me was the finish and visual presentation of this unit. It was very nice indeed. The gloss piano black finish was mirror polished and clear reflections could easily be seen in it. The corners additionally have a nice rounded edge and the grilles are inset into the sides of the cabinet. Topping off the presentation is a small Aperion logo on the front of the unit. Removing the grilles reveals the side firing opposed passive radiators each adorned with the Aperion logo on the cone. The overall look of the 12D is high quality and the subwoofer is quite small, resulting in one of the more aesthetically pleasing exteriors I have encountered regardless of price. Black gloss is the only finish option available, but it is a good one. Aperion backs the Bravus II 12D with 2 years warranty on the amplifier and associated electronics but a generous 10 years on the cabinet, passive radiators and active driver. Aperion lists the weight of the unit as 62lbs but I suspect that this is the shipping weight and the weight of the 12D unpacked feels closer to 50lbs, but I did not bother to verify this by weighing it.
Design Overview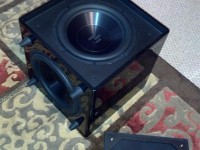 The Bravus II 12D is a very compact bass reflex design utilizing a 12" down firing active driver and a pair of side firing 12" passive radiators instead of the typical port vent in a small 15.5" cubed cabinet constructed of 1" HDF. The plate amplifier occupies the entire back panel of the enclosure which leaves only 2 faces without either a driver or controls on them. This is a packed little enclosure! I am a fan of using passive radiators over ports in compact bass reflex designs like Aperion has done here. Many consumers will want a small, light, good looking subwoofer, but also want maximum performance from the standpoint of both extension and output. These goals are at odds in many cases. One typical way to offer a lot of output for a modest cost is to have a larger vented subwoofer in order to make the most of modest components. However these systems are typically larger than many consumers will want in their room, let alone multiple units and they are typically more expensive to ship and not finished as well. In the other direction you typically have sealed alignments which can be very small but rely solely on the driver for output and are the least efficient design. In order to make a lot of output for headroom and extension in a small sealed design requires a robust, heavy duty driver design and a lot of amplifier power, both of which indicate high quality components that cost more money. Conversely you can choose to use components of lesser quality in a sealed design of course but the extension and headroom of said unit will suffer even further as a result. The use of a passive radiator set-up is a good way to split the difference between bass reflex and compact sealed and I am surprised that it is not utilized by more manufacturers. Passive radiators have many advantages over ports. They have no pipe resonances and they do not eat up the internal volume of the enclosure as much. The passive's can have mass added in order to achieve a lower tuning in a very small enclosure volume than would be physically possible with a vented system. The lower your tuning the longer your port needs to be for a given enclosure volume so there becomes a point where a tuning with a port simply becomes impractical. Passives also do not suffer from vent noises or port compression, which often sets in much earlier than thought on many vented systems, especially when vent area is compromised in order to get a low tune from a small cabinet. Passive radiators also do not provide an opening into the cabinet for critters to crawl in or "little ones" to drop random inexplicable items into. However, passive radiators do add extra cost and complexity to the design as the suspension characteristics and mass of the passives need to be carefully vetted in order to ensure that the design goals are met. A good rule of thumb when using passive radiators is to use passives with 2x the cone area and twice the volume of displacement of the active driver at minimum in order to minimize the chance of overdriving the passives at system tuning. Aperion has done just that and additionally has mounted the passive radiators on opposing sides of the enclosure. This will cause the mechanical forces of the passive radiator diaphragms to cancel each other out. This is a good design choice as passive radiators are typically very heavy and can cause shaking of the entire enclosure at high volumes if this is not done.
Once removed from the enclosure, the driver of the Bravus 12D appeared to be a fairly heavy duty and long throw unit as did the passive radiators. All appear to be of good quality and commensurate with the price range of the finished product. The frames, cones, cosmetics and soft parts of all three are identical. All use an aluminum cone with an inverted dustcap embossed with the Aperion logo and a suspension consisting of a small rubber half roll surround and a 5" diameter spider. The frame is a sturdy stamped steel unit with plenty of venting. The passives are open to the back and each have three small weights attached to tune their resonance. The active driver has a 2" diameter voice coil and a motor with a single magnet slug of about 5.5" diameter and 1" thickness. The t-yoke has a large bump out to clear large excursions.
 Aperion Bravus II 12D Driver
The amplifier is an efficient class D switching type rated at a generous 650 watts, which should provide plenty of power to excite and control the system. The input and output connections and controls available for the 12D on the amplifier are very basic consisting of only: RCA style left, right and LFE inputs, speaker level inputs and outputs for connecting to systems without a dedicated subwoofer output, a 0-180deg phase control, auto/on/off switch, main power switch and input gain adjustment. Aperion even makes mention of getting rid of frivolous and seldom needed features in order to keep the final cost down in their literature, a stance which makes a lot of sense when trying to offer maximum performance for the dollar. What controls are left on the unit are more than what is necessary to integrate the 12D into most any system. 
Back View of the Bravus II 12D (left image) ; Bravus II 12D amplifier (right image)
The enclosure of the 12D is constructed of 1" HDF and as previously mentioned is very nicely finished. There are some spots like under the grilles and drivers which are less than perfectly finished but considering the rarity that these points are looked at and the price bracket that this sub falls in this is completely acceptable in my view. Speaking of the grilles they are made out of a wood frame and fasten securely into place with fasteners that seem a little sturdier than most. After removing the driver to look at the internals it could be seen that the 12D did not use any lining or stuffing material inside of the enclosure and only 2 small braces none of which were panel to panel cross braces. Considering the tiny size of this enclosure, the 1" wall thickness and the fact that 4 of the available 6 enclosure faces are taken up almost entirely by either the amplifier or a driver, the lack of heavy internal bracing or dampening does not concern me. In a larger more open subwoofer it would but this is a tiny shoe box crammed full of active components. This lack of concern was borne out in both the outdoor testing and listening sessions where the cabinet never exhibited any signs of resonances, rattles or other distracting colorations. Looking at the sum total of the parts and build quality it certainly looks like Aperion has put considerable effort into this design.
Confused about what AV Gear to buy or how to set it up? Join our Exclusive Audioholics E-Book Membership Program!
See also:
Recent Forum Posts:
pbc posts on November 15, 2012 17:58
It's nice to finally see a real review of the Aperion subs. I've been wondering about how the 12D performed for ages as it looked like a potentially good "compact size" recommendation.

Looking at the build quality, driver complement (i.e., one 12" driver plus two 12" rads), and amp power, that's not a bad price for the performance provided and box size.
shadyJ posts on November 11, 2012 18:44
theJman, post: 921826
You mean the one were you said "If there is an issue shown in the waterfall it will usually show up in the group delay chart or vice versa"? If so, that's what actually prompted my original post.

The 'usually will show up' part is a bit of a concern, but the biggest issue I guess is the waterfall is easier for me to read/decipher. That, along with the distortion and compression tests, are usually the first ones I look at, because combined I think they give a good picture of the basic functionality of the sub.
Maybe Ricci will put those up at his data-bass website, if he adds the Aperion data there.
theJman posts on November 11, 2012 14:39
Ricci, post: 921733
See my comment about the waterfall and group delay above.
You mean the one were you said "
If there is an issue shown in the waterfall it will usually show up in the group delay chart or vice versa
"? If so, that's what actually prompted my original post.
The 'usually will show up' part is a bit of a concern, but the biggest issue I guess is the waterfall is easier for me to read/decipher. That, along with the distortion and compression tests, are usually the first ones I look at, because combined I think they give a good picture of the basic functionality of the sub.
Steve81 posts on November 11, 2012 11:45
3db, post: 921761
I don't know what all the excitement is about this sub. I think its performance for the money is not all that great…If given my choices, I would take the Outlaw over the Aperion.
Sure, if you can fit the Outlaw, it's a much better option. But keep in mind, the Aperion is a 15.5" cube. For what it is, it performs quite well.
3db posts on November 11, 2012 11:28
I don't know what all the excitement is about this sub. I think its performance for the money is not all that great. The PSB300 fro $100 more has a much flatter frequency response and digs a little deeper. Its finish is not nearly as nice I will admit.
Post Reply