EP500 and EP600 Performance Tests
EP500 and EP600 Performance Tests
While subjective commentary can give good insights as to how a product performs and how the listener/reviewer perceives its performance within the confines of their listening environment, the proof is in the pudding so to speak.  This is why it's always good to have some supplementary measurements and analysis to see if those measurements are audibly perceivable and correlate to what we are hearing.  Since frequency response can demonstrate the product bandwidth or tonality, this is a good start.  To go one step further, one must test this frequency response at various power levels to determine power bandwidth uniformity and freedom from excessive compression.  With that in mind, we ran some frequency vs SPL tests on the EP600 at various output levels to validate Axiom's claim quoted below:
"Our DSP system wants things to go smoothly all the time - no bumps in the road. Using a digital roadmap, the XLF controls every frequency from 17Hz to 100Hz, never deviating more than 1.5dB through this entire range."
The bottom purple trace- indicates 17Hz to 100Hz +/-1.5dB @ 85.5dB SPL
Note 16Hz at 85.5dB is the threshold of audibility for such a low frequency
System linearity remains excellent as power is increased though the lower frequencies handled by the port are increasingly attenuated. In an acoustic suspension system this type of curve would appear to signal power compression. Without an audible reference with this ported system, however, it is impossible to know how the system actually sounds, that is, if extraneous noises are coming into play, as the power levels are increased.  I personally didn't hear any problems with audible compression in my listening tests.  In fact the EP500 and EP600 appeared to have enough headroom to rumble the foundation of the Colquhoun house.
It appears that the driver-port transition area is at 30Hz with the transducer being equalized approximately +4dB at 33-34Hz. The ultimate low bass capability of the system has been extended downward below 30Hz by the use of a large enclosure with a well designed port. The system is thus able to achieve a free air roll-off of ~18dB/octave which should allow better-than-average room coupling of extremely low frequencies at the cost of ultimate system (broad bass-band) output.
Plotted below are the measurements for the EP500, again done in a 4pi environment 1 meter away.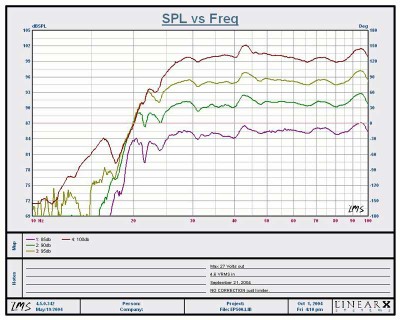 EP500 SPL vs Frequency Plots
The bottom purple trace- indicates 20Hz to 100Hz +/-1.5 dB @ 85dB SPL
As you can see the EP500 does have a few dB less output at the lower frequencies, and given the smaller box size and slightly less amplifier power, will not play quite as loudly as its bigger brother.  However make no mistake, these subs have a well extended low end with ample power.
Thus the Axiom Audio claim about maintaining +/- 1.5dB 17Hz to 100Hz for the EP600 and +/-1.5dB 20Hz to 100Hz for the EP500 through the entire range is in fact true providing that the SPL output is kept to under 92dB (anechoic) which equates to about 103dB or so in a real room.
Closing Comments
I walked away from Axiom with a new respect for the company.  Despite the fact they are solely involved in selling direct to consumers via the internet, make no mistake that they are just as serious, if not more so, than many high end loudspeaker companies with dealer based distribution.  What amazed me was how kind hearted, casual and well spirited the Axiom group was, yet when push comes to shove, extremely meticulous about their art of loudspeaker research, design and manufacturing.
Axiom has assembled a very talented engineering and support staff.  Most of the engineers currently working for Axiom have been on the research council for the NRC, Harman, and other highly respected research based companies.
Their remote support staff (equivalent to the dealer of a direct distribution loudspeaker company) includes industry veterans such as Alan Lofft whose experience and familiarity with the products he represents rivals that of most typical support dealerships.
Tom, Ian and Steve really have a couple of winners on their hands with the introduction of the EP500 ($1,150) and EP600 ($1,750) subwoofers.  DSP processing to linearize the driver response is certainly a valid method of designing a subwoofer whose goal is accurate bass reproduction.  However, the DSP processing only tells part of the story.  Axiom's potent 12" driver, coupled into a rigid cabinet with the always clever port designs of Ian, truly sell a product where the sum of the parts exceeds the overall package.  We will reserve final judgment on these super subs until we can review them in the most important environment, our listening rooms.  But until then, they are certainly worth a try, especially given Axiom's excellent customer support and 30 day return policies (not to mention free shipping.)
Impressions of Trip and Country
Our trip to Canada was both memorable and enjoyable.  It was reminiscent of my childhood days spent in the countryside of Long Island, NY, only with an even more intimate and primitive feel to it.  In the fast paced days of our lives where McDonalds and Walmart dominate every other street corner in our towns, and Reality TV's shows are considered to be "entertainment", it is nice to get back to the basics of life and realize the important fundamentals such as nature, friendship, peace and serenity.  After spending a few days in the Canadian countryside I began to realize why Ian and the folks at Axiom were always cheerie and laughing.  The way of life and the way they run their company is one of comradeship, family, and placing quality of life and well being above status meetings, rushed reports and deadlines to ensure company stock maintains the status quo.  Their way of life also manifests itself in the products and services they deliver to their customers.  The Axiom experience was unlike any other company I have worked for or visited.  These folks actually enjoyed being at work and doing their jobs.  In fact, one of their technicians seemed a bit flustered at all of the time we spent in their lab which prevented her from completing her work.  Talk about devotion!  This was foreign in my experience and I thought only happened in movies or with fortunate soles that operate their own home theater review publications for a living ;-)
Additional Pictures and Sights
Confused about what AV Gear to buy or how to set it up? Join our Exclusive Audioholics E-Book Membership Program!