Yamaha YSP-2700 MusicCast Sound Bar with Wireless Subwoofer Preview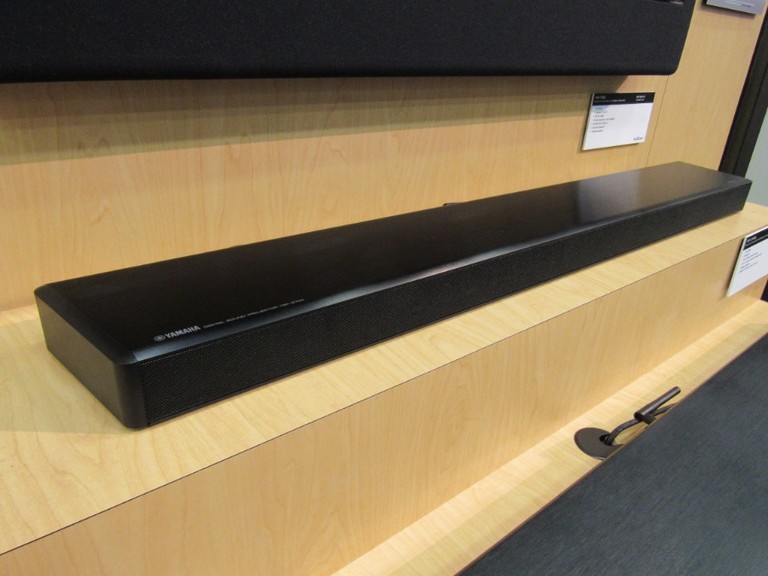 Summary
Output Channels: 7.1 channel
Output Power: 107 W total power: 2 W x 16 beam drivers + 75 W subwoofer
Beam Drivers: 1-1/8" x 16 beam drivers
Subwoofer: 5-1/2" cone woofer
Dimensions: (W x H x D) 37-1/8" x 2" x 6" (center unit without stand and antenna), 11-5/8" x 11-3/4" x 12-1/8" (subwoofer)
Weight: 8.7 lbs. (center unit), 20 lbs. (subwoofer)
Input / Output: HDMI 3 in / 1 out
Digital Optical: 1 in
Digital Coaxial: 1 in
Analog Audio: 1 in
Subwoofer Output: Yes
4K Pass-through: Yes (50 / 60 Hz YCbCr=4:4:4, HDR, HDCP 2.2)
3D Pass-through: Yes
ARC: Yes
CEC: Yes
Compressed Music Enhancer: Yes
Audio Formats: Dolby TrueHD, Dolby Digital Plus, Dolby Digital, Dolby Digital EX, Dolby Pro Logic II, Dolby Pro Logic IIx, DTS-HD Master Audio, DTS-HD High Resolution, DTS, DTS-Neo 6, DTS-ES, DTS 96/24, DTS-HD,
File Format: MP3, WMA, MPEG-4 AAC; up to 96 kHz: Apple® Lossless; up to 192 kHz: WAV, FLAC, AIFF
Wireless Music Streaming: Yes
Wi-Fi: Yes
AirPlay: Yes
Bluetooth Version/Profile (Version) Ver. 2.1 + EDR / A2DP, AVRCP; (Codec) SBC, AAC
Bluetooth Maximum Communication Range 33 ft. (without obstructions)
Ethernet: Yes
Wireless Subwoofer: Yes
Executive Overview
We got a chance to get a first hand look at Yamaha's newest soundbar at the 2016 CEDIA Expo in Dallas, Texas.  The YSP-2700 is equipped with a 16-speaker array and Yamaha exclusive Digital Sound Projector technology designed to deliver 7.1-channel surround sound. Unlike other sound bars, the goal of the YSP-2700 is to precisely control the timing of 16 digital amplifiers and 16 speakers, creating controlled "beams" of sound. The sound beams are then aimed — either directly or by reflection off your walls — to arrive at your ears from discrete, channel-appropriate directions. With the capability of utilizing Dolby TrueHD and DTS-HD Master Audio  the YSP-2700 should provide high-definition audio.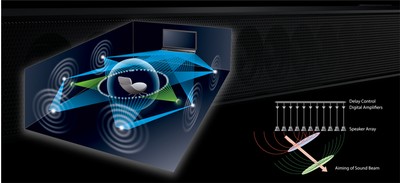 Like other Yamaha products, we liked the exclusive Yamaha IntelliBeam auto calibration system makes setting up your sound bar easy as pie. Using the supplied microphone to measure room acoustics, IntelliBeam automatically sets the best beam angles while optimizing the level and frequency response of each beam. This should make the initial setup extremely simple. The YSP-2700 features 10 different surround programs based on actual sound field data, measured in famous concert halls, jazz clubs, live performance venues and theaters.
Build Quality

The sound bar body is made from rigid aluminum while the aluminum top panel features a hairline finish to give it an elegant appearance. The small 5.5" wireless sub can easily be concealed in most rooms. At only 2" tall, the sound bar should fit in front of a TV without blocking the picture or remote receiver. It can also be placed on the shelf of TV furniture or mounted on a wall using an optional accessory bracket.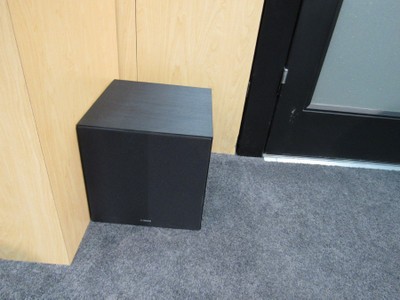 Streaming & Features
Like other Yamaha products, the YSP-2700 comes with the free MusicCast Controller app. The MusicCast Controller app can be used to operate the sound bar and change settings, select your source and control music playback. MusicCast allows you to access your digital music library, streaming music services and Internet radio, as well as Bluetooth sources and external sources attached to your MusicCast sound bar, such as a Blu-ray Disc player or CD player.
You can also listen to all the music sources from your smartphone via Bluetooth or AirPlay connection. Play music from music apps, radio apps, or video hosting services. The YSP-2700 is equipped with the latest Bluetooth wireless technology, to stream music from the YSP-2700 to headphones, for private listening, or to other speakers.
The Compressed Music Enhancer is designed to restore frequency response lost during digital compression.  The function can be switched on and off via the remote control, according to the input source.
The YSP-2700 has three HDMI input terminals and one HDMI output terminal, and supports 4K/60p video signal pass-through. It's also compatible with HDCP 2.2 digital copy protection. This gives it extensive expandability, so you'll be able to use it into the future.
At $1199.95, the YSP-2700 puts it in contention with many other soundbars in this category, but with a wireless sub included and all the advantages of being part of the Yamaha community, this might be one to take a second look at if you're in the market for a soundbar this Christmas.

Unless otherwise indicated, this is a preview article for the featured product. A formal review may or may not follow in the future.