Yamaha SRT-1000 Pedestal Sound Bar Review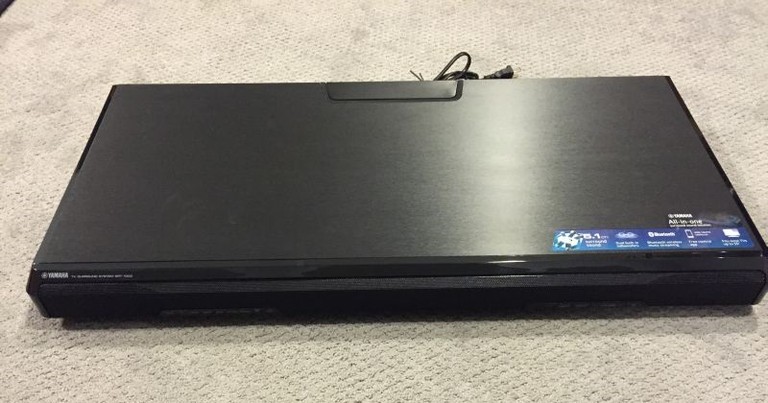 Meet Yamaha's SRT-1000 pedestal sound bar.
Summary
Output Channel: 5.1-channel
Output Power: 136 W total power: 2 W x 8 beam drivers + 60 W (30 W x 2) woofer + 60 W (30 W x 2) subwoofer
Power Consumption: 24 W / 0.2 W (Bluetooth standby off)
Beam Drivers: 1-1/8" × 8 beam drivers
Woofers: Dual 1-1/2" × 4" woofers
Subwoofer: Dual 3-1/4" subwoofers
Dimensions (W x H x D): 30-3/4" x 3" x 14-5/8"
I/O: Digital Optical: 2 in; Digital Coaxial: 1 in; Analog Audio: 1 in; Subwoofer Output: 1 out
Surround Technology: Digital Sound Projector
CINEMA DSP Entertainment: 4 (movie, music, sports, game)
Wireless Music Streaming: Yes (with Bluetooth)
Bluetooth Version/Profile: (Version) Ver. 2.1 + EDR (Profile) A2DP (Audio Codec) SBC, aptX®
Introduction
If there's one thing that all audiophiles and audio enthusiasts can agree on, it's that the built-in speakers on today's flat screen TVs universally suck. While flat screen TVs continue to get thinner, along with thin bezels to match, audio has been relegated to afterthought status. In a dedicated home theater with an attendant surround sound setup, that's not a big deal. But what if you want decent sound without a lot of audio equipment cluttering up the room? That's where sound bars like the Yamaha SRT-1000 come into the picture. Priced at $499.95, the SRT-1000 is what's known as a pedestal sound bar, i.e. it's made such that you can rest your TV on top of it, effectively giving it zero footprint.

As it turns out, I've got a spot in my house that would be a great fit for a sound bar, my son's playroom. It's a relatively small space (~10'x12') with an older 32" Samsung LCD, and no room for an A/V receiver or speakers. On the other hand, the SRT-1000 fits neatly beneath my TV, no fuss, no muss. The question is: can a sound bar live up to my expectations?
Design & Feature Set Overview
The core of the SRT-1000 is Yamaha's Digital Sound Projector technology. An array of eight - 1-⅛" beam drivers are lined up horizontally in the center of cabinet, allowing the SRT-1000 to steer sounds toward your walls; the resulting reflections fool your ear into thinking you're listening to a full surround sound system as opposed to a single speaker at the front of your room. For those curious how the array works, the sound is steered through the wave interactions from the beam driver array as opposed to physically moving the drivers. A visual representation of this would be to drop a few pebbles into a pond to see how the resulting waves intermingle. The beam drivers operate down to 500Hz, where a pair of 1-½" x 4" woofers take over. The woofers in turn hand off to a pair of built-in down-firing 3" ported "subwoofers" at 150Hz, with a claimed response down to 45Hz.
Illustration of Yamaha's Digital Sound Projector technology.

In terms of amplification, each beam driver gets 2W of power, with the woofers getting 30W apiece, and the subwoofer getting another 60W, for a total of 136W of system power (mum being the word on how power is rated). Everything is contained within a relatively solid, and reasonably attractive MDF cabinet measuring 30-¾" W x 3" H x 14-⅝" D.
Driver layout of the Yamaha SRT-1000.

Moving on to the feature set, the SRT-1000 is a simpler device than Yamaha's costlier sound bar solutions. An aptX-compatible Bluetooth connection is on board for streaming music from a smartphone or tablet, and the SRT-1000 is also built to work with Yamaha's excellent Home Theatre Controller app for iOS and Android. Yamaha has also included a remote learning function, meaning that you can control the volume and mute the sound bar using your TV remote. On the downside, no auto-calibration system is built into the SRT-1000. While this wasn't a big deal in my case since I've got an SPL meter as well as Omnimic to help me get things up and running, it feels like a big oversight given that the product is targeted towards Joe Six-Pack.
The Yamaha SRT-1000's remote.

Last but not least, we come to the remote. Needless to say, Yamaha didn't splurge on anything too fancy. There's no backlighting here, nor is the remote hewn from a billet of aluminum. However, the SRT-1000's remote does fit comfortably in the hand, and the layout is pretty straightforward, including: source selection; a few features and DSP modes; volume control for the unit and subwoofer; a learning button to enable the remote learning feature; a channel level button plus position buttons for setting up the unit.
Setting Up
Overall, getting things rolling with the SRT-1000 wasn't too difficult, but there's some room for improvement. The Yamaha's connectivity suite includes a pair of digital optical inputs, one digital coax input, a stereo analog input, and a subwoofer output to help supplement low end output. Note that connecting an external subwoofer doesn't disable the built-in sub as with some Yamaha sound bars. An optical digital cable is included with the sound bar which should be attached to your TV, which then acts as the hub for your system. Unfortunately in my case, that got complicated by the fact that my TV doesn't pass a surround sound signal through its optical digital output. The SRT-1000 does make detecting this easy enough, as the Dolby Digital / DTS LED won't light up, and the Dolby PLII LED will turn on instead. As a result, I used a digital coax cable to connect my Sony Blu-ray player directly to the SRT-1000, which solved the problem.
The SRT-1000's I/Os are neatly hidden behind an easily removable plastic panel.

Now as mentioned, the SRT-1000 doesn't come with an auto-calibration system to set things up for you. Instead, you'll first need to tell the system where it's located within the room via one of three positional buttons (left, center, right). After that, you'll hold down the "Ch Level" button to enable the SRT-1000's tone generator, which alternates among the various virtual channels (L/C/R/Sl/Sr/Su). Using your trusty SPL meter, adjust channel level up and down using the Subwoofer +/- button. When done, tap the "Ch Level" button again. Finally, users that downloaded Yamaha's Home Theater Controller app can also adjust for room size in the Custom Setup menu.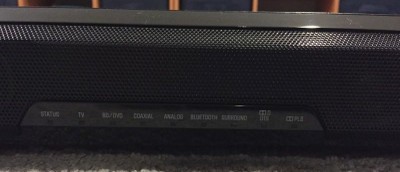 The SRT-1000's status indicators. If you're only connecting the Yamaha to your TV's audio outputs, check that the Dolby Digital / DTS LED lights up to ensure you're feeding it a surround signal with movies.

Listening
I've heard a lot about how effective Yamaha's Digital Sound Projector technology is at simulating surround, and this happened to be my first opportunity to try it out in the home. The first test I did was simply listening to the system's test tones to hear where the virtual channels were being placed. Now I'll admit that my son's playroom probably isn't a best case scenario for virtual surround speakers, with a lot of clutter lying around. In spite of that, the SRT-1000 did a respectable job of placing channels appropriately at my listening position. While the virtual channels weren't pin-point localizable, it was readily apparent that the sound field extended well beyond the sound bar itself.

Given that I had set up the SRT-1000 in my son's playroom, I thought it appropriate to start my real listening session with one of his favorites, the movie Planes. The first sign of trouble I noticed was on the fireworks that come on to let you know you're watching a Disney Blu-ray disc: while each explosion was accompanied by a deep rumble, the punch associated with upper bass was missing in action. This would be a continuing theme throughout the film, though potentially attributable to the room. So what about surround? As promised by my experience with the test tones earlier, I was able to get some surround action. However, this was a double edged sword at times, as off-screen voices for example sounded like they were coming out of a tin can. This effect may be attributable to the fact that Yamaha's Digital Sound Projector technology works from 500Hz on up.

Switching gears over to music, I started up with a track from the band Montrose's self-titled album, "Bad Motor Scooter". While not typical audiophile fare, the song does feature an electric guitar panning from stage left to stage right to imitate a motorcycle, making it a useful test of lateral imaging. Given the SRT-1000's ability to throw its voice with test tones, I had high expectations; nevertheless, in spite of switching among Stereo, Movie, and Music modes, the scooter steadfastly remained center stage.

To wrap up my listening session, I queued up one of my favorites, "Sloop John B" by the Beach Boys. As you might predict, the low end performance issues noted earlier played havoc with the baseline of the song. At times it boomed, and in others it was totally missing in action. I also found that higher frequencies, like the chimes produced from the glockenspiel, sounded unnatural. Last but not least, there seemed to be some hash/noise added relative to playback on my other systems.

Suffice it to say, I don't expect the SRT-1000 will appeal to critical listeners. At the same time, it's reasonable to conclude that Yamaha isn't targeting the finicky audiophile segment with a $500 sound bar. While the SRT-1000 didn't fool me into thinking I was listening to a high end 5.1 system, it did readily outperform the speakers built into my TV. Movies in particular were more enjoyable thanks to a larger sound field and the addition of some rumble.
Measurements
To support my subjective analysis, I took a series of measurements using Omnimic. Let's start off with base frequency response at the listening position:
I took three measurements here to show Stereo mode, as well as the effect of enabling the Movie and Music surround modes. Needless to say, none of these are terribly pretty pictures, some of which is due to the fact that these are in-room graphs. Looking at the low end, it's readily apparent why I had issues with the bass response of the SRT-1000. The built in subwoofer appears to have a very peaky response centered at roughly 50Hz, and the 1-½" x 4" woofers don't quite dig deep enough for good integration. Moving in closer to half a meter appears to corroborate that this isn't just an issue with my listening position:
In addition to the half meter measurement, I also took a close mic measurement of a 1-½" x 4" driver, confirming its effective passband is 200Hz – 500Hz; I also found the ~50Hz peak rising above the noise floor.
Conclusion
Honestly, it's hard to judge a product like the Yamaha SRT-1000. On one hand, it's not difficult to imagine getting better audio performance for similar cost from a pair of budget bookshelf speakers and an entry level A/V receiver. At the same time, I'm cognizant of the fact that such a setup for various reasons won't appeal to everyone. As a plug and play solution, the SRT-1000 has a lot going for it, including a better than average simulated surround solution and solid build quality. While I wouldn't qualify its bass response as accurate, the SRT-1000 added enough low end thump to make movie night more entertaining than TV speakers alone. Still, at the end of the day, this is a $500 sound bar, and the limits were evident. Overall sound quality didn't impress me, particularly for music listening. I will also reiterate that I feel Yamaha should aim to bring auto-calibration on future iterations of the SRT-1000 given the target market.

Given the options available at this price point, Yamaha's first pedestal sound bar is worth some consideration if virtual surround is your primary concern. However, audiophiles concerned with accurate playback will likely wish to look at Yamaha's conventional sound bars like the YAS-203. For those that aren't tied to the sound bar form factor, take a peek at our $1,000 two-channel stereo recommended system.
Unless otherwise indicated, this is a preview article for the featured product. A formal review may or may not follow in the future.