VSB210WS Setup and Build Quality
VSB210WS Setup and Build Quality
A good deal; Americans are crazy for them.  Waiting in line three days at an IKEA store for a free chair; bogo sales; no interest for 90 days; no payments till 2075; we can't get enough.  "Recession proof" stores are successful because the stores provide a good deal.  The Wal-Marts, Targets, Rooms to Go's, etc. prey on the American dream of getting the deal of a lifetime.  Good deal or not, if America believes they are getting a deal, the product will be successful. 

Enter Vizio, "Where Vision Meets Value," a company whose motto screams good deal.  America has made them a successful company because they are getting a deal.   In February of 2009, in the middle of the economical recession, Vizio posted record sales of TV.  Even when there is no money, or everyone is saving, Americans will still buy, no matter the circumstances, if they are given a good deal. 

Vizio's next product of value is the VSB210WS sound bar.  This sleek looking product claims it provides "high definition sound for home audio enthusiasts."    With a wireless subwoofer that "can be placed up to 60 feet away with clear line of sight," you too can be the envy of all of your friends.  With a true surround sound experience with SRS Labs technology, the sound bar claims to offer a rich, clear audio experience.   Can Vizio provide a system with so much to offer, yet keep the price down so the product becomes a good deal?

Setup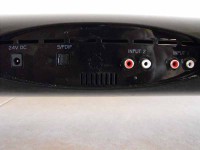 With the switch from analog to digital television, and how difficult this has been for our older population to understand, companies are realizing the simpler the setup, the better.  Vizio gets that not everyone has a grasp on electronics and they have made the VSB210WS an extremely easy product to configure.  With only three inputs (2 RCA, 1 fiber optic), simply plugging in the cables and selecting the input is all that is required.  The wireless subwoofer automatically syncs with the sound bar. Adjusting the volume or input can be selected from either the sound bar or remote control.  Volume and input is indicated through an LED light bar on the bottom right of the sound bar.

Build Quality
Overall, this product was built very well.  The finish and the apparent durability of the high quality plastic and fasteners meant that the sound system did not rattle or shake at high volumes.  The VSB210WS Sound Bar has a very nice black and metal look and would be a great modern addition to any home desiring a minimal, contemporary home theater accessory. 

Sound Bar
The center of this sound system is the high definition sound bar.  About 3.5 feet wide and covered by a black fabric mesh; the bar contains four 3" high-efficiency hand built mid/bass transducers, as well as, two 3/4" high performance aluminum dome neodymium tweeters.  With a frequency response of 80Hz to 20kHz, the sound bar pumps out some very nice mids and highs. 

The SRS technology is also a very nice feature of this system.  When the SRS TruSurround and TruVolume are engaged, a very crisp, even sound is projected.  TruSurround offers a mock surround sound experience and the TruVolume offers a leveling of volume, which "eliminates undesirable loud commercials and channel to channel variances." This is similar, but perhaps not as sophisticated as the volume leveling alternatives from Dolby and Audyssey which are just hitting the market.

Included on the sound bar is an LED light which flashes different colors for the different inputs as well as for volume.  Vizio intent was for this LED light to be an easy indicator of what input was selected and to show volume levels.  The LED light however does flash on and then off very quickly, making it hard to read, and thus, not as useful a tool as they had probably hoped. 

Wireless Subwoofer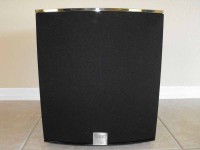 A nice feature in the Vizio sound bar is its wireless subwoofer.  The 6.5" front-firing sub can be placed anywhere up to 60 feet away from the sound bar.  With a frequency response of 35 Hz up to 80Hz, this has the potential to produce very nice sound and blend well with the main speakers, though there might be a slight dip at the crossover point depending upon how they integrate in your room. Unlike many other "bass modules" or hoime theater in-a-box subwoofers, Vizio aims to ensure that vocals can't be localized from the sub, which means you won't have to place it near your television to get good sound. With 80Hz you actually have the ability to seek true universal placement of this box, making it a very friendly product for even the most discriminating spouses. With the ability to sync automatically with the sound bar, setup couldn't be simpler.  No controls are located on the subwoofer as everything is handled from the remote.  Users simply plug in the subwoofer and the sound bar will detect it automatically.

Confused about what AV Gear to buy or how to set it up? Join our Exclusive Audioholics E-Book Membership Program!
Recent Forum Posts:
Robof83 posts on July 23, 2009 12:22
Thanks for the review. That's about what I expected, good but not great sound.
Post Reply