Boston Acoustics TVee Model Two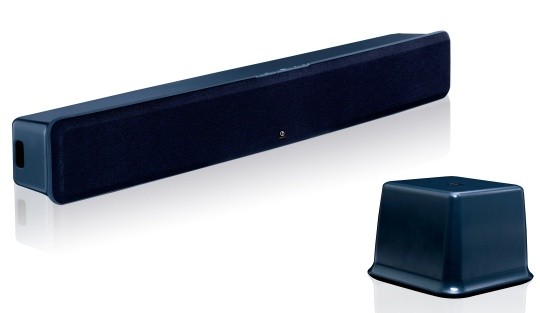 Boston Acoustics TVee Model Two
Summary
Product Name:

TVee Model Two

Manufacturer:

Boston Acoustics

Review Date:

November 29, 2007 00:00

MSRP: $399.99
First Impression:

Mildly Interesting
Soundbar
(4) 2½" Drivers
(2) ½" Tweeters

Bass Speaker
6-inch Woofer

System Power
100 Watts

Dimensions (HxWxD):
Soundbar 3.75" x 31" x 4" (93 x 788 x 102mm)
Bass Speaker 11.5" x 11.5" x 11.5" (292 x 292 x 292mm)

Available Finishes
Midnight with onyx grille
Mist with silver grille
Executive Overview
Too many people buy a flat panel just to be disgusted by the poorly performing integrated speakers. Not everyone wants surround sound in every room (though we can't imagine why). Boston Acoustics is answering this need with the TVee Model Two - a single horizontal speaker solution paired with a wireless subwoofer. Don't misunderstand, the Boston Acoustics TVee Model Two is NOT a pseudo-surround solution - it is strictly stereo. Enhancing the sound from your flat panel is the idea. For many, that's more than enough to justify the $399 price tag.
The TVee Model Two includes a soundbar with four 2.5-inch drivers and two 0.5-inch tweeters. The subwoofer sports a six-inch driver and only needs to be connected to a power source. The soundbar can be connected either directly to your transport (DVD player, cable box, etc.) or to the display by a stereo RCA cable. The preferred method in this cast would be to connect all your sources to your display and connect the TVee Model Two to the audio outputs on the TV. This allows you to turn off the speakers in your display and control the volume with the TVee Model Two. What makes this possible is its ability to "learn" whatever remote you'd like to use with just a few button presses. The Trim switch allows you to change the input sensitivity of the TVee system to match your particular display. If you are having a hard time hearing TV you can turn it up. Conversely, if you are hearing a lot of distortion (the input signal is probably clipping) you can turn it down. A nice feature. The TVee Model Two goes into standby after about 15 minutes but will power back on almost immediately when it detects a signal.
Setting up the subwoofer is as easy as finding a power outlet and plugging it in. You don't need to run any additional wires. There are four different wireless channels to choose from though we didn't have any interference problems in our test. While you can technically place the sub anywhere in the room, since the crossover point seems to be well over 100hz, we'd suggest placing it near the front so that male vocals don't sound like they are coming from behind you. As we'd expect with a budget sub like this, it is a tad boomy but it has the visceral impact that consumers are looking for. The fact that it is downfiring also increases its placement options.
There is no doubt that the TVee Model Two was a definite improvement over the included display speakers. It did seem that the TVee started to distort at higher volumes which was probably more a function of the purpose of the unit than any sort of flaw. The TVee Model Two is designed to enhance the sound of a flat panel over the internal speakers, not to fill a large room with gut jarring sound. It could probably fill a small room more than adequately but in a large room expect an increased bass response, increased fidelity, and an overall better sound a low to moderate volumes. We experienced a lot more bass and much better definition in the dialog (two things that integrated speakers are notoriously bad at). The soundstage was much wider and more spacious which is a nice effect especially why you are trying to cover a larger seating area in a living room.
At $399, the TVee Model Two is definitely an upgrade to a display's speakers, but it is well above the price range for an "impulse" buy. Boston Acoustics decision to go with an upgraded stereo solution rather than another "pseudo" surround speaker is unique on the market. The wireless sub is a huge plus in both placement and "cool" factor. The sound is definitely an improvement but as people get more and more educated on surround, it is unclear how a stereo solution will be received by the public. From a performance perspective, it does well and that's all we're worried about.
For more information please visit www.bostonacoustics.com.

Unless otherwise indicated, this is a preview article for the featured product. A formal review may or may not follow in the future.
Confused about what AV Gear to buy or how to set it up? Join our Exclusive Audioholics E-Book Membership Program!
Recent Forum Posts: