Samsung HT-BD8200 Sound Bar with Blu-ray & Netflix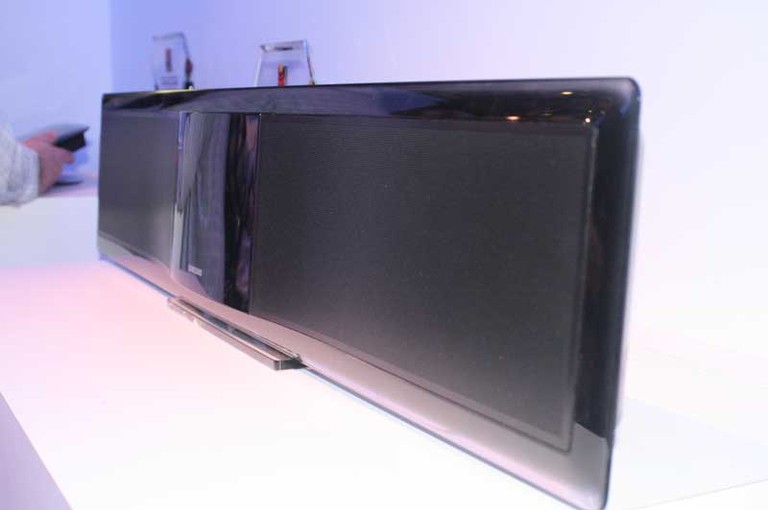 Samsung HT-BD8200 Sound Bar
Summary
Wireless subwoofer
300W total power
BD Profile 2.0 (BD-Live!)
Netflix & Pandora streaming
Optional wireless networking support
Dolby TrueHD & dts Master Audio support

Executive Overview
I may be in love... The Samsung HT-BD8200 is a home theater sound bar equipped with a Blu-ray player and wireless subwoofer. This might be the best match I've seen for flat panel TVs in a long time. It's impressive since it features a fully integrated Blu-ray player with Full HD 1080p playback and a virtual 5.1-channel surround sound for a lifelike audio presence. And a wireless subwoofer!

As a self-contained, wall-mountable home theater sound bar, the HT-BD8200 is designed to fit in with today's contemporary décor and lifestyle. It is only 2.6 inches deep and accented with Samsung's Touch of Color design, for a classy, yet cutting-edge look. The included wireless subwoofer means that you can get fuller bass without having to worry about running cables from the sound bar to a corner of the room. It lets you maintain a clean and contemporary look.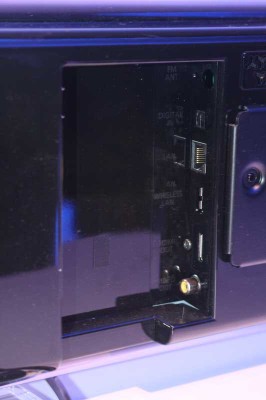 The HT-BD8200 is also equipped with Samsung's "Smart Volume" technology for volume level adjustments on-the-fly for superb listening levels without the need to continually pick up the remote. It also offers seamless playback of video, photos, or music from digital devices such as media players, mobile phones, and digital cameras, using either the built-in USB port or Bluetooth wireless connectivity. Multimedia disc playback and an included iPod dock add even more versatility to the system. The system is rated at 300W and it will handle Dolby TrueHD and DTS-HD MA decoding.
Now here's where it gets even better... The HT-BD8200 is wireless networking ready (via an optional USB dongle that supports 802.11 b/g/n). With an Internet connection, the HT-BD8200 is compatible with BD-Live (Profile 2.0) interactive features AND it can access Netflix for instant streaming video or Pandora music.

The HT-BD8200 will be available the first half of 2009 and pricing has yet to be determined. Please visit www.samsung.com for more information.

Confused about what AV Gear to buy or how to set it up? Join our Exclusive Audioholics E-Book Membership Program!
Recent Forum Posts:
RedBank posts on December 30, 2009 19:31
Just saw this in the new Crutchfield…

Looked great in the mag…and im about to upgrade my receiver with an Onkyo TX-SR607 and then replace my current 5.1 Panasonic speakers accordingly. Have a brand new 50" Plasma Im building around.

Has anyone else heard or seen any feedback on this Samsung model??? craigalanmusic's review pretty much changed my mind on it
craigalanmusic posts on September 12, 2009 21:44
It's a TOTAL RIP OFF!!!

"I purchased this product a couple weeks ago. I did my research and waited for the ideal product for what I was looking for. This product boasts a lot, but fails to follow through.
- BluRay player was faulty right out of the box
- streaming movies and music glithces and freezes and the navigational features malfunction
- Sound is awful, subwoofer is too loud and the high levels are quiet. On top of that the options to adjust the audio are inadequate, all you can do is increase or decrease the decibles on the bar and subwoofer….which doesn't do anything for the awful mix levels.
- inputs are minimal, you only have an optical in for audio and THAT"S IT!! This means that you have to run your cable and any other device to your TV then run the optical cable to the speaker unit. Why don't they have the inputs to receive all devices to the unit and then only need to run the video to the TV? This wouldn't be an issue exect the sound quality is poor going to the TV then to the unit and there is no way to adjust it properly.

On top of all that, I tried calling in to Customer Support to get a replacement or have them fix mine…(remember the blu-ray player doesn't work) and they say they can't just send a replacement, I have to pay to ship it to them and wait a 3-4 weeks for them to fix it and get it back to me. i tell them I am not paying for faulty brand new equipment, they say they will send me a pre-paid shipping label and I would have it by email in a few minutes. It has now been over a week and dozens of phone calls and I still don't have it.

All this could be overlooked if I paid very little for this sleek, feature rich peice of trash…but it's $800!!!!!

Samsung Customer Care is the worst I've seen in a while AND this product is a total RIP OFF!!!!"
Boltonite posts on September 08, 2009 11:17
A couple questions regarding sound bar

I have a couple questions regarding the use of sound bars to home theatre use.

First, can these effectively be used outdoors? Or would this be an inappropriate use for a sound bar since there wouldn't be any walls for the sound to bounce off of?

Second, can these be used indoors in a rear-facing situation so that the sound bar is either in back of or between the viewers/listeners such as in the case where you have an LCD projector?

Thanks in advance,
Jeff
davidtwotrees posts on April 17, 2009 06:55
I have a sammy BD2550 and can attest to the awesomeness of the netflix pandora combo. And Samsung is genius playing right into the waf with this soundbar. A wireless sub? Suuuuuwheeeet. This will allow thousands of men who have been nutered by their wive's refusal to allow any of that "ugly" home theatre stuff into the sacred living room. Good job, Samsung.
MarStyles posts on April 17, 2009 06:06
Preorder the fab Samsung HT-BD8200 soundbar

When may I pre order the Samsung HT-BD8200 soundbar?
Post Reply