VSB210WS Remote Control, Listening Tests & Conclusion
VSB210WS Remote Control, Listening Tests & Conclusion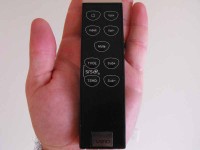 Two options are available for adjusting settings on the sound bar. Control is provided either through the bar itself or through the remote control.  Powering on the system, selecting input, adjusting bass level, and volume control is available with the controller.  Fitting well in a hand, the remote looks very sleek.  However, like so many sound systems, the remote control appears to be an afterthought.   The system seems to fall asleep when you try to control it through the remote.  Pressing buttons multiple times is often needed in order to wake up the sound bar.  With a short range and terrible response, I found myself tossing the remote aside and adjusting the system on the bar itself. That makes me give the remote a failing grade, something that doesn't happen very often.

Listening Session
My first listening session did not go so well for the VSB210WS sound bar.  Listening to some heavier music like, Metallica, Killswitch Engage, etc. the sound system performed poorly.  The sound bar itself sounded good, but the bass from the wireless subwoofer was weak to nonexistent.  Even listening to softer styles of music, like Chicago, James Taylor, etc. the sound just was not as full as I wanted it to be.  The overall sound quality, though clean and crisp, was just weak.  The system sounded like there was no subwoofer at all. 

The key to this system I found is all about placement.  When the subwoofer was initially placed next to the sound bar, its bass was completely drowned out. However, when I moved it away from the sound bar, nice bass sound did emerge.  I moved the wireless subwoofer around and found that positioned about 5 feet behind me, and about 15 feet away from the sound bar offered the best overall sound. This is simply more proof that subwoofer placement is extremely important to the overall perceived system performance in a room.

I really started to like the sound bar and sub combination once I hooked it up to my PS3 gaming system.  Killzone 2 and Call of Duty: World at War sounded very good.  The wireless subwoofer really kicked into gear when I was firing a turret, or incinerating foes with a flamethrower.  The Vizio VSB210WS really captured the sounds of war quite well and overall I was very happy with this system.  Musically, the subwoofer was still lacking in the low frequency category, but with gaming, it produced nice bass. 

Overall Perception
Even though, eventually, I got good sound out of the sound system, I am not totally impressed.  Vizio calls the VSB210WS a high definition sound bar, and though it does offer more clarity than TV speakers, I would not call this a high definition system.  The low number of inputs and complete lack of outputs of the sound bar was very disappointing for me.

When I first reviewed this product, I honestly did not like it at all.  The style was great, but the sound was just okay.  I kept on thinking of other products that provided clearer high's and bone shattering bass.  I was about to write off the VSB210WS.  Then I thought again about Vizio's Motto, "Where Vision Meets Value," and then it all made sense.  Vizio is not trying to be the best; sure they want to offer great products at a cheaper price, but they don't want to provide a cheaply made product.   Their goal is not to offer a super high end, expensive TV or Audio system; they want to give America a good deal.

I was looking at Vizio incorrectly.  Metaphorically, instead of yelling at a fat kid for not being able to run a marathon, I started to praise the fat kid for being able to eat well.  Instead of yelling at Vizio for not destroying my eardrums with their audio product, or melting my eyes with their TV's (don't take this metaphor too far, you'll get hurt), I started to see that this was never Vizio's goal.  Once I realized that I was looking at this Vizio product all wrong, everything fell into place.

The VSB210WS sound bar is by no means cutting edge; and a discrete surround sound system it is not.  What it is, though, is a decent upgrade over the typical television speaker system.  The bar does not want to be an end-all, be-all surround sound system; it wants to be a replacement for your TV speakers.  Yes, if you spend more money, you will get a better sounding system, but if you don't have any more money and you can't integrate a full 5.1 speaker system into your room then you will be getting a decent sound bar and a definite upgrade and a much-needed upgrade over your TV. You also get a wireless subwoofer that seems to work well and offered no real interference issues. That's high technology and puts Vizio in a unique product category at a competitive price point.

Vizio's motto is "Where Vision Meets Value". While the retail price tag is $349.99, we have seen this system on sale for just under $300 - which makes it a pretty decent value for a flexible niche product like this. We're not, however, as excited about this product as Vizio's apparently is - as you can tell from their website ad:

Be the envy of all your friends! Continuing to raise the bar in home electronics, VIZIO brings you the NEW VSB210WS Sound Bar with Wireless Subwoofer. Designed for home theater enthusiasts, this Sound Bar is the complete audio solution giving you a Wireless Subwoofer that can be placed anywhere* and cutting edge sound technologies such as SRS TruSurroundHD™ SRS TruVolume™ delivering the High Definition experience you've always desired! Your friends will be so green with envy they may never go home. VIZIO - Where Vision Meets Value!

If it were not for the wireless subwoofer, we'd want to price this product around $150.  Since in the end it's all about sound, we ultimately believe this to be an average value product that performs as expected with a few caveats.

About Vizio
VIZIO, Inc. "Where Vision Meets Value," headquartered in Irvine, California, is America's fastest-growing HDTV and consumer electronics company. In only a few short years, VIZIO quickly skyrocketed to the top by becoming the #1 selling brand of flat panel HDTV's in North America and became the first American brand in over a decade to lead major categories in 2007 U.S. TV sales. VIZIO pushes the limits of its consumer electronics technology with only the best components available which offer the greatest value to our clients. We stand behind this product strategy by offering a one-year limited warranty and free lifetime telephone technical support.
Contact Information:

VIZIO, Inc.
39 Tesla
Irvine, CA 92618
Phone:(949) 428-2525
(888) 849-4623

The Score Card
The scoring below is based on each piece of equipment doing the duty it is designed for. The numbers are weighed heavily with respect to the individual cost of each unit, thus giving a rating roughly equal to:
Performance × Price Factor/Value = Rating
Audioholics.com note: The ratings indicated below are based on subjective listening and objective testing of the product in question. The rating scale is based on performance/value ratio. If you notice better performing products in future reviews that have lower numbers in certain areas, be aware that the value factor is most likely the culprit. Other Audioholics reviewers may rate products solely based on performance, and each reviewer has his/her own system for ratings.
Audioholics Rating Scale
— Excellent
— Very Good
— Good
— Fair
— Poor
| Metric | Rating |
| --- | --- |
| Audio Performance | |
| Function | |
| Versatility | |
| Network Features/Performance | |
| Build Quality | |
| Ease of Setup/Programming/Integration | |
| Remote Control | |
| Fit and Finish | |
| Performance | |
| Value | |
Confused about what AV Gear to buy or how to set it up? Join our Exclusive Audioholics E-Book Membership Program!
Recent Forum Posts:
Robof83 posts on July 23, 2009 12:22
Thanks for the review. That's about what I expected, good but not great sound.
Post Reply