Sonos Battles Polk to Beam Into Your Captain's Chair

Sonos Beam Soundbar
Summary
Drivers: Four 2.25" woofers, three passive radiators, one tweeter
Amplification: 5 Class D amplifiers
Room correction: Five far-field microphone array used for advanced beamforming and multi-channel echo cancellation
Connectivity: Optical and HDMI ARC
WiFi: Yes
AirPlay: Yes
Dimensions

H x W x D:

2.70 x 25.625 x 3.94 in.

Weight:

6.2 lbs
Executive Overview
No matter your opinion on SONOS Audio systems there is no denying that when the topic of whole home audio comes up their name will be mentioned. As one of the leaders in this concept, SONOS is always striving to stay on top as the industry's most recognizable multi-room sound systems. Recently SONOS announced the inclusion of a new smart compact soundbar to their line called the SONOS Beam. At $399 the Beam is an affordable soundbar with Amazon Alexa built in, especially when you factor in it's availability in black or white, free shipping and a generous 45-day trial period.  Rival company Polk Audio got the jump on SONOS by releasing their Command Bar Soundbar and Wireless Sub at CES in January of this year.  We previewed the Polk Command Bar and found that not only does it have an Amazon Echo Dot built in, but also comes with their wireless subwoofer for $300.   To add the SONOS SUB subwoofer be ready to drop an additional $600 to the Beam. That's quite and investment and it makes us wonder if SONOS has a more economical wireless sub in the works to compliment this soundbar.

At just over 25" wide the SONOS Beam is definitely a compact soundbar, great for areas where space at a premium. It does come with some interesting and advanced features. Most of these we liked in our review of the SONOS Playbar like their Dialog Clarity Speech Enhancement, to help with muddy dialogue scenes and a Nightsound Mode which does a good job at increasing softer sounds and decreasing louder sounds to keep the rest of the house asleep.  Like other SONOS products, the Beam comes with  the remote control learning feature which learns the infrared commands of your existing remotes during setup and allows you to use them to control the Beam. The Beam also comes with a five far-field microphone array used for advanced beamforming and multi-channel echo cancellation which is something we don't usually see from a $400 soundbar.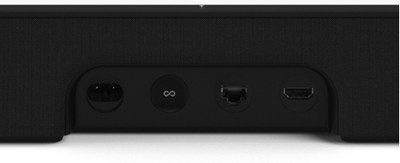 We also noticed that the Beam has added option of connecting through HDMI ARC in addition to optical whereas the SONOS Playbar can only connect through optical.
SONOS uses a single tweeter in their Beam which they say creates crisp and clear dialogue. The Beam also packs four 2.25" woofers into the 25" space and three passive radiators to enhance the midbass. In addition, the unit is powered by five class D amplifiers. SONOS reps were emphatic about not releasing any power ratings to us since they said it would give a biased idea of what the soundbar would actually sound like. What matters is how much clean SPL the system can produce and this will have to be revisted in a formal review.
Conclusion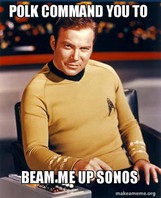 With 63 music services supported and Amazon Alexa smart technology built in, the SONOS Beam appears to be a great addition to a SONOS family, meaning that if you are already invested in SONOS multi room audio environment than the Beam would find itself right at home.  The Beam would fit nicely in a small family room or bedroom and should do a fine job at filling the space with sound. If you're not hooked into the SONOS ecosystem, then you may want to consider the Polk Magnifi Mini with wireless sub, the Magnifi Max, or as previously mentioned, the Polk Commandbar.
Polk and SONOS appear to be slugging it out, but at the end of the day you're in the captain's seat.  Will SONOS Beam you up or Polk Command you to integrate into your entertainment space?

Unless otherwise indicated, this is a preview article for the featured product. A formal review may or may not follow in the future.