Polk MagniFi Max AX: Their Most Advanced Soundbar Yet?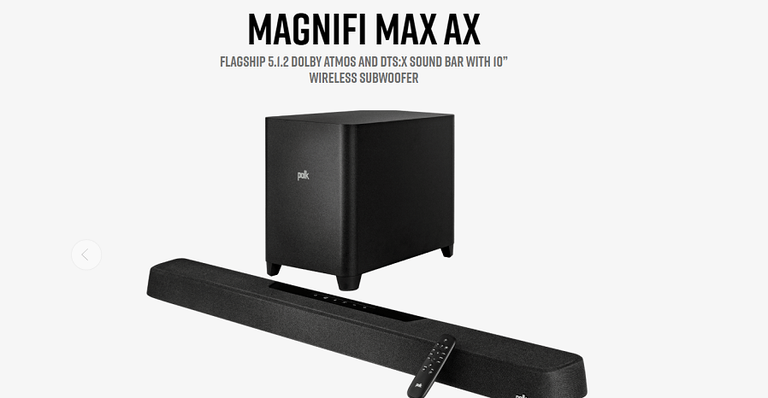 Polk MagniFi Max AX
Summary
Soundbar
Driver Complement
Left/Right Channels (4) 1 x 3 in racetrack mid-woofer drivers, (2) 0.75 in soft dome tweeters
Center Channel (2) 1 x 2.5 in racetrack mid-woofer drivers, (1) 0.75 in (19 mm) soft dome tweeter
Left/Right Height Channels (2) 2.5 in (64 mm) full-range drivers
Bluetooth Bluetooth 5.0
Wireless Yes
Wireless Protocol Wi-Fi (802.11 a/n/ac 2.4 GHz & 5 GHz)
Wi-Fi Streaming Platforms: Apple AirPlay 2, Google Chromecast for Audio, Spotify Connect,

Works with Alexa
Inputs/Outputs (3) HDMI 4K (60Hz)
(1) HDMI eARC 4K (60Hz)
Toslink Optical
USB (for firmware updates)
Video Pass-through 4K HDMI, HDR, Dolby Vision
Dimensions (HxWxD): 4.6"x45"x2.8"
Weight 12.85 lb

Wireless Subwoofer
Subwoofer Array Driver Enclosure Type: Downfiring, Ported
Subwoofer Array Driver Complement (1) 10 in (25.4 cm) Round WooferHeight 16 in (407 mm)
Dimensions (WxDxH): 16"x11.9"x15.7"
Weight 26.3 lb

Wireless Surround Speakers (2)

Rear Array Driver Complement: (1) 3in full-range driver in each speaker

Executive Overview
Polk Audio always has a unique take on their sound bars. Forward thinking additions like adding smart home assistants to their soundbars, units that could learn your remotes, and big sound out of a small device made them one of our go to choices for competitively priced soundbars.  In April of 2022, we covered their release of the petite MagniFi Mini AX, an updated version of their MagniFi Mini. Now, Polk Audio upped the ante with two new flagship soundbar systems, the MagniFi Max AX and MagniFi Max AX SR.
Polk AX Mini Soundbar Review
These compact, high-performance systems bring movies, TV, music and games to life in immersive, multidimensional Dolby Atmos and DTS:X sound
--Polk Audio
Unlike Denon who opted to use just a few discreet speakers in their DHT-S217 2.1 Dolby Atmos Soundbar, Polk is using an 11-speaker array featuring dedicated center channels, up-firing height speakers and Polk's Stereo Dimensional Array (SDA) technology.
Both MagniFi Max AX and MagniFi Max AX SR models also include wireless subwoofers for extended bass response, but the MagniFi Max AX SR adds two wireless surround speakers for a more sonic immersion.
The MagniFi Max AX and MagniFi Max AX SR leverage 50 years of Polk speaker design expertise to deliver Polk's best sound bar to date, and with Polk's patented Stereo Dimensional Array (SDA) and Voice Adjust technologies, the Magnify Max AX and MagniFi Max AX SR will fill any room with exceptional sound without filling the room with speakers. Add built-in wireless music streaming and you have the ultimate all-in-one entertainment hub.
--Frank Sterns, Polk Audio President.
The technology has come a long way in height virtualization where you don't truly have height speakers firing down from the ceiling, but rather upfiring speakers (or none at all) that use special processing or reflections off the ceiling to simulate height channels. We always advocate for dedicated height channels where possible, but at least Polk's MagniFi Max AX sound bars have dedicated up-firing speakers to provide that critical overhead element of Dolby Atmos and DTS:X object-oriented sound formats.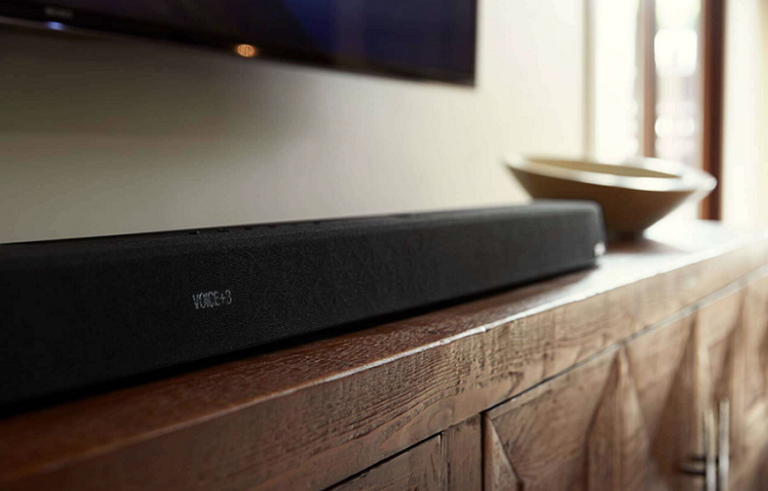 One complaint I have with smaller soundbars is the lack of soundstage. This is Polk's fourth-generation of their patented SDA technology that helps eliminate interaural crosstalk for an ultra-wide soundstage. In my review of their MagniFi Mini, I was impressed with how much sound they got out of a 14" soundbar. Now we're seeing the MagniFi Max AX comes in at 45" wide. Between the extra 31 inches and the new SDA technology, we should see quite a boost to the depth and width of sound.
Both new soundbars include a solid looking 10-inch down-firing wireless subwoofer; it's the most powerful soundbar sub Polk has released yet. The new MagniFi Max AX's 10" subwoofer is a HUGE upgrade from the small plastic MagniFi Mini AX's sub with a 5"x7" woofer.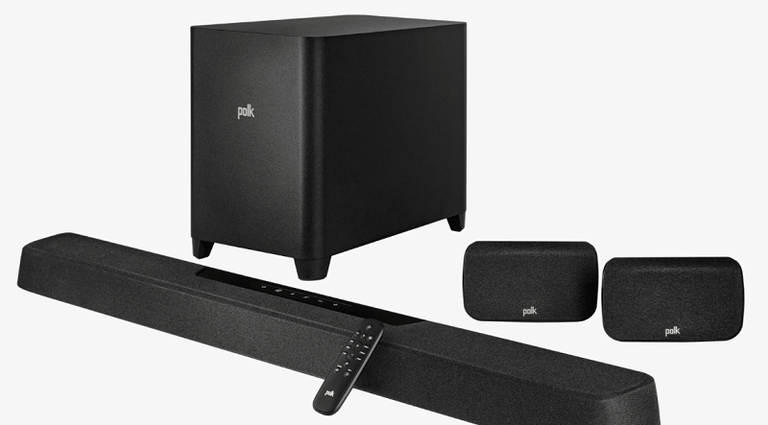 Lately, I've been reviewing soundbars with wireless rear speakers and have been extremely impressed with the detail of sound. In non native multi-ch surround content, the rear speakers, however, are only as good as the upmixer interpreting the sound coming from the source material to the soundbar. With the wrong programming, the rear speakers can be engaged all the time and sound gimmicky, or they are hardly heard at all.
You can add a pair of rear surrounds to the MagniFi Max AX soundbar for $200, but the MagniFi Max AX SR system has a pair of Polk's wireless surround speakers included for just $100 more, so this sounds like an easy decision. Of course, it will be interesting to see how the engineers at Polk interpret the sound for the rear speakers.
What We Think…
The theme of Polk's soundbars lately is "Ease of use with impressive sound" and I think the MagniFi Max AX soundbars will epitomize this statement. Like other Polk soundbars we've reviewed, the setup should be simple with 3-in/1-out high-speed, high-bandwidth 4K HDMI connectivity and input switching. Connection to your TV would be through the HDMI eARC or ARC with an included HDMI cable; an optical input allows connection to older devices. The soundbars come with one-touch Movie, TV and Music Modes, a Night Mode to raise speech and lower bass for late-night listening, it also has BassAdjust which balances the low-end response of the sound bar and subwoofer, and has Polk's VoiceAdjust technology to raise the volume of voices over other soundtrack elements.

The soundbars support Wi-Fi and Bluetooth streaming through Apple AirPlay 2, Google Chromecast, Spotify Connect, or any Works with Alexa–enabled music service. MagniFi Max AX includes a remote and should work with most TV remotes out of the box. It comes with a front-panel OLED display that shows adjustments and automatically dims when not in use.
The MagniFi MAX AX is Roku TV-ready for your favorite streaming services, and can be placed on a TV console or wall-mounted to accommodate any home theater design. MagniFi Max AX ($799) and MagniFi Max AX SR ($899) sound bar systems are available from PolkAudio.com and at authorized Polk retailers.

Unless otherwise indicated, this is a preview article for the featured product. A formal review may or may not follow in the future.
Confused about what AV Gear to buy or how to set it up? Join our Exclusive Audioholics E-Book Membership Program!