Nakamichi Shockwafe DTS:X Ultra 9.2 Soundbar Preview
Summary
Product Name:

Shockwafe Ultra 9.2 Soundbar

Manufacturer:

Nakamichi

Review Date:

November 08, 2017 00:00

MSRP: $1099 (free shipping)
First Impression:

Gotta Have It!
Soundbar
6 - 2.5" drivers
2 - 1" surround tweeters
Dimensions: 45" x 3.2" x 3"
Subwoofer
Two 10" Wireless Subwoofers
Dimensions: 7.9" x 12.7" x 16.6"
Two Modular Dipolar Satellites (4 satellite speakers total)

1 - 3" midrange per speaker
1 - 1" tweeter per speaker

Dimensions: 6.3" x 9.3" x 9.3"

Technology

9.2 Ch, 18 Speaker Drivers, 800 Watts Peak Power
DTS-HD Master Audio + Neo: 6
Dolby TrueHD and Dolby Digital Plus
HDCP 2.2
4K HDR Pass-thru
Bluetooth aptX
3 HDMI IN + 1 HDMI TV (ARC) OUT, 1 Coaxial IN, 1 Optical IN, 1 Aux IN
Executive Overview
At what point has a soundbar system gone too far? Audio Company Nakamichi is definitely pushing the limits with their new 9.2 Channel Shockwafe Ultra DTS:X wireless soundbar system which was just announced at the 2017 CES Show in Las Vegas Nevada. Wait- What? Did you say 9.2 WIRELESS 9.2 system? That's right, the 45" front soundbar comes with 8 internal speakers including two side firing sound effect speakers, four modular side and rear speakers, and TWO wireless 10" subwoofers. The system has 18 speaker drivers and a multitude of setup options all for $1,099 (with free shipping)!
Nakamichi ShockWafe Ultra Soundbar Battle vs. Samsung Creative Sonic Carrier
The Shockwafe Ultra 9.2 DTS:X is based off their flagship 7.1 channel Shockwafe Pro system.  With the Ultra 9.2 Nakamichi kept their award-winning soundbar (every driver in the soundbar is upgraded), but increased the size of their satellite speakers from a single 2 ½" full range driver per speaker to a dipolar 3" driver and 1" tweeter. But since it's a 9.2 system they also added two more satellite speakers for rear and side surround.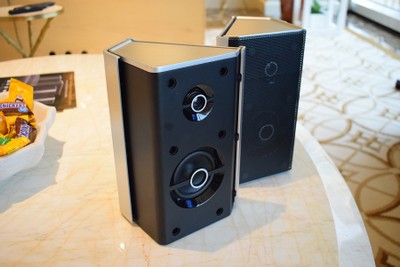 The modular satellite speakers can also be joined via a rear bracket to create a 9.2 experience with a 7.2 setup. We were really impressed with the versatility and the modular nature of the dipolar speakers which allows them to be attached or detached and arranged in the room based on user preference.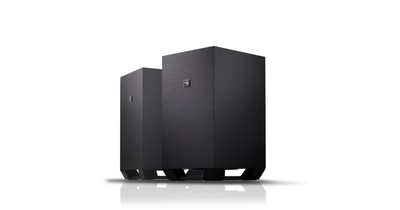 The last and most notable feature between the 7.1 Pro and the 9.2 Ultra is the extra subwoofer. Not only has it increased from 8" to 10", but also has doubled in number. This is the first soundbar system we've seen offering dual subs. Dual subwoofers, properly positioned, are really great for getting more low-frequency output and loading bass into the room more evenly for a better seat to seat consistency.
The Technology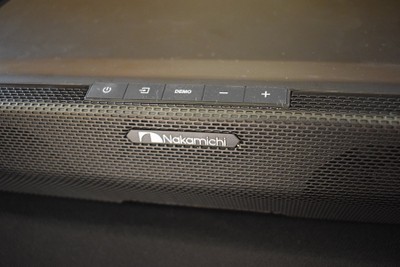 The Nakamichi Shockwafe comes with DTS:X and DTS Neural:X and Dolby Audio technologies, so no Dolby Atmos, but this isn't surprising given the 9.2 system layout topology they've chosen.  It would be unfortunate if some people just read the highlights when shopping soundbar systems looking for immersive sound labeling and move on to a likely inferior product just because it is labeled Dolby Atmos.  We caution consumers not to fall into this trap at the risk of missing some potentially great products like that seem to get the basics right like this one does.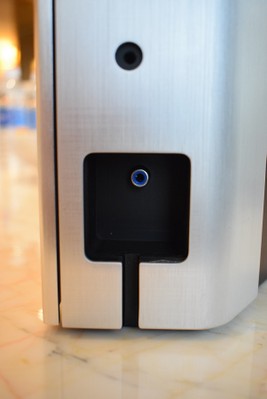 The system also includes HDCP 2.2 for the latest in UHD support, and 6 individual DSP chipsets.  The setup is still a prototype and we've seen the 9.2 Ultra labeled as a 1000 watt system. Nakamichi says it offers up to 110dB of crystal clear sound and 30Hz of ground-shaking bass. This is the first soundbar system we've seen that actually gives you SPL output specs to show how loud it can play.
To get an idea of the different flavors and features of Shockwafe, here is a tabulated comparison.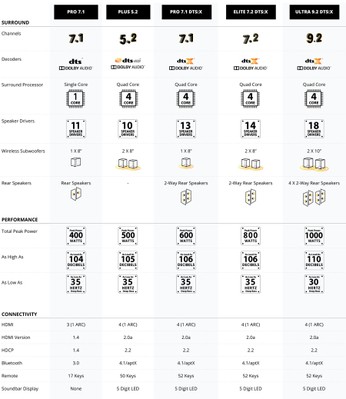 Nakamichi Shockwafe Model Comparison Table

Nakamichi Reborn with Soundbars?
Unlike other soundbars that have limited inputs, the Shockwafe 9.2 Ultra comes with 3 HDMI IN + 1 HDMI TV (ARC) OUT, 1 Coaxial IN, 1 Optical IN, and 1 Aux IN.  If it's anything like their 7.1 system, the Shockwafe 9.2 will also come with the ability to stream music to the system via a Bluetooth connection with aptX technology.
We're really looking forward to seeing what Nakamichi has to offer in their Shockwafe Ultra 9.2 system. So If the goal is to get you set up and running a 9.2 system in minutes instead of hours/days, this system might be right for you especially if you're looking for performance on the level of a true discrete speaker/subwoofer system and AV receiver. 
Nakamichi was once revered as the best high-end cassette deck manufacturer in the world.  Can they re-establish this reputation in the soundbar market?  Time will tell.
Confused about what AV Gear to buy or how to set it up? Join our Exclusive Audioholics E-Book Membership Program!
Recent Forum Posts:
shadyJ posts on October 13, 2018 17:44
Maybe a calibration disc with test tones? I think that Disney WOW disc has discrete tones for each channel. Here is some test tones you can burn into a disc and run the tones for a 7 channel system.
Glock134 posts on October 13, 2018 17:40
Even if I disconnected other speakers while I tried to test a speaker at a time I'd have no way of bypassing the soundbar itselfs internal speakers to test the tears or side speakers
Glock134 posts on October 13, 2018 17:37
Probably a stupid question but how do u run tones thru each channel? My previous systems had test buttons that send a tone thru each channel. But this system doesn't have that option. I have no clue how to send a signal thru just one channel
shadyJ posts on October 13, 2018 16:51
Glock134, post: 1274773, member: 86556
How did you calibrate the speakers there's no test tones for the speakers? I'm aware how to use a SPL meter just not sure what I can do to calibrate when there is no channel test option on my Nakamichi 9.2. Any help would be appreciated
Why cant you just run tones for each channel? You don't need the speaker system to have its own test tone generator.
Glock134 posts on October 13, 2018 16:28
How did you calibrate the speakers there's no test tones for the speakers? I'm aware how to use a SPL meter just not sure what I can do to calibrate when there is no channel test option on my Nakamichi 9.2. Any help would be appreciated
Post Reply