Integra Home Theater DLB-5 3.1.2 Surround Bar Preview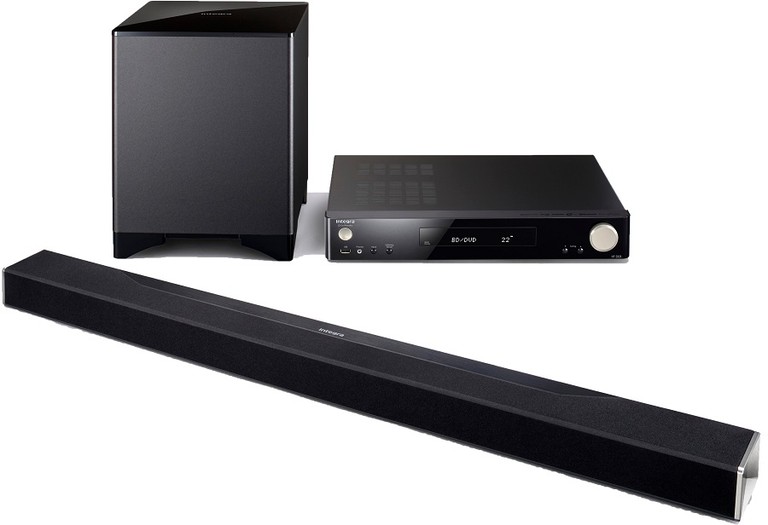 Summary
Soundbar
Dimensions (W x H x D) 37 2/5" x 2" x 3 1/5"
Speaker Type Acoustic Suspension
Driver- Front 2 3/4" x 1 9/16"
(70 mm x 40 mm) Cone Woofer x 4
Driver- Center 2 3/4" x 1 9/16"
(70 mm x 40 mm) Cone Woofer x 2
Driver- Height 2 9/32" (58 mm) Cone Woofer x 2

Receiver
Power Output (4 Ω, 1 kHz, 1% THD, 2 Channels Driven, FTC) 50W / Channel (4 Ω)
FM Preset Memory 40 Stations
Dimensions w/ Stand (W x H x D) 17 1/8" x 2 3/4" x 12 13/16"
Weight 8.8 lbs (4.0 kg)

Wireless Subwoofer
Speaker Type Bass Reflex, Powered
Rated Power Output (4 Ω, 100 Hz, 1%, FTC) 50 W
Driver 6 1/2" (16 cm) Cone
Frequency Response 30 Hz - 200 Hz
Dimensions (W x H x D) 10 1/4" x 13 1/4" x 10 9/16"
Weight 13.67 lbs (6.2 kg)
Executive Overview
Integra Home Theater released details for their new object-based surround sound bar system, the DLB-5.  The DLB-5 is a three-piece system consisting of a passive sound bar, a 50 watt 6.5" wireless powered sub, and control unit which is a variation of their newly released DSX-3 slim-line AVR. This new trend into three-piece surround soundbar systems has so far impressed us here at Audioholics.  We were blown away by our private demo of Pioneer's FS-EB70 three piece soundbar system at CEDIA, so if Integra's entry into the immersive soundbar stage is comparable, it should be impressive.
The soundbar
The soundbar integrates six speaker drivers including dual center, dual left and right, as well as two up-firing speakers to introduce object-based surround formats like DTS:X and Dolby Atmos into your home theater. Let's be clear, even a 3D soundbar with extra wireless rear speakers not used in this setup and a wireless sub is no comparison to a $50,000 custom installed 3D immersive sound home theater, but for $1,200 you're going to get a system that sounds much larger than it actually is without running wires or cutting holes into your ceiling.

The DLB-5's low-profile design should make it a good fit for display on an entertainment unit or TV stand. The soundbar's flat back panel and shallow depth allow for easy installation (do you see a pattern here) for either under the TV or wall mounting via keyhole slots.
Subwoofer
With amplified power firing downwards through a big 6 1/2" (16 cm) cone, the included wireless active subwoofer should do an excellent job of adding impact to your favorite content. Most soundbars we've reviewed need the extra bass provided from a wireless sub and in this case, the sub is part of the package not a $500-$600 extra.
Receiver
The DLB-5 amplifier utilizes a Class-D design for efficient power output with minimal heat. The independent power supplies and discrete output stages are designed to deliver 50 Watts into 5 channels (4 Ohms, 1 kHz, 1% THD, 1 Channel Driven, FTC).


The streaming options of the new soundbars on the market are becoming more and more expansive, and Integra's DLB-5 is no slouch in this area.  The system's receiver has a powerful mix of wireless capabilities including FireConnect, AirPlay, Wi-Fi, and Bluetooth and handles the most frequently used Internet Radio services. With Spotify, Pandora, Deezer and TuneIn built-in, you can select a station and search for music available on these services via the Integra Control Pro app on your phone. The free Integra Control Pro app puts a range of streaming options at your disposal. The DLB-5 will be Integra's first product to incorporate DTS' Play-Fi multi-room, wireless streaming audio technology via future firmware update. The Integra Control app also serves hi-res, lossless, and compressed audio files (including 192 kHz/24-bit FLAC, DSD, Apple Lossless, Dolby TrueHD and more) to the DLB-5 from your mobile devices. The DLB-5 will also upmix Dolby Surround or DTS:Neural X so older content will be upconverted to fill the room with immersive sound as well. And with an included IR input controlling the DLB-5 should be simple no matter where it's placed.

For room acoustic management, the DLB-5 comes with AccuEQ with AccuReflex. This room  correction technology conducts two measurements- one to determine the distance, sound pressure level calibration and crossover for all speakers (including the subwoofer) and a second measurement to make room corrections based on the acoustic characteristics of the room and prevent standing waves. You can also choose to automatically or manually set the equalizer. Further, you can custom tailor and save your own manual EQ settings into three available presets.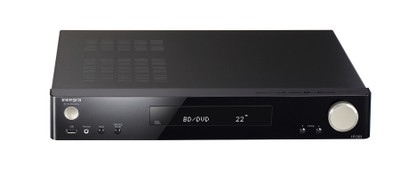 Conclusion

The $1,200 price point puts it in competition with other good quality soundbar and wireless sub systems like the SONOS Playbar and sub ($1300) and the new Pioneer FS-EB70 3 piece system (around $1,500). With a good variety of streaming options as well as room correction technology we're hoping the DLB-5 will sound as good as it sounds.
The three piece set including the soundbar, wireless sub, and AV receiver will retail at $1,200 and is currently available for sale. See Integra's website for more information.

Unless otherwise indicated, this is a preview article for the featured product. A formal review may or may not follow in the future.