MartinLogan Vision Overview Continued
MartinLogan Vision Overview Continued
The back of the enclosure has two ports for added bass response. On the back panel are also 2 optical, 1 digital coax, and 1 stereo audio input, as well as an AC jack and 1 subwoofer output. It would have been nice to have HDMI inputs and outputs, allowing the Vision to receive and decode Dolby TrueHD and DTS-HD signals. Sans any HDMI inputs, your best option is optical or digital coax, so the soundbar can decode surround signals. The easiest way to do this is to run all of your sources directly to the TV and take a single optical cable out of your TV into the soundbar. Unfortunately, many TVs will not pass Dolby Digital or DTS through an optical cable (a fact that MartinLogan points out in the manual). Therefore, we recommend connecting any surround compatible sources directly to the soundbar. When the Vision receives an actual surround signal, it uses Dolby Virtual Speaker technology in order to simulate a 5.1 sound system.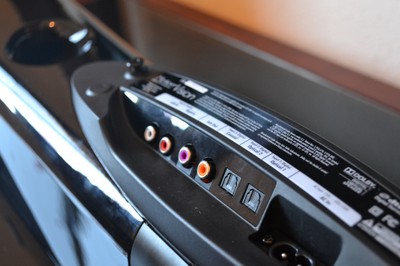 Inputs on back of MartinLogan Vision soundbar
The Vision comes with a wall mount bracket and necessary hardware for mounting. Space is tight, however, so you will have to be pretty precise in order to have the Vision mounted on a wall and still keep all of the cords concealed. This is especially the case with the power cable. Some soundbars utilize an AC/DC power brick, which converts high voltage AC power to low voltage DC power. This is important because it's against NEC code to simply drop a high voltage power cable inside a finished wall, but it is legal to drop a low voltage cable inside a finished wall provided it's removable and doesn't include the transformer (at least, in most areas, but check your local building codes). MartinLogan must be aware of this because their Motif and Stage speakers are wall mountable and utilize an AC/DC converter to make on-wall installation easy. With all of that said, we can still think of a number of ways to mount the Vision and completely hide all of the wires. If the wall is unfinished on the other side, you could legally run the AC power cable down the wall. You could also pass the power cable straight through the wall and into a closet or adjacent room. Another method would be to mount the soundbar directly below the TV, not leaving any gap, then running the power cord to an outlet located behind the TV. Finally, you could try to install a recessed outlet directly behind the soundbar, but it would be difficult make room for the outlet and the Vision's mounting plate.
Operation
With a single line LED display, small credit card sized remote, and only 5 buttons on the soundbar itself, operation could have been a nightmare. It was, however, quite pleasant. On the top of the Vision are 4 multipurpose directional buttons that control navigation: volume (up and down), source (left and right), power (hold down left), and menu (hold down left and right). The remote also features power, mute, volume, source, navigation, and three mode buttons (night, normal, bass+). At first, the navigation was a bit confusing, but after I figured out the structure (thanks to an exceptionally well written manual), changing settings was a breeze.
Within the menu there are a number of sound related options. Bass can be adjusted +/- 10dB, simulated surround effects turned on/off, stereo mode changed between normal or voice EQs, sub output enabled or disabled, and installation switched between on-wall or on-shelf. I played around with every combination of settings I could think of during our measurements and listening tests and found that the sound can change drastically with each adjustment. For example, changing the stereo mode from voice + to normal makes a very audible difference, adding more treble to the mix. So, if you have a chance to hear the Vision and aren't happy with the sound, peruse the settings and you will probably be able to customize it to your liking.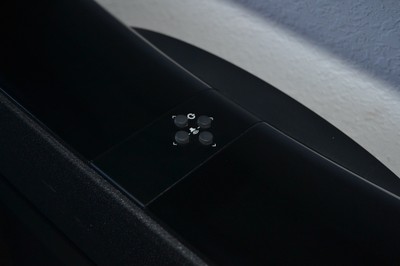 Control Buttons on Top of MartinLogan Vision soundbar
There are also a number of operational settings buried in the menu, such as display (bright, dim, auto, auto bright, audio dim), power (auto, full on), learn (learning commands from another remote), source name (rename sources) and reset. Although the included remote works well enough, credit card sized remotes are easy to lose, and this one lacked any backlight. Consequently, I just programmed the soundbar to work off of my Oppo remote. Learning commands was a breeze—much easier than with most soundbars I've used in the past. The only operational issue I had was the system not always turning on automatically, but that may have been because I was constantly changing settings, and powering on/off by hand and by remote.
Confused about what AV Gear to buy or how to set it up? Join our Exclusive Audioholics E-Book Membership Program!
Recent Forum Posts:
Epsonfan posts on October 08, 2019 11:57
Don't understand why a SB review from 2013 is appearing Oct 8 2019
William Sommerwerck posts on May 09, 2018 14:03
A sound bar has two basic functions – to fit where conventional speakers won't fit, or to provide a center channel. So most of the criticism makes no sense.

By the way, the correct term is "switching amplifier", not "digital amplifier". All digital amplifiers are switching, but switching amplifiers can be either.
Mikado463 posts on February 17, 2018 09:31
Cygnus, post: 975781, member: 8777
Likewise, Hocky.

There's no way that a little bar will ever be able to replace some high quality bookshelves and a sub. Just ain't gonna happen.
I get the whole 'bar thing', but $1400 can easily buy you a better 'separate scenario' ……
Calvert posts on February 17, 2018 01:25
I am disappointed this seemingly great soundbar does not have neither HDMI inputs or an output. This, of course, limits the sound fields supported.
PcPopcorn posts on February 06, 2017 16:11
I need a center channel speaker the size of one of these soundbars.
Post Reply