JBL CS6100 Setup and Listening Tests
JBL CS6100 Setup and Listening Tests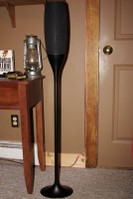 Everything came nicely packed and well-protected, and JBL was nice enough to send along two pairs of optional stands as well. The stands were very nice looking and also weighted at the bottom. I used these beautiful speaker stands for the surrounds. All the speakers are threaded at the bottom for various stand types and also have a rubber ring for furniture protection and to keep from sliding around on smooth surfaces. These are all nice little touches so kudos to JBL for including them.
The center channel is designed to sit horizontally, but this is not necessarily the most optimal position for an MTM speaker alignment because of dispersion issues for any listeners that are not seated in the center. MTM alignments were designed to limit vertical dispersion of the tweeters to help alleviate reflection issues, and the result is a very narrow focus of the tweeter vertically. This is a good thing. However, when an MTM alignment is placed horizontally the opposite happens - though some speaker designs do a good job at smoothing out this phenomenon. Also, the center speakers little feet allow the speaker to tip forward very easily. If small children or pets are in the house, I strongly recommend using the included wall mounts if at all possible as well as mounting the speaker vertically for optimum coverage throughout the listening area. I would like to see, at the very least, a future design that provides a custom center channel speaker which offsets the tweeter.

Listening Tests

Once I had everything connected, positioned, and had the sound levels set, it was time to get things rolling. Before moving on to movie soundtracks, I always like to start off with some music that I am well familiar with. It's a matter of personal reviewer choice, but old habits are hard to break. The first piece I listened to was the song "Mr. Chow" off the Acoustic Alchemy CD Arcanum. This is my favorite cut off the CD and it has a lot of "demo" material to use when reviewing a loudspeaker system. The CD is superbly engineered and the song has a lot going on sonically. It will very quickly reveal any speaker's shortcomings.
The first thing I noticed was very strong bass response in the 40 to 50 Hz range. I stopped the CD and did a quick check with my RTA. It revealed a large bass peak at basically the same frequency as my other subs. I engaged my parametric EQ, and things flattened right out. This is due solely to the room and not the subwoofer itself. Room correction for subwoofers is a beautiful thing to hear. I restarted the song again. Bass response was very good for a single 10-inch sub. The subwoofer was very musical sounding and lacked the boomy sound that so often plagues budget systems. While not particularly "room shaking," it did provide adequate bass even in my fairly large room. It should perform well on most music.
Next I focused on the midrange and high end: Houston we have a problem! The highs lacked any real detail and sounds were really smeared in the highest octaves. Cymbal crashes sounded particularly bad. Never was the sound grating, raspy or distorted, but disappointing nonetheless. Likewise, midrange really lacked punch on the lower octaves, but this is typical of most speakers with such small drivers. Upper midrange was also on the thin side but not too bad.
Overall, the speakers imaged fine and soundstage and placement were not an issue either. The speakers also blended well with the sub. Aside from the lack of mid-bass punch, I noticed no obvious problems between the subwoofer and speakers. While there were problems in the mids and highs, it should be noted that this system is right in line with many other systems in this price range and better than some. There is better news coming though so keep reading.

After listening to several more music tracks and confirming my initial thoughts, I moved on to movies. I decided on director Peter "The Hobbit" Jackson's monumental epic version of King Kong. Love it or hate it, this movie delivers the goods when it comes to audio and video. I happen to be in the 'like it a lot' camp. Of course, I skipped forward right to the T-Rex battle.
To my delight, the system performed admirably on movie material. The sound was immersive and clean, and pans across the room were seamless. The subwoofer never gave out - even at louder levels - and while it lacked the real tactile feel one gets from a more expensive subwoofer, it filled even my large room with enough bass to make for a satisfying movie experience. In smaller rooms the system should have plenty of oomph. Skipping back to the beginning of the movie, I listened to some of the quieter passages. Again, I was happy to find the dialog clear, distinct and well focused. Little details could be made out, and I never strained to make out what was being said. Overall the system performed very well on movie material.
Confused about what AV Gear to buy or how to set it up? Join our Exclusive Audioholics E-Book Membership Program!