B&W Z2 Airplay Dock Sound Quality & Conclusion
B&W Z2 Airplay Dock Sound Quality & Conclusion
I spent a considerable amount of time trying out the Z2 with different material, at different volume levels, through different inputs, and at different locations, all in order to have a dramatically diverse and definitively well-researched disposition (that's alliteration). 

The first location was on my computer desk, about 2 feet to the right of my listening position (a.k.a. office chair). Some speakers in this location, particularly those with narrow dispersion, can be distracting sitting directly to my right. But, the drivers on the Z2 are angled outward, creating a nearly 180 degree dispersion pattern. This helps produce a big soundstage. The Z2 was not distracting at all sitting so close, in fact, it was quite pleasant. Plus one for the Z2 for near field listening.
When the Z2 was on my desk, I listened to music through AirPlay and the Lightning dock. However, for more critical tests I set the Z2 where my MartinLogan Motif center speaker normally resides. I then ran analog audio out of my Oppo BDP-93 and into the 3.5mm input on the back of the Z2. With this setup I was able to utilize the high-quality DAC in my Oppo.
The first CD I queued up was Wires Rosewood & Roots by Bob Arden, an instrumental CD anchored on Arden's masterful guitar skills. One of the details to listen for is Arden's breathing amidst intricate guitar work. I could hear this clearly on the Z2, and the guitar had all of the detail it ever has. But, it wasn't quite as full as I would have liked, the sound was a little thin. Track 12, "Windrush", is about as complex as this album gets, with an acoustic guitar, resonator guitar, bass, and basic drum kit. The Z2 actually handled the bass guitar better than I thought it would. It sounded amazingly authoritative coming from such a diminutive speaker. In this mix, the bass guitar is weaved in with the rest of the musical ensemble, unlike much mainstream music where a hard synth bass line or kick drum drives the track. Chalk up another win for the Z2.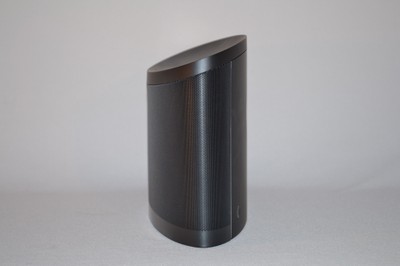 B&W Z2 Side View
Next, I spun up some more popular music like Rage Against The Machine, Norah Jones, Macklemore, and the XX. On a number of tracks, like Rage's "Renegades of Funk", the Z2 sounded sloppy and slightly thin, with an exaggerated treble.  But on Norah Jones's "Don't Know Why" it certainly was not sloppy. It was detailed, but still sounded a little thin with an accentuated top end. I experienced this on a number of other tracks and found that the Z2 excels on simple recordings but falls short when asked to reproduce busy songs. This phenomenon is primarily true at higher volumes where the Z2 hits a brick wall of compression, and is much less pronounced at background listening levels. Additionally, I heard the dual 3.5" drivers bottom out on a number of occasions, and sometimes at only moderate listening levels. I don't just mean a subtle bottoming out; it made some pronounced twacks, rending a few tracks, like the XX's "Reunion", unlistenable at anything louder than background levels.
This suggests to me that the Z2 would benefit from a more conservative high-pass filter, or a more aggressive DSP system to limit deep bass. Really, this problem came as no surprise because the Z2 is rated with a -3dB point at 50Hz and -6dB at 42Hz. Granted, the flow port may take over the lowest octaves, but without an extensive transmission line system there's no way to achieve reasonable SPL at 50Hz from a pair of 3.5" drivers. Even a unit twice its size, with 5" or 6" drivers, would struggle with a solid 50Hz tone. I would bet that B&W is fully aware of this issue and made a simple choice to value the ability to play deeper bass at the expense of being able to play it loudly. Now, the Z2 can certainly play loud, and handles the vast majority of songs just fine, but know that some bass heavy tracks will need to be played at low volume levels. If you are in the market for something with booming bass, you will need to step into a unit like B&W's Zeppelin Air, or a Sonos system with a SonosSub (setting you back around $1000).
My other main observation with the Z2 is that it can lose clarity and detail at high volume levels. I suspect this is because its dual 3.5" drivers are asked to reproduce the entire frequency range. This is the only iPod dock that B&W makes that doesn't include a dedicated tweeter. As previously mentioned, the A5 for $100 more has dual 1" tweeters.
Z2 Purchase Recommendations & Conclusion
Although the Z2 has some caveats, it has a tremendous amount of things in its favor as well. It's extremely functional, providing on-board volume and power buttons, a seven button IR remote, and control via any AirPlay compatible device. And the crazy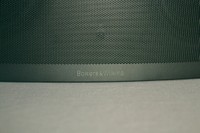 part is that each of these control methods works flawlessly. Not to mention the Z2's small size and modern styling. It also has a wide soundstage and generally pleasant sound. On the downside, it can really struggle with bass heavy tracks or at high volume levels.
With all of these pros and cons, who should actually buy the Z2? I see this product as a great fit for an office, on a kitchen counter, or anywhere else you want a discrete sound system. I loved having it next to me on my desk because it didn't take up much room and I rarely turned it up very loud. The Z2 isn't battery powered, but the rear firing port works surprisingly well as a handle and the unit is small and light enough to tote about among rooms with ease. In the end, the Z2 is best for people who value looks, convenience, and usability over deep bass or high output capabilities, because the former items it has in spades.
B&W Group North America
54 Concord Street
North Reading, MA
01864
(978) 664 2870
Confused about what AV Gear to buy or how to set it up? Join our Exclusive Audioholics E-Book Membership Program!
Recent Forum Posts:
Cliff_is posts on May 10, 2013 18:40
internetmin, post: 967749
I have to tell you that I've never been enamored with all these dock offerings. However, this unit from a price/performance POV does make me take a second look. It's pretty compact, easy to place, and sounds pretty good–and it has airplay. I took a pretty in-depth look at this at one of the Apple Stores in CA.
And what was your impression after you looked/listened?
internetmin posts on May 10, 2013 11:08
I have to tell you that I've never been enamored with all these dock offerings. However, this unit from a price/performance POV does make me take a second look. It's pretty compact, easy to place, and sounds pretty good–and it has airplay. I took a pretty in-depth look at this at one of the Apple Stores in CA.
Post Reply