B&W Z2 Airplay Dock Build Quality & Setup
B&W Z2 Airplay Dock Build Quality & Setup
Since the early 2000s , iPod docks have become ubiquitous, with offerings from nearly every AV manufacturer and at every price point imaginable. However, over the last couple of years, AirPlay, Bluetooth, and other wireless speakers have started to encroach and take their place as the iPod dock 2.0, so to speak (or the boombox 3.0). Not to be left behind, B&W is keeping up with the curve with the release of their Z2 iPod dock and AirPlay speaker. The Z2 is B&W's newest, smallest, and least expensive iOS-oriented product to date. A far cry from their original Zeppelin in terms of price and size, the Z2 is aimed at consumers demanding form as well as function.
When B&W first entered the iPod dock market with their giant, weird, bold, ugly, beautiful, and expensive Zeppelin, the main focus was on sound quality. And when we reviewed the B&W Zeppelin, the sound quality left us floored. However, not everyone wants to spend $599 on an iPod dock that blends in as well as a Storm Trooper in Mordor. Since then, B&W has expanded their lineup to consist of the A7 ($799) and its little brother the A5 ($499) Airplay docks. They also updated the original Zeppelin to include Airplay and cleverly renamed it the Zeppelin Air ($599). The Z2 fits snugly at the bottom of the lineup with an MSRP of $399.
The Z2 is a small and classy looking dock. At 180mm high x 320mm wide x 100mm deep (7"x12.6"x3.9"), it can fit just about anywhere. A sturdy metal grill wraps across the front and curves all the way around the sides. The top has a smooth rubber surface that is far from the cheap plastic enclosures found on most iPod docks. And the rest of the unit, including sides and back also feel sturdy. It could have a little more heft for my liking, as it's only 2.6kg (5.7lbs), but that's pretty average for this size of unit.
On the top are touch-sensitive volume + and – buttons. I used these quite often during listening tests and found them to be very responsive. Often times when buttons are used to control volume (as opposed to a rotary knob), they need to be hit repeatedly or held down for a extended period of time to make a significant change in output, but the buttons on the Z2 worked flawlessly. And for a device like this, it's just as much about usability as it is sound quality.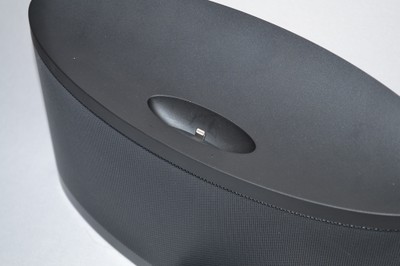 B&W Z2 Apple Lightning Connector
Right next to the volume buttons is a Lightning connector for newer Apple devices. This means that anyone using an Apple device with the old 30 pin connector is relegated to the 3.5mm input on the back of the Z2, or AirPlay. Also around back is the AC power connector, a reset button, and an Ethernet jack for hardwired connection to your network, but I opted to use the built in WiFi for my review. There's a small power button located just around the right side of the unit, out of sight, but easy to find. Finally, a small LED on the front indicates the power status and input selected.
Some of those considering the Z2 will surely also take a glance at the B&W A5, since they are close in price and size. However, the A5 lacks an iPod connector and relies solely on AirPlay and a 3.5mm analog input for sound. The Z2 is equipped with 2x87.5mm (3.5") drivers and no tweeter, none, at all. The A5 jumps to 2x100mm (4") drivers and 2x25mm (1") tweeters. Both units utilize a rear firing port for added bass response. It's a safe assumption that the addition of dual tweeters and larger drivers will give the A5 a significant sound quality advantage over the Z2.
      B&W Z2 Power Button                       B&W Z2 Rear Connections  

Z2 Unboxing & Setup
If there's one thing I can say about Bowers & Wilkins, it's that they have a clear brand image across all products and communication channels. Think of Apple for a moment: everything from their product design to, packaging, manuals, website, etc… all present the consumer with a singular vision of who the company is and what it means to own one of their products. I can't think of a single brand in the audio video industry that does this better than B&W. When I unboxed the Z2 I was greeted with a nice 8x8" thank you card and an 18 page booklet explaining the legacy and mission of B&W. This booklet is made of heavyweight, glossy paper and filled with high quality images. And when you register the Z2 you receive 3 months free membership into B&W's Society of Sound, which includes access to high-res digital downloads. For them, it's not just about purchasing a product; it's about helping the consumer partake in an experience. A brand with a good integrated marketing approach identifies and develops every touch point with a consumer, and B&W is such a brand.
B&W Z2 Setup WiFi                     B&W Z2 Setup Naming
Okay, I'll come off my marketing soap box and actually tell you about setting up the Z2. The process is fairly straightforward: connect power, download B&W's setup software on your device (iPhone/iPod Touch, Mac, or PC), and follow the on-screen instructions. The Z2 creates its own wireless network that the app will find. Once connected, you type in the login information for your actual wireless network and presto! You're done, the Z2 links to your WiFi network. All that's left is choosing a name for the Z2 and testing AirPlay functionality. Although the process is very simple, the included instructions are less than helpful. All they say to do is download the software and follow the instructions. There is no information on what app to search for in the App Store, or a specific URL given to download the software on your computer (a URL is given, but it doesn't take you directly to the proper download page). If you look on B&W's website, they make a big fuss about their app, but I'm not sure why. It's just a simple setup app. It doesn't really "do" anything beyond managing your wireless B&W devices. There's also no instructions about operating the Z2 after setup is complete. For example, none of the included literature explains what the different colors on the front LED mean, or if the Z2 has an auto inactivity shutoff (which it does). I admit, it's not the most complex device in the world, but basic user information should be included in the box. And to think, I just wrote a paragraph about the great packaging and marketing.
Confused about what AV Gear to buy or how to set it up? Join our Exclusive Audioholics E-Book Membership Program!
Recent Forum Posts:
Cliff_is posts on May 10, 2013 18:40
internetmin, post: 967749
I have to tell you that I've never been enamored with all these dock offerings. However, this unit from a price/performance POV does make me take a second look. It's pretty compact, easy to place, and sounds pretty good–and it has airplay. I took a pretty in-depth look at this at one of the Apple Stores in CA.
And what was your impression after you looked/listened?
internetmin posts on May 10, 2013 11:08
I have to tell you that I've never been enamored with all these dock offerings. However, this unit from a price/performance POV does make me take a second look. It's pretty compact, easy to place, and sounds pretty good–and it has airplay. I took a pretty in-depth look at this at one of the Apple Stores in CA.
Post Reply