Bose and Barco Team Up to Offer All-In-One Video Conferencing Solutions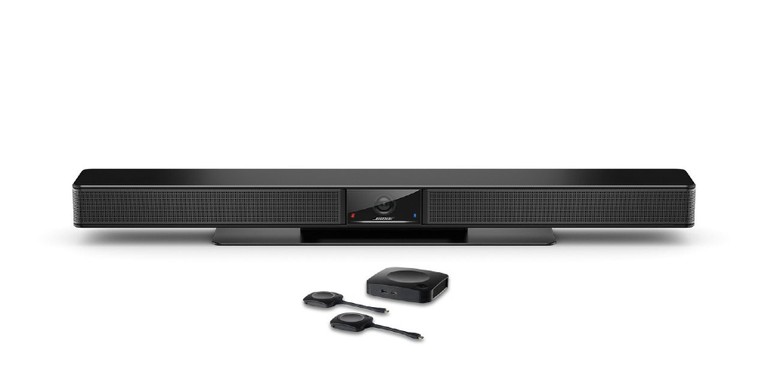 Bose and Barco
Summary
Executive Overview
If I overheard someone talking about a new Bose product, I would probably picture a pair of noise-cancelling headphones. And for me, the name Barco summons up images of large, high-tech cinema projectors, some costing hundreds of thousands of dollars. (I remember reading somewhere that the blockbuster film director Michael Bay has a Barco projector in his uber-high-end home theater.) But despite my rather myopic range of experience with these companies, both are diverse firms with fingers in many pies. Bose has a long history in the communications business — the noise-cancelling tech used in the company's popular consumer headphones was originally developed for communications headsets for pilots — and Barco is a leader in wireless AV conferencing gear for the enterprise business market. Now the two companies have worked together to integrate a new Bose product called the Videobar VB1 ($1,199) with Barco's Clickshare Conference platform.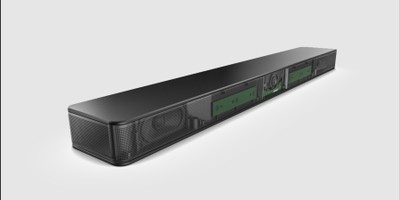 With millions of people working remotely, and business-related travel still significantly reduced, the ability to collaborate with coworkers in other locations has never been more vital. It is with this in mind that Bose recently launched the Videobar VB1, which looks like a soundbar, but is in reality an all-in-one USB conferencing device that combines microphones, speakers, and a 4K ultra-HD camera with "autoframing." The Videobar VB1 promises to work seamlessly with Microsoft Teams, Google Meet, Zoom, and other popular third-party cloud services, using existing network infrastructure. The VB1 employs six beam-steering microphones, which can actively focus on whichever person is talking at any given moment, and automatically reject noise. Audio is played back via Bose-proprietary transducers that were designed to ensure that voices sound clear and natural. The speakers also promise "room-filling audio from multimedia presentations." Bluetooth connectivity gives users the option to connect a smartphone directly, turning the VB1 into a standalone speakerphone or music player.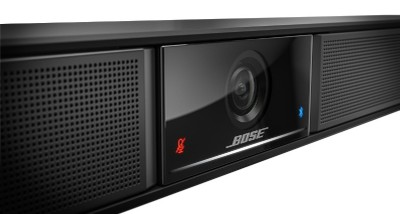 On the video side of things, the Videobar VB1 has at its center a 4K ultra-HD camera with autoframing to help keep presenters, whiteboards, and other in-room objects in clear view for remote participants elsewhere in the world. Both a table stand and wall-mount kit are included, and both allow for manual tilt adjustments. But sometimes it may be necessary to focus the camera on a particular part of the room, and so the VB1 can be controlled in real time using the Bose Work mobile app, to pan, tilt, and zoom the camera, as well as to adjust the volume, select presets, and control other functionality. The Videobar connects to an external display via HDMI, and a single USB connection handles 2-way audio and video between the VB1 and the user's computer. This single-cable connection reduces clutter, but even one cable can be too many when the VB1 is mounted to a wall, and the user's laptop is across the room. This is where Barco comes in with its Clickshare Conference platform.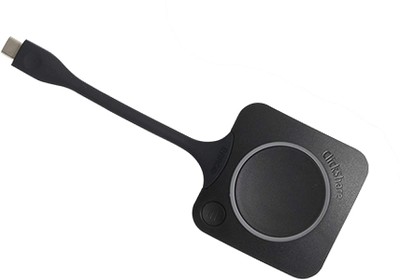 Bose Conference with Clickshare
Clickshare Conference is a wireless AV connection solution that "instantly gives you access to wireless conferencing (with) a more immersive, interactive, and guest-friendly meeting experience," according to Barco. Essentially, it's a two-part hardware solution. On one end, the Base Unit connects to meeting room cameras, microphones, soundbars, and other USB AV peripherals. In the case of the Bose Videobar VB1, it is the Base Unit that connects to the VB1 via USB. The other half of the solution is a small USB-C dongle called the ClickShare Conferencing Button, which attaches to the user's device; it can be a laptop, an Android device, or an iPad Pro, for example. The user simply plugs in the dongle, clicks the button, and within 7 seconds, a secure wireless connection is made between the dongle and the Base Unit. The user can then use any application on the control device, enjoying full AV integration with the existing video conferencing gear in the room.
The philosophy of Bose Work is to provide the conferencing and collaboration solutions people need, regardless of where and how they work. Barco's expertise in wireless conferencing solutions provides the capabilities needed for a full-room solution and complements the VB1's capabilities. This alliance creates a solution that reduces wires, saves space, and delivers a premium meeting experience with a simple button.
— Martin Bodley, director and global head, Bose Work
Barco offers a number of different ClickShare packages that can accommodate various scenarios, depending on the size of the room and the complexity of the AV setup. A small or medium-sized conference room could be outfitted with the Bose Videobar VB1, an external display, and the small Barco ClickShare CX-20 or CX-30 package (contact Barco for pricing info). A large room might require the use of additional microphones and speakers throughout the room. In this case, the more powerful and flexible ClickShare CX-50 can be used in conjunction with either the Bose ES1 or DS4 ceiling audio solutions. These are complete conferencing systems that combine a Sennheiser in-ceiling microphone with Bose loudspeakers, a Bose amplifier, and DSP, all working together with the Barco Clickshare Conference platform to provide simple connectivity.
We're excited the Bose Work solutions are certified for use with Barco ClickShare Conference. Together we offer customers easy, intuitive, and clutter-free meetings that make the new era of hybrid work simply work for everyone. Our guaranteed compatible products integrate seamlessly with existing platforms, bringing enhanced video and audio performance to popular third-party cloud services.
— David Fitzgerald, vice president, Global Alliances at Barco
The Bose Videobar VB1 is clearly both a product of the times, and a product for the times. I don't know if it was already in development before the beginning of the pandemic, but it's not hard to imagine any number of scenarios where it would come in handy these days. My friend Alap works for a large bank; my friend Chris teaches math; and my sister Rachel runs community programming for a social service agency. None of them had any need for video-conferencing gear prior to 2020, and now they all rely on it for every aspect of their work. Although the VB1 and the associated Barco AV integration solutions fall outside of my usual purview, I expect that these products will be of some interest to many Audioholics readers. Have you or your company invested in new video conferencing gear since the pandemic began? Let us know in the related forum thread below.

Confused about what AV Gear to buy or how to set it up? Join our Exclusive Audioholics E-Book Membership Program!
Recent Forum Posts:
gene posts on July 19, 2021 04:42
The new Bose Videobar VB1 ($1,199) is a USB conferencing device that combines microphones, speakers, and a 4K ultra-HD camera. The VB1 uses "beam-steering microphones" that focus on voices and reject noise automatically. Bose has joined forces with Barco to ensure that the VB1 works seamlessly with Barco's Clickshare Conference platform, which allows for easy wireless connections between the VB1 and the user's laptop or mobile device.
We just unboxed our sample and must say the packing, produt fit and finish and features offered are all first class. But, can this be used for hosting conferences at our place?
49207
Read:
Bose Videobar preview
Post Reply