Bluesound Serves Up New Wireless Audio Gear, Sonos Killer?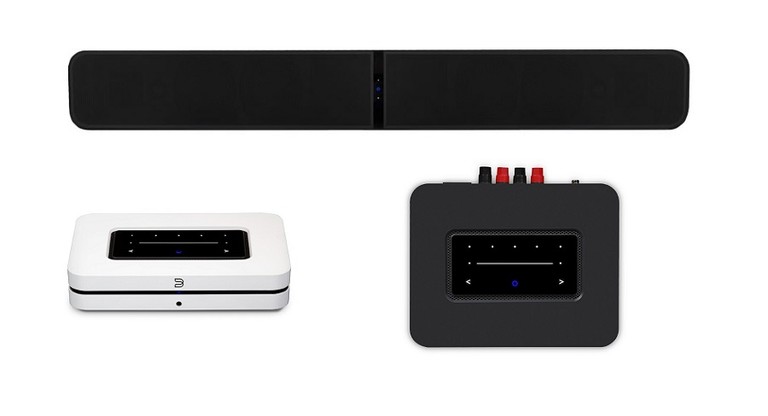 Bluesound 2022
Summary
Executive Overview
Like Sonos… but better. I think it's fair to say that this was the goal that the Lenbrook Group — parent company to NAD and PSB —  set for itself when launching Bluesound back in 2013. (In fact, Lenbrook even served as the Canadian distributor for Sonos in the mid 2000s.) But beating Sonos at its own game is no easy task. As I mentioned in my recent article about the company's first automotive audio system,
WOWSERS! Bluesound POWERNODE (2021) w/ KEF KC62
Sonos is easily one of the most successful new audio brands of the last two decades. Like Apple, it succeeds in part because its hardware and software are so deeply interconnected. Sonos also has the best user interface this side of Roon. With a lineup including the likes of PSB's Paul Barton, Lenbrook's engineering talent could run rings around the audio boffins at Sonos, or at any tech-focused consumer audio company. But Bluesound would need more than just good-sounding speakers and electronics in order to succeed. Taking on Sonos isn't about building a product; it's about designing a whole ecosystem. Plenty of other audio companies have tried to build their own wireless multi-room audio platforms, including heavy-hitters like Denon, Yamaha, and Bose. At the high-end of the market, companies like KEF, Bowers & Wilkins, and Devialet, have made their mark, but the high prices of those products naturally limit their customer base. Tech companies like Google, Apple, and Amazon have changed the game with their smart speakers, but most focus on the futuristic user experience, and not on sound quality. Bluesound came out of the gate with high-res music support, allowing its customers to enjoy 24bit/192kHz downloads in every room of the house. Now that high-res streaming is becoming more commonplace (hello, Apple Music), it's surprising that Sonos speakers — not to mention Apple's own HomePods — still haven't caught up. For the Tidal crowd, Bluesound also handles MQA — a feature that looks increasingly unlikely to find its way into a Sonos speaker near you. With solid audio engineering, real-world prices, an excellent control app, and a better-than-Sonos feature set, Bluesound has come the closest to de-throning the king of multi-room wireless audio. Now the company has introduced three updated products for 2022, including the Node streamer/dac ($549), the Powernode streaming amp ($899), and the Pulse Soundbar+ ($899 or $999, depending on finish).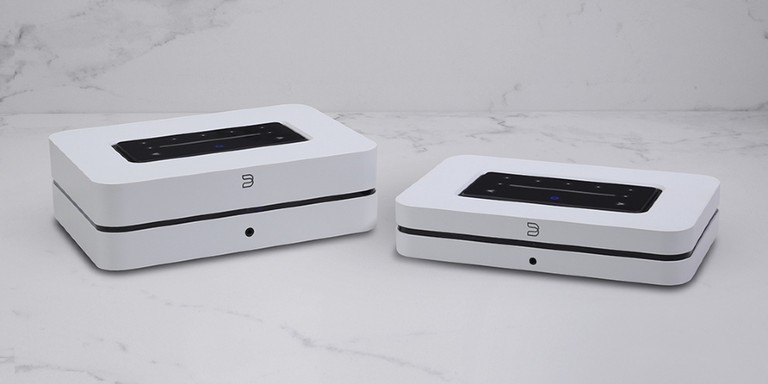 All three of these new products feature a powerful ARM Cortex A53 Quad-Core processor, which Bluesound says is 8 times faster than the chipsets found in previous generations of Bluesound architecture. The new processor may seem like overkill, but that's kind of the point. According to Bluesound, all that extra power and speed make these products "ready for whatever technologies the future may hold." In addition to the significant spec bump in the number-crunching department, the new Node and Powernode boast new DAC designs, improved functionality (more on this later), and fancy new touch-panel controls with proximity sensors. The Powernode also gets a big boost in power over the previous version. Meanwhile, the new Pulse Soundbar+ welcomes Dolby Atmos to the party.
Since the beginning, Bluesound has set out to provide a modern hi-res multi-room streaming experience for customers who care about audio quality. We have seen the NODE and POWERNODE quickly become the go-to streaming components for discerning music lovers, because of our focus on high quality listening and on the software features that make the products – all the way back to our first generation – even better over time. This latest generation, once again, sets the bar for performance and value in their respective categories.
— Matt Simmonds, Bluesound Product Manager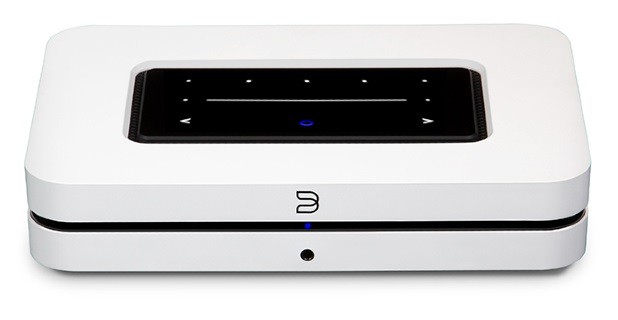 The new Node is a follow-up to the Node 2i from 2018, which represented a major sonic upgrade over the Node 2 that it replaced. This 4th iteration of Bluesound's core streaming gadget seems mostly to be a refresh of the unit's computational smarts and its input/output complement, so owners of the Node 2i needn't rush to trade up. But the new unit does have an updated "audiophile-grade" DAC section based on the highly-capable-on-paper PCM5242 chip from Texas Instruments. While the Node looks virtually identical to its predecessor from the front, around back you'll see one of its best new features: an HDMI eARC input. Bluesound wants the Node to be flexible and future-friendly, and "as comfortable in a two-channel TV system… as it is in an audiophile's dedicated listening room… (providing) a hi-res experience no matter where it's used." Mated to a nice pair of powered speakers, the Node can be both a music-listening hub and a sound-bar replacement for movies, TV, and gaming. Of course, the Node also has an array of other digital and analog inputs and outputs, as did its predecessors. But one big upgrade would be easy to miss at first glance. While earlier Nodes included a USB input for connecting hard drives loaded with music files, an upcoming firmware update will allow the new Node to send digital data out via that same USB port to an outboard DAC. Until now, optical and coax were the only digital outputs available. Some DACs simply perform better via their USB inputs, and many require the use of USB to unlock certain features (such as MQA decoding and/or rendering). Having a high-quality digital output makes the Node easily upgradable. The user can start with the Node's internal DAC and analog outputs, and then upgrade its performance by adding a better DAC down the road. But for many, the Node's feature set will be even more important than its potential for end-game sound quality. Happily, the Node has an exhaustive list of features, including Apple AirPlay 2, voice control (via Siri, Amazon Alexa, or Google Assistant), and 2-way aptX HD Bluetooth, meaning you can stream from your phone to the Node, or from the Node to your wireless headphones. It's also Roon Ready, and handles both Spotify Connect and Tidal Connect. The subwoofer output can be optimized for your setup, thanks to customizable crossover settings. Basically, if you were to say, "But does it do___?" The answer is yes, it does. Despite all of this flexibility, the BluOS control app is one of the more user-friendly on the market. Basic functions like play/pause, skipping tracks, and adjusting volume are also available as touch controls via a new, larger touch panel located on top of the unit. And thanks to a proximity sensor, the touch panel fades to black when it's not being used, and lights up again when your hand moves toward it. Very cool.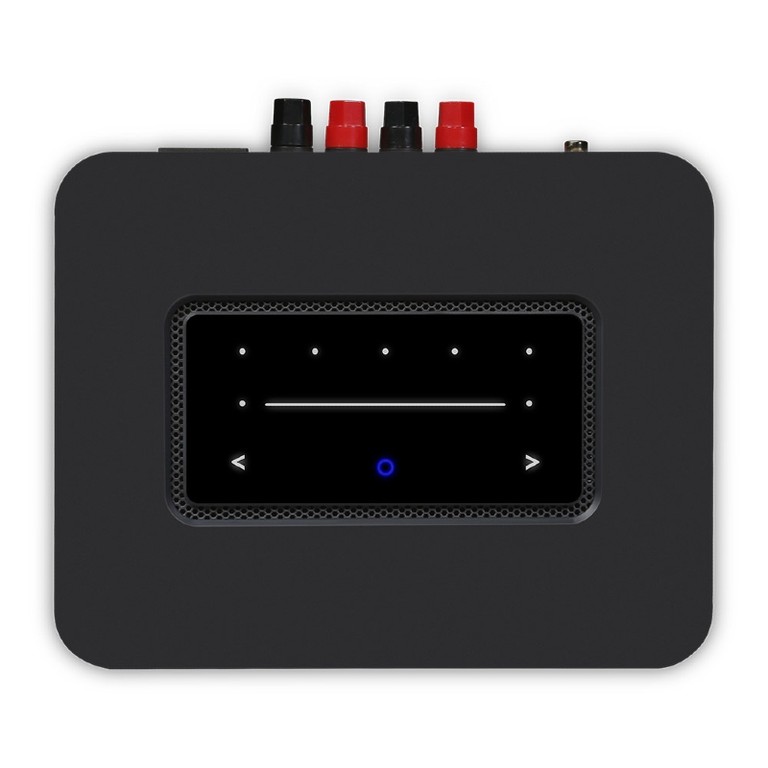 The new Powernode does everything that the Node does, and also has an 80-watt integrated amp built in. There's not too much else to say about it, really. The Powernode uses NAD's HybridDigital amplifier platform, and its 80-watt power rating (into 8 ohms) is a substantial upgrade over the 60 watts produced by the Powernode 2i from 2018. Like the Node, the Powernode can connect wirelessly to Bluesound's Pulse Sub+ subwoofer ($749), or via RCA to any subwoofer of your choice. One cool feature is the Powernode's ability to transform a standard 2-channel rig into a 4.1-channel home theater. Just add a sub and a pair of Bluesound's Pulse Flex 2i wireless speakers ($299 each) as rear channel additions, and the Powernode can deliver a wireless Dolby surround-sound home theater experience. How many stereo integrated amps can do that?
In 2016, Bluesound launched the world's first Hi-Res soundbar, setting the bar for audio excellence in the category that continues to this day. With the PULSE SOUNDBAR+, we continue to innovate and refine, making good on our commitment to bring hi-res, HiFi listening to everyday life, even in product categories that traditionally overlook the importance of audio quality.
— Matt Simmonds, Bluesound Product Manager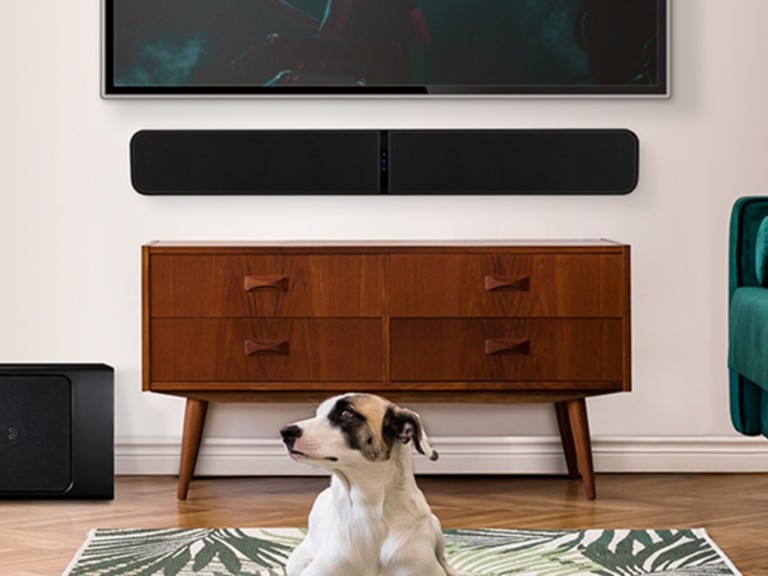 Finally, the new $899 Pulse Soundbar+ is designed to be "the ultimate audiophile-grade soundbar that will satisfy any home entertainment need," according to Bluesound. It represents a "full audio-chain redesign," with advanced DSP processing made possible by that new ARM Cortex A53 Quad-Core chipset under the hood. The big new feature is Dolby Atmos support, served up via 8 audiophile-quality transducers driven by 120 watts of total power. Bluesound says the new amplification "packs a punch, allowing you to play loud and dig deep, with tight, musical control." Acoustic design and speaker voicing were performed at Canada's National Research Council. Like the Node and Powernode, the Pulse Soundbar+ is packed with features, including HDMI eARC, Apple AirPlay 2, and 2-way aptX HD Bluetooth. It can be paired wirelessly with the Pulse Sub+, or to the subwoofer of your choice via a wired connection. Again, a pair of Pulse Flex 2i wireless speakers can serve rear-channel duty, delivering a more immersive surround sound experience. The Pulse Soundbar+ features 2 onboard WiFi chips to prevent network latency, delivering "rock solid and zero-lag audio performance, even for demanding gaming applications." The front panel sports new touch controls for quick access to basic functions. For ease of installation, the Pulse Soundbar+ comes supplied with a wall-mount bracket and a pair of "kickstand" feet. The optional white finish raises the price from $899 to $999.

Bluesound vs Sonos
I would be interested in a comparison between the Pulse Soundbar+ and the $799 Sonos Arc soundbar, which has scored highly with reviewers, and is certainly a direct competitor. Of course, I don't know how well these new Bluesound products will sell compared to their Sonos-branded counterparts, which enjoy both a huge amount of mainstream name recognition and a healthy advertising budget. But from an audio performance standpoint, I don't think any current Sonos product can compete with the Node or Powernode. Both would be great components around which to build a first-ever system for an audiophile newcomer, or a second system for a jaded old audiophile's bedroom or office. If you'd like to learn more about the Powernode, I recommend checking out John Darko's informative and entertaining video review embedded in this article.  All three new Bluesound products are shipping now.

Unless otherwise indicated, this is a preview article for the featured product. A formal review may or may not follow in the future.
Confused about what AV Gear to buy or how to set it up? Join our Exclusive Audioholics E-Book Membership Program!