Focus Enhancements Partners with Aperion Audio for Complete Wireless 7.1 Audio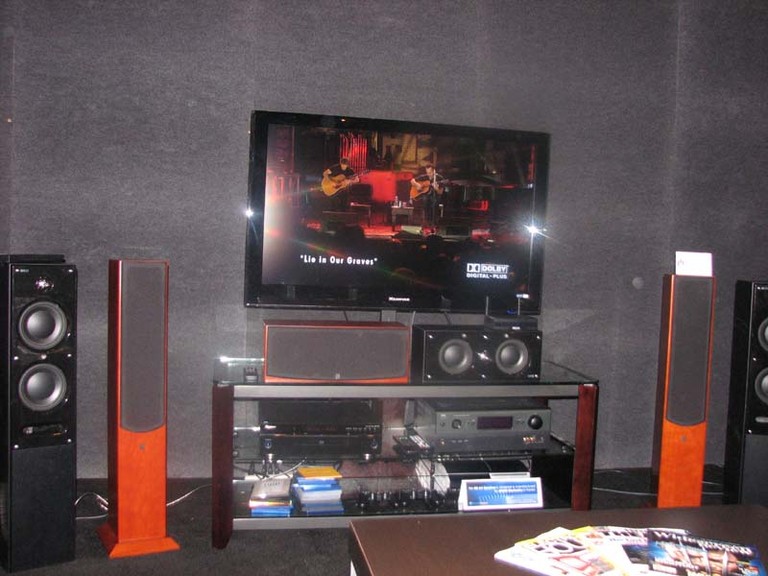 Aperion Wireless
Summary
Focus Enhancements, Inc., a leading supplier of wireless audio technologies debuted their wireless home theater surround sound products utilizing their Summit wireless technology system with a complete Aperion Audio Intimus 5 series 7.1 speaker package at the CEDIA 2009 expo show.
The Summit wireless integrated circuit enables home audio systems to deliver high-resolution, distortion-free audio with ease, using the recently opened 5GHz UNII band spectrum. Summit wireless surround sound technology will be integrated into a variety of audio platforms including, speakers, audio video receivers, DVD players, digital televisions, game platforms, docking stations, sound bars, set top boxes and wireless audio hubs.  In fact, after demoing this technology, I envisioned even more product integration ideas which I will expand upon during my demo experience.
Aperion Audio will be offering self powered speakers solutions featuring Focus Enhancements' patent pending Summit technologies for automatic speaker detection, speaker mapping, speaker channel assignment with SpeakerFinder and audio sweet spot calibration with MyZon that in seconds produces a time aligned sound field for the listener by adjusting, delay and volume to their listening position. Summit audio is designed for scalability from stereo to 7.1 systems so that consumers can add speakers at their discretion. An uncompressed, 24bit, 48Khz pure digital path from the source to speakers, combined with distortion free programmable filters and crossovers, tuneable to the characteristics of the speaker cabinets and drivers, have the ability to deliver unrivaled clarity and frequency response.
Fast Set Up includes:
Automatic discovery of speakers
Automatic channel assignment
Mapping of speaker location within 1 in
Automatic sweet spot configuration
Automatic scalability from 2.0 to 7.1 speakers
Instant volume and time alignment adjustment from your hot seat
"Consumers no longer have to compromise audio fidelity to satisfy their desire for the convenience and simplicity of wireless surround sound. Speakers with Summit's digital filters deliver improved fidelity over wired speakers using passive crossovers," said Tony Parker, vice president of marketing, Focus Enhancements. "The audio speaker market has been asking for a solution such as this and Summit wireless technology is the first to deliver, forever changing the way consumer electronic companies view home theater and audio distribution."
Initial Impressions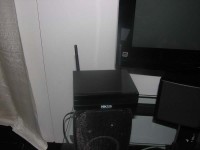 I wasn't expecting much from this wireless demo since all of the past wireless audio solutions I've heard have been less than satisfactory (mildly stated).  Most of the staff from Focus that greeted me where degreed engineers so that gave me a good feeling that this solution could be different.  I sat down to take a listen.  They put on the Dave Matthews Live at Radio City Music Hall Blu-ray disc which instantly won them points.  I was enveloped in the great Aperion sound we often write about in our reviews without the shackles of the cabling.  I was quite taken back from this sonic marvel I was hearing so I glanced behind the speakers to look for hidden cables.  Instead I found nothing other than the power chords plugged into the B&O ICE amplifiers that were running each of the Aperion speakers.  WOW, a wireless solution that doesn't suck was the first thing that came to my mind.  The second of course was, when would Aperion or their competitors integrate this marvelous technology into an outdoor speaker system for my backyard patio?
The Focus group informed me that they could integrate this solution into virtually any loudspeaker design and eliminate the need of a passive crossover, thus creating a truly active bi-amplified speaker solution with perfect driver phase and time alignment.  Very cool!
They handed me the remote during the demo so I hit the calibration button and within a few seconds the sweet spot converged at my seat.  It just doesn't get any easier than that. 
As I enjoyed the pristine, unadulterated fidelity, I couldn't help to ponder the endless possibilities this technology offers including its integration into Preamp/Processors, and inclusion with room correction systems such as Audyssey.  I'd even love to see a wall-wart box to retro legacy devices like powered subs which would really open placement flexibility options for end users and installers wishing to integrate multiple subwoofers in a theater room but lack the line level or speaker level connections to do it. 
I was thoroughly blown away by the demo as it was truly one of the highlights of the show for me.  As I said in my past Aperion Audio 5B review, watch out for them.  This speaker company is a sleeping giant and after this demo I experienced, its obvious to me they are awake and hungry to expand their marketshare. 
The Summit standalone box which is bundled with the speaker package includes toslink and COAX digital inputs and 5.1 analog inputs.  Future models will include HDMI connectivity and decoding. 
For more information, visit:  http://www.aperionaudio.com and http://summitwireless.com/

Unless otherwise indicated, this is a preview article for the featured product. A formal review may or may not follow in the future.