Viewing Evaluation Conclusion
Viewing Evaluation Conclusion
The PLV-Z60 is just a great, colorful projector that redefines budget home theater. It was a pleasure to review and give myself excuses for watching DVDs and television shows just so I could snap off some shots of how good this system looked on my reference 92-inch Carada Masquerade Projector Screen Masking System. OK, less talk, more pics...
HDTV: House
Check out House' hair and the black detail in his leather jacket. The PLV-Z60 certainly isn't the darkest projector I've seen, in fact that's probably the area it needs the most work in, however the detail is never left out and you can always get an accurate luma response that pulls every bit of info out of the picture.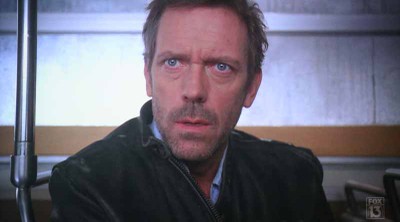 Looks like Dr. Wilson hasn't shaved in several hours according to this next snapshot.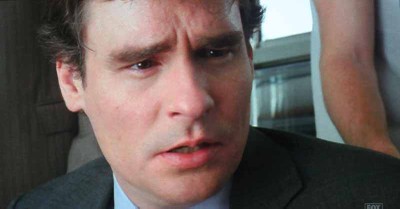 HDTV: Misc HD Shows
From college football to Prototype This! to... heck, television commercials, the PLV-Z60 always found something to make us drool at the screen and wonder at how fortunate consumers are to be able to get this kind of quality at today's prices.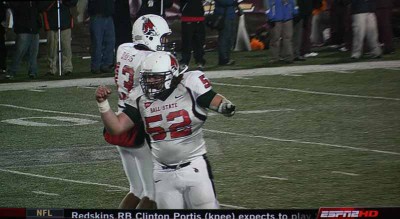 No, his arm isn't severed, he's just pointing right at you!

As the camera moved in we had ourselves a real-world jaggie test... and it passed.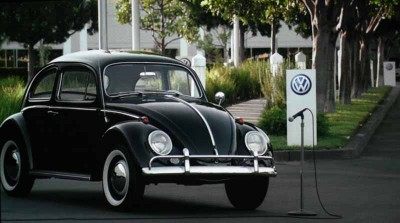 Commercials... If they look that good in real life, I'll take two!
HDTV: CSI: NY
The CSI shows are always a great place to get some HD stills for any projector I'm reviewing. They're colorful.... They look good... They're on 24 hours a day. Seriously, if you can't channel surf and find some flavor of CSI you must be in northern Canada.
Xbox 360: Gears of War 2
I'm not necessarily convinced that the pics came out all that great, but Gears of War 2 is such an incredibly cool game - and fresh off the presses - that I'm going to include it. Just because I can. It's actually another great example of how the PLV-Z60 can show incredible amounts of black level detail, even though it may not exactly sport the deeper blacks of the high-end products. I guess that's why Sanyo makes three different home theater models to satisfy all users/budgets.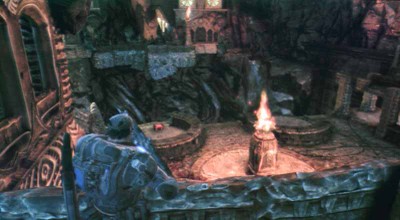 Blu-ray: Iron Man
I saw so many clips of Iron Man recently that I have probably sat through the movie a few times, though not in a linear fashion. It's a very detailed and colorful movie, and detail & color are what really make the Sanyo stick out in the crowd.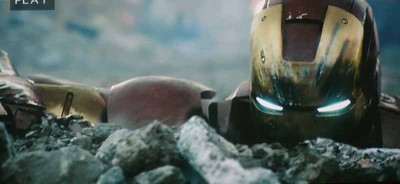 By the way, the sound in this scene is off the hook!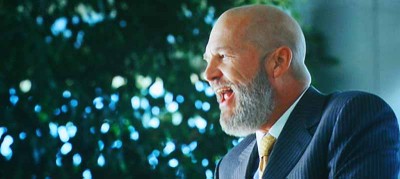 Conclusion
This is the same great projector consumers found in the PLV-Z5 - except cheaper and black. Sure, there are some slight tweaks, but overall you are getting a very incremental update but reaping the benefits of costs savings which Sanyo is apparently happy to pass on to its customers. If we recommended the PLV-Z5 in 2006, it's even easier to recommend this product. Street prices on this model are so low we can't publish them here for fear that the information will be obsolete by time of publication. Rest assured that for less than $1000 you can bring this unit home from an authorized dealer - and that's simply mind-blowingly cool.
Sanyo PLV-Z60 LCD Projector
MSRP: $1,295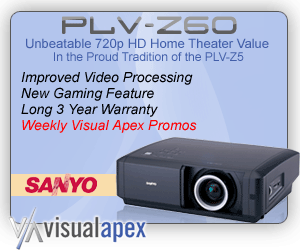 Sanyo North America Corp
http://www.sanyo.com/business/projectors/home_theater/
About Sanyo North America
SANYO Group's corporate philosophy is the guiding principle in accomplishing the key management policy of ensuring products and services that are indispensable in creating harmony between people and the environment. SANYO's priorities are: Customer Satisfaction and Harmonizing with the Environment. SANYO's digital technology and core competence (the source of our competitiveness) supply the products and services that generate joy, excitement, and impact.
The Score Card
The scoring below is based on each piece of equipment doing the duty it is designed for. The numbers are weighed heavily with respect to the individual cost of each unit, thus giving a rating roughly equal to:
Performance × Price Factor/Value = Rating
Audioholics.com note: The ratings indicated below are based on subjective listening and objective testing of the product in question. The rating scale is based on performance/value ratio. If you notice better performing products in future reviews that have lower numbers in certain areas, be aware that the value factor is most likely the culprit. Other Audioholics reviewers may rate products solely based on performance, and each reviewer has his/her own system for ratings.
Audioholics Rating Scale
— Excellent
— Very Good
— Good
— Fair
— Poor
| Metric | Rating |
| --- | --- |
| Detail and Resolution | |
| Deinterlacing & Scaling | |
| Contrast and Black Levels | |
| Color Reproduction | |
| Noise Reduction | |
| Calibration Options | |
| Build Quality | |
| Ergonomics & Usability | |
| Ease of Setup | |
| Features | |
| Remote Control | |
| Fit and Finish | |
| Performance | |
| Value | |
Confused about what AV Gear to buy or how to set it up? Join our Exclusive Audioholics E-Book Membership Program!