Cambridge Audio CXR120 & CXR200 AV Receivers Boast Power Over Immersive Surround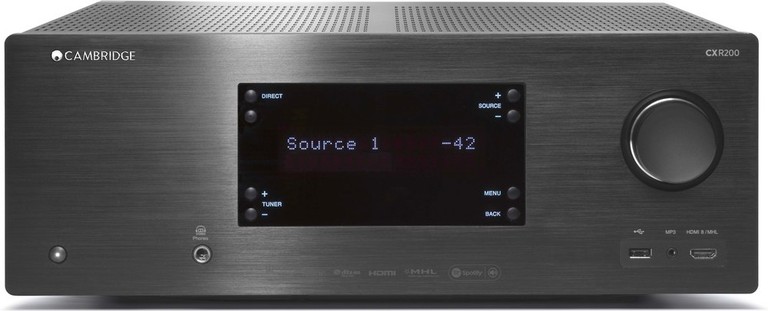 Cambridge Audio CRX200 AV Receiver
Summary
CRX120
Power output
120 watts RMS per channel, 6 ohms (two channels driven), 155 watts RMS per channel, 4 ohms (two channels driven), 100 watts RMS per channel, 8 ohms (two channels driven), 60 watts RMS per channel, 8 ohms (all 7 channels driven)
HDMI
HDMI 2.0, HDCP 2.2, ARC supported on HDMI 1 output
Audio Inputs
3 x Analogue, Tuner (FM/AM), 7.1 multi-channel analogue direct, 2 x digital coaxial, 2 x optical
Video Inputs
6 x HDMI 2.0, 1 x MHL compatible (HDMI 1.4 - max 1080p)
Main Audio Outputs
7 Amplified Speaker Outputs, 2 x subwoofer outputs
Video Output
2 x HDMI 2.0, ARC through HDMI 1
Other connections
1 x 1/4" / 6.35mm Headphone Output (32 To 600 ohms recommended), IR emitter input, IR receiver input, 2x IR outputs, 2x 12V trigger outputs, 1 RS232C, 1 IEC type mains inlet, Wi-Fi module, RJ45 Ethernet, BT100 Bluetooth (BT100 not supplied), Spotify Connect
Audio formats (network streaming and USB HDD)
ALAC, WAV, FLAC, AIFF, WMA, MP3, AAC, HE AAC, AAC+, OGG Vorbis (16-24 bit, 11.025-192kHz), DSD (via HDMI)
Max power consumption
1000W
Standby power consumption
<0.5W
Dimensions (H x W x D)
165 x 430 x 420mm (6.5 x 16.9 x 16.5'')
CEX200
Power output
200 watts RMS per channel, 6 ohms (two channels driven),270 watts RMS per channel, 4 ohms (two channels driven), 170 watts RMS per channel, 8 ohms (two channels driven), 120 watts RMS per channel, 8 ohms (all 7 channels driven)
HDMI
HDMI 2.0, HDCP 2.2, ARC supported on HDMI 1 output
Audio Inputs
4 x Analogue, Tuner (FM/AM), 7.1 multi-channel analogue direct, 2 x digital co-axial, 4 x optical
Video Inputs
6 x HDMI 2.0, 2 x MHL compatible (HDMI 1.4 - max 1080p)
Main Audio Outputs
7 Amplified Speaker Outputs, L+R preamp outs, 2 x subwoofer outputs
Video Output
2 x HDMI 2.0, ARC through HDMI 1, Zone 2 through HDMI 2
Other connections
1 x 1/4" / 6.35mm Headphone Output (32 To 600 ohms recommended), IR emitter input, IR receiver input, 3 x IR outputs, 3 x 12V trigger outputs, 1 RS232C, 1 IEC type mains inlet, Wi-Fi module, RJ45 Ethernet, BT100 Bluetooth (not supplied), Spotify Connect
Audio formats (network streaming and USB HDD)
ALAC, WAV, FLAC, AIFF, WMA, MP3, AAC, HE AAC, AAC+, OGG Vorbis (16-24 bit, 11.025-192kHz), DSD (via HDMI)
Max power consumption
1800W
Standby power consumption
<0.5W
Dimensions (H x W x D)
165 x 430 x 420mm (6.5 x 16.9 x 16.5'')
Weight
Executive Overview
The current lineup from the high-end British company, Cambridge Audio, is the CX series home theater receivers that consist of two receivers, the CXR120 and the CX200. Like most higher end audio companies, the Cambridge units focus more on the audio amplification with quality A/B amplifier sections but lag a bit on features when compared to many of the more common midrange competitors.  It all depends on your focus as to which will suit you best.
The Cambridge receivers have a clean aesthetic with a thick brushed aluminum face plate in gun metal gray with a large central led display.  Buttons on the face are limited to a pair in each corner of the display panel, and only a volume knob, a power button, 1/4" TRS headphone jack, and a single front usb/1/8" TRS/ HDMI input port arrayed at the corners units front plate.  No flip down plate or other knobs, buttons, or other doodads are present to clutter the front.
Connectivity is fairly up to date with a total of 8 HDMI 2.0 connections, 7 at the rear and the one previously mentioned front port, and dual HDMI outs with the first port supporting audio return channel functionality and another supporting Mobile High-definition Link (MHL).  Cambridge states that both receivers are capable of 4K upscaling without going into much in the way of specifics about the chipset used.  Cambridge also mentions Deep Color support, but as Deep Color is functionally defunct and effectively now wrapped into High Dynamic Range (HDR), which requires HDMI 2.0a, this point is likely moot.
Cambridge also highlights the receivers streaming capabilities.  Each features three USB ports, two at the rear and one at the front, optional Bluetooth connectivity via BT100, and an Ethernet port that according to Cambridge support steaming UPnP playback from local NAS storage or web services such as Spotify Connect or the thousands of other streaming sites available on the web using Cambridge Audio's StreamMagic platform.  Audio file decoding is extensive with a number of file formats that audiophiles gravitate towards including: ALAC, WAV, FLAC, AIFF, WMA, AAC, HE AAC, AAC+, OGG Vorbis (at 16-24 bit, 11.025-192kHz), SACD DSD through HDMI, and the requisite MP3, and at up to 24 bit/196 kHz bit depth and sampling frequency.
On the amplifier side, both receivers support a 7.2 configuration with seven amplified channels and dual subwoofer outputs.  The primary power specification for each is part of the naming with the CRX120 outputting 120 watts and the CRX200 outputting 200 watts.  This is where it gets more interesting as there are a lot of other power specifications listed lower down from the headline.
Power Ratings
From what we can see, Cambridge is straddling both approaches to wattage ratings, the more dubious methods employed by many of the more mainstream competitors, and the more conservative methods employed by their peers. The 120\200 watts figures being more dubious by rating the receivers at 6 ohms and 2 channel driven, it can also be mentioned that even though Cambridge uses the nonstandard 6 ohms they did not go as far as to use only one channel like we've seen in some of the latest Atmos/DTSX receivers. As you go down the list the ratings become a little more honest. The next number is the more familiar 4 and 8-ohm ratings for two channels. The last set of numbers gives the real 8 ohms all channel driven wattage. Here we have the numbers of 60 watts (CX120) and 120 watts (CX200), respectively.  Unfortunately, while Cambridge says that the harmonic distortion is low they don't provide the actual numbers in the specification nor do they provide the bandwidth over which the channels were driven. Given Cambridge's reputation, the reasonably substantial 30 and 35 pound weights of these units, and the rated 1000 watt and 1800 watt, respectively, max power draw from the wall, the harmonic distortion is likely low and probably driven full bandwidth rather than only at 1Khz, but we can't know for sure.
Typical for this type of receiver, some of the latest bells and whistles are neglected to focus on the analog amplification.  Surprisingly, these receivers do NOT support the latest Dolby Atmos or DTS:X immersive surround decoding.  They do however decode Dolby TrueHD and DTS:HD. The product literature also does not make mention of any of the more recent convenience features such as microphone based automatic setup or digital room correction system.
CXR120
The CXR120 is a 7.2 channel receiver with seven configurable amplified channels and two subwoofer outputs.  The first five pairs of binding posts support a standard five-channel surround set up while the remaining two sets are configurable and marked surround back/height, suggesting home brew processing akin to Dolby Prologic IIz.  At 30 pounds, the CRX120 outweighs other receivers with similar wattage ratings.  Based on peak power consumptions with class A/B amplification at 50-60% efficiency, the receiver can easily provide more than 60 watts per channel from the wall.
Digital connectivity consists of 6 HDMI input ports at the rear panel and 1 additional input on the front with port one compatible with Mobile High-definition Link (MHL).  There are 2 HDMI outs with the first supporting ARC.  Legacy digital connectivity includes 2 coaxial and 2 optical inputs.  Analog connections include three stereo inputs and one output along with a 7.1 channel analog input set.  For internet connectivity, the receiver features 2 USB ports on the back, one of which supports an optional Wi-Fi adapter, a front USB port,  and an Ethernet port.  For custom installation and programming, the CRX120 has an RS232C port, an IR emitter port, an IR input, 2 IR outputs, and 2 12 volt triggers connections.
The CXR200
The CXR200 adds an additional 5 lbs making the receiver approximately 35 lbs and increases the maximum power draw from 1000 watts to 1800 watts, again, easily making the rated 120 watts per channel from the wall.   The seven-channel amplifier can be configured for 7.2 or 5.1 with the remaining two channels configurable as height channels, bi-amping the front L+R, or to provide a powered zone 2 added from the CRX120.  For connectivity, the CRX200 adds an additional rear HDMI port, two additional optical digital ports, an additional stereo analog input, and one each of the IR and 12 V trigger connections.
The CRX200 comes with four additional speaker terminals, with one set to support bi-amping the main L+R or a powered zone two option, both with a 5.2 main zone configuration. The receiver also comes with an additional IR and 12-volt trigger output.
Conclusion
From the look of them, the Cambridge Audio CRX series appear like a good match for their intended market, the audio buff that is looking for home theater functionality.  Typical for receivers that come in this mold, the design emphasis favors the audio side, forgoing some of the latest features and functionality on the processor side for a beefier analog amplifier section.  It is very likely that the design will satisfy the intended market and sound good doing so.  This is especially true considering Cambridge is using the latest HDMI 2.0 with HDCP 2.2 compliance for 4K video and their network streaming module for music controllable with their Cambridge connect App.  However, if you're looking to embrace the latest in immersive surround sound, then you must look elsewhere.  We wonder how long it will be until Cambridge Audio catches up with the rest of the industry and does a refresh on these receivers to offer the latest surround codecs.  Is the lack of Atmos/DTS:X a showstopper for you on these products?  Let us know in the related forum thread below.

Confused about what AV Gear to buy or how to set it up? Join our Exclusive Audioholics E-Book Membership Program!
Recent Forum Posts:
ljg2016 posts on November 27, 2017 15:30
These were released in January 2015, nearly three years ago! Seems odd timing for a 'recently released' announcement from Audioholics?
garypen posts on November 27, 2017 14:55
While the absence of the Emperor's New Surround Modes is understandable.
Leaving Bluetooth and Wi-Fi as expensive optional add-ons rather than included as standard features, is not.
Those are standard methods of connectivity in this second decade of the 21st century.
Auditor55 posts on November 25, 2017 13:06
Good for them.
MR.MAGOO posts on November 20, 2017 03:02
But ATMOS and DTS:X are so now and hip and all that!
M Code posts on November 19, 2017 21:28
Since 82% of the AVRs purchased are used in 5.1/7.1 HT systems…
This makes marketing sense for Cambridge to concentrate on basic HT audio and video performance features rather than chasing the larger more popular Japanese brand AVRs that concentrate more on price and marketing fluff features..

Just my $0.02..
Post Reply