Sonus faber and McIntosh Set Sail with Wally Yachts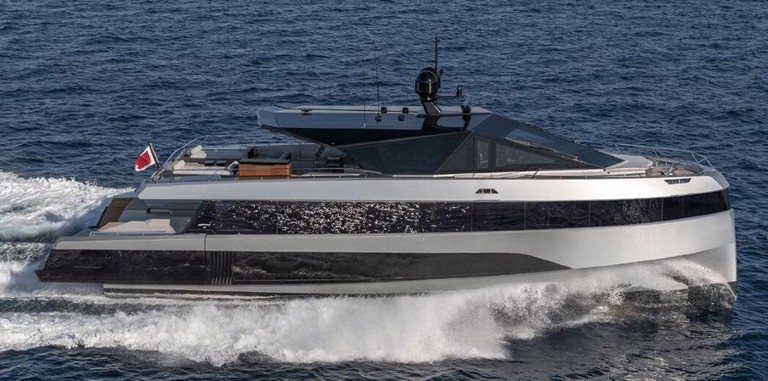 wallywhy 200yacht
Summary
Executive Overview
We've all been there: you've finally picked out the perfect yacht. You sign on the dotted line and call the bank. But just as the 10 or 12 million vanish from your account, you discover that the onboard audio gear isn't up to snuff. Sure, you could rip it all out and install the recently-released Focal Littora line of custom-install speakers designed for yachts (or spas, or outdoor areas in wet and coastal environments). But in my case, that simply wouldn't do. You see, I only go for yachts made in Italy. It's just my vibe. And it probably goes without saying, but adding French loudspeakers to an Italian interior design could really muddle the aesthetic in a way I'm just not comfortable with. Luckily, I've just stumbled upon the perfect yacht for me. The Monaco-based yacht design outfit Wally Yachts builds its fleet in Italy, and has just announced a partnership with Sonus faber (and McIntosh) to deliver the most luxurious AV experiences at sea.
The combination of the sea breeze, the sun setting on the horizon, and the Natural Sound of our speakers creates an unforgettable atmosphere. The unparalleled style of Wally Yachts is now matched by the Natural Sound of Sonus faber and the power of McIntosh. We are proud to have brought our passion for music to the sea and offer an experience unlike any other. With Sonus faber and McIntosh on board, the dream of high-quality sound on the sea has become a reality.
— Sonus faber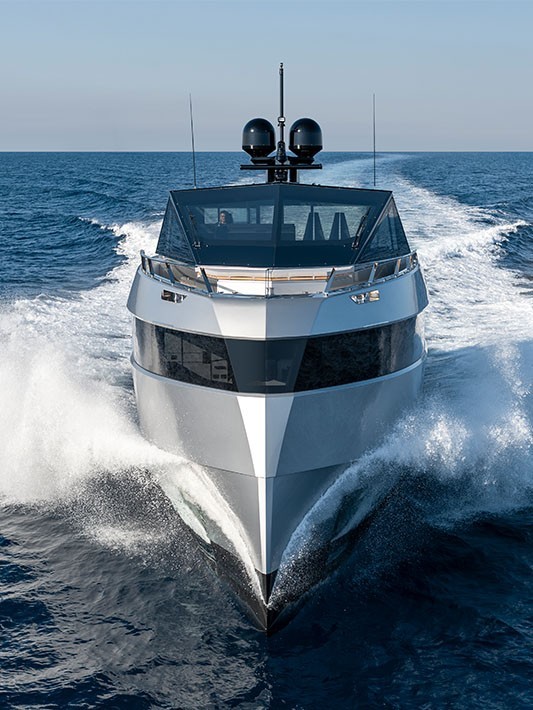 The first yacht available with these custom-designed AV systems is the 88-foot wallywhy200, which can cruise at 20 knots, and hit 23 knots flat out with the optional enhanced power package. Now, I know what you may be thinking — 88 feet isn't all that big. But as my friend Tony once said, with all the unrest in the world, I don't think anybody should have a yacht that sleeps more than twelve. And if you're willing to downsize a bit, the wallywhy200 really does have some beautiful AV systems to sweeten the deal. The boat's main deck salon is the star of the show, featuring 4 Sonus faber Palladio PC683 speakers, 4 custom-made subwoofers (two 10-inch and two 12-inch), and a pair of custom-made Sonus faber speakers for the main left and right channels.
We are very excited to unveil our latest collaboration with Sonus faber and McIntosh. Our goal is to provide our owners with the best innovative solutions on board, to ensure maximum comfort and pleasure. I am sure that the incomparable quality standards offered by Wally together with the ultimate experience provided by McIntosh and Sonus faber can fully achieve our ambitious goal. At Wally, we are always very selective about the companies with whom we choose to work, but with these two brands, it was a total no-brainer, thanks to our shared obsession with achieving perfection and the highest possible technical standards. As a result, there is a real, tangible synergy between our companies, and I can't wait to show the results onboard the wallywhy200.
— Stefano de Vivo, Managing Director of Wally Yachts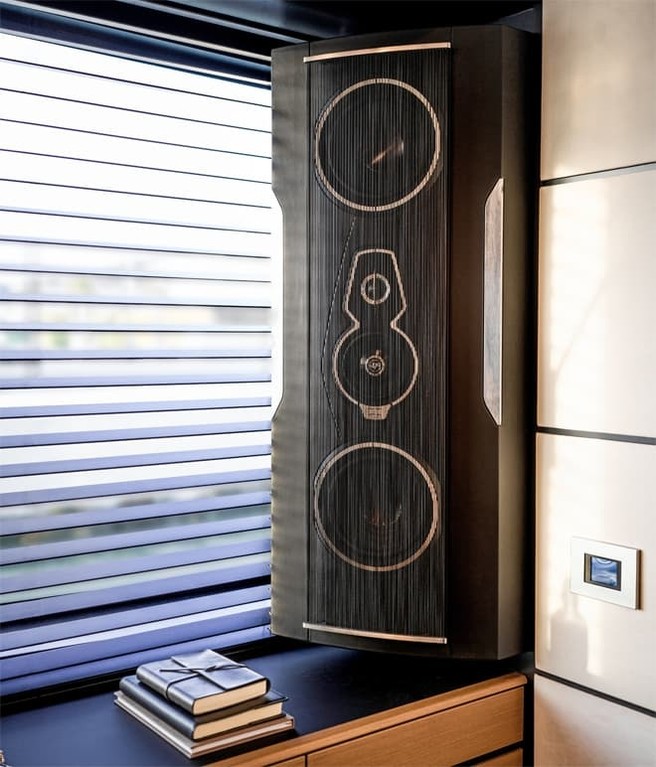 The new handmade Sonus faber speakers have cabinets wrapped in black leather, stainless steel frames, aluminum dust caps, and black paper cones. These custom 3.5-way designs incorporate Sonus faber's new Phase Coherent Philosophy to ensure a realistic soundstage. The system builds upon the acoustic research conducted for the new Homage and Arena collections. The Phase Coherent Philosophy "creates a 3D soundstage without a physical center channel and with a wide distance between the left and right channel," according to Sonus faber. This reportedly allows the onboard systems to excel in environments that, by necessity, might limit where speakers can be placed.
This system is powered by two McIntosh amplifiers: the MC255 5-Channel amplifier and the MC312 stereo amplifier. Processing is handled by a McIntosh MX170 A/V Processor. Sonus faber says that "the main salon is now the perfect place to immerse yourself in the rich, crystal-clear sound of your favorite entertainment. And with the sleek, sophisticated design of our audio system, it seamlessly complements the yacht's overall aesthetic, adding to the already luxurious atmosphere of the main salon."
We developed a bespoke solution in cooperation with the Wally team, combining the finest audio solutions with interior design that allow to create among the best CI-FI experience ever. The concept is to transfer all the audio knowledge of McIntosh and Sonus faber onboard, giving the customers the unique opportunity to live the excitement of a movie theater on their yacht and be fully immersed in the heart of the action. Our real challenge was to create something truly unique, so we integrated the audio system seamlessly into custom furniture, walls, and cabinets, specifically tailored to meet Wally's vision. We look forward to customers experiencing the exceptional sound quality that this collaboration has brought to life.
— Roberto Gamba, Business Developer CI at McIntosh Group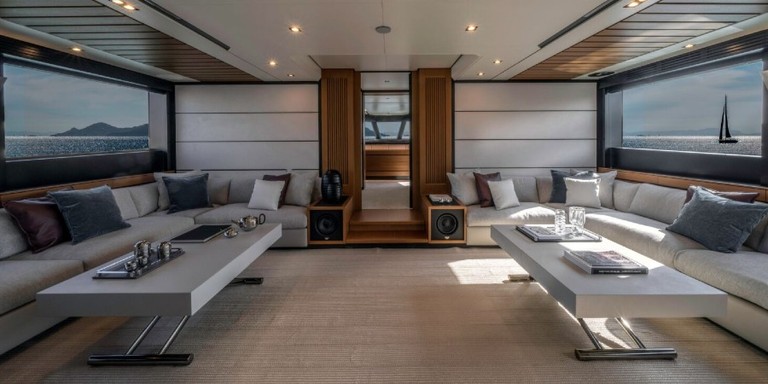 Sonus faber and McIntosh carried out extensive stress tests to ensure that the systems could withstand the unique challenges of a marine environment, and the companies also executed product validation processes and detailed calibrations to guarantee superior sonic results from every system onboard. In addition to the main salon system, the wallywhy200 features audio systems in the upper deck salon and in the master cabin. The upper deck salon is equipped with a McIntosh MX123 A/V Processor and MI347 7-Channel amp powering five Sonus faber Palladio PC662 in-ceiling speakers and a Sonus faber custom 12-inch active sub. This same system is duplicated in the master cabin. 
Entering the marine industry has been top of mind for us for quite some time. After gaining experience in the automotive industry, paired with our company's consistent development of quality performance custom installation audio (as we lovingly call "Ci-Fi"), the time felt right to enter the exhilarating market, and we couldn't be more grateful to have found a perfect ally in Wally. We are extremely excited for the future of this collaboration, celebrating the common pillars and shared passion from Wally, McIntosh, and Sonus faber, all in the pursuit of High-End experience and the highest performance available in the market.
— Fiore Cappelletto, Vice President and General Manager of Automotive and Marine at McIntosh Group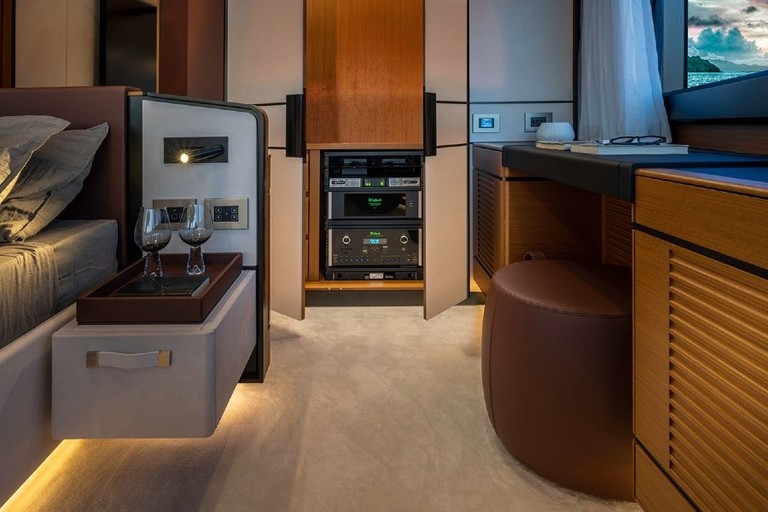 If You Have To Ask... You Likely Can't Afford It
Wally Yachts says that the wallywhy200 "redefines the volumes, exterior areas and features available in yachts of this size, drawing from a palette of elements such as wrap-around glazing, forward owner's suite and high bow." One selling point is the large owner's suite, which seems to hang over the water below the bow, and offers 270-degree panoramic views thanks to an "expertly-engineered strip of tall glass running all the way round the main deck." Wally's signature glass and carbon dome covers the enormous upper deck, which connects to the lower deck via a unique staircase made from a single piece of laminated carbon fiber. Not only does this carbon fiber staircase reduce weight, it also adds structural support and eliminates bulkheads, creating open entertaining spaces for a seamless indoor/outdoor transition. The Wally design team was led by Luca Bassani, jointly with the Ferretti Group Engineering Department, working with Laurent Giles NA Ltd for naval architecture, and Studio A. Vallicelli & C for interior design.
Pricing for a fully-loaded wallywhy200 is only available to serious customers, and for some reason, I didn't make the cut. It's probably going to be 8 figures, though, so I might need to sell the Lake Como villa before placing an order.
More information: Sonus faber

Unless otherwise indicated, this is a preview article for the featured product. A formal review may or may not follow in the future.
Confused about what AV Gear to buy or how to set it up? Join our Exclusive Audioholics E-Book Membership Program!