Sonance Invisible Speaker Series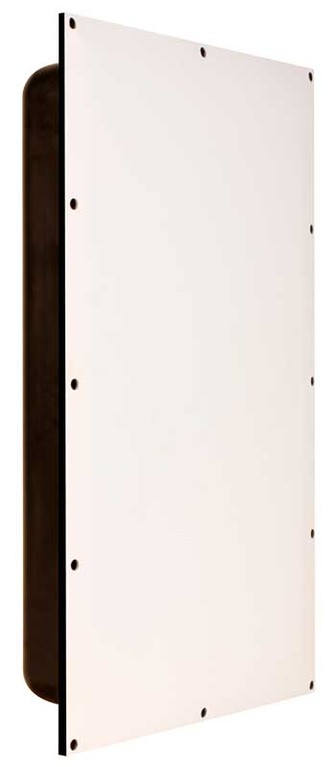 Summary
SA3

Tweeter: 48 sq. in (310 sq. cm) planar diaphragm, driven by a 1.02" (26mm) voice coil

Woofer: 50 sq. in (323 sq. cm) low-frequency radiator, driven by a 1" (25mm) voice coil
Frequency Response: 40Hz – 20kHz ±3dB
Impedance: 8 ohms nominal
Power Handling: 80 watts RMS
Sensitivity: 90dB (1W/1 meter)
Dispersion: 140º hemispherical up to 10kHz
Finish: Primed surface ready for texture and paint
Overload Protection: Two independent self-resetting gel switches (low-frequency and high-frequency)
Dimensions (W x H x D): 16" x 24" x 3 7/8" (406mm x 610mm x 98mm)
Shipping Weight: 20 lbs (9 kg) pair

SAW Subwoofer

Woofer: Two 50 sq. in (323 sq. cm) low-frequency radiators, each driven by a 1" (25mm) voice coil
Frequency Response: 35Hz – 150kHz ±3dB
Impedance: 8 ohms nominal
Power Handling: 150 watts RMS
Sensitivity: 90dB (1W/1 meter)
Dispersion: 180º hemispherical up to 150Hz
Finish: Primed surface ready for texture and paint
Overload Protection: Self-resetting gel switch
Dimensions (W x H x D): 16" x 24" x 3 7/8" (406mm x 610mm x 98mm)
Shipping Weight: 17 lbs (7.7 kg) each

SA1.5

Tweeter: 48 sq. in (310 sq. cm) planar diaphragm, driven by a 1.02" (26mm) voice coil
Woofer: 33 sq. in (210 sq. cm) low-frequency radiator, driven by a 1" (25mm) voice coil
Frequency Response: 50Hz – 20kHz ±3dB
Impedance: 8 ohms nominal
Power Handling: 80 watts RMS
Sensitivity: 88dB (1W/1 meter)
Dispersion: 140º hemispherical up to 10kHz
Finish: Primed surface ready for texture and paint
Overload Protection: Two independent self-resetting gel switches (low-frequency and high-frequency)
Dimensions (W x H x D): 16" x 12" x 3 7/8" (406mm x 305mm x 98mm)
Shipping Weight: 12 lbs (5.4 kg) pair
Executive Overview
Sonance has long held a prominent position in the architectural, in-wall and in-ceiling speaker marketplace. Now, the company has released their latest innovative variation - the Invisible Speaker Series. The flat-panel driver technology developed by Sonance is featured in three new models, two of which utilize improved planar technology. The Sonance Invisible Series speakers are entirely flat and vanish into the room design, delivering "invisible" ambient music that emanates from the walls and ceilings.
The goal of the Invisible Series products is to allow custom installation pros make the speakers truly disappear without compromising sound. The Sonance Invisible Series completely rewrites the rules, giving interior designers what they've been demanding for so long - preservation of the aesthetics of interior design - while freeing the audio system designer to choose speaker locations based purely on performance, rather than the visual demands of customers or designers. Could this be the end of poor speaker placement in homes? Let's hope so. Of course, there's always the problem of not being able to hang pictures on the wall in front of a well-placed invisible speaker.

The new Sonance Invisible Series consists of three models that feature improved installability and upgraded performance. The SA3 ($1400/pair) and SA1.5 ($1000/pair) combine unique, variable-thickness planar flat-panel midrange/tweeters with conventional, round dynamic woofers. The Invisible Series SAW is a subwoofer featuring conventional drivers. In all three models the surface of the finished unit is covered with a perfectly flat, acoustically transparent vellum overlay that can be painted with a water-based finish, wallpapered, or even covered with textured wall coverings without significantly impeding performance. The end result is a high quality speaker hidden behind a single, continuous, unblemished surface.
The advantages of the Invisible Series extend beyond the visual. The underlying physics of planar transducers empower the Sonance SA3 and SA1.5 to radiate sound omnidirectionally, to achieve smooth, accurate, and broad coverage over nearly a full hemisphere (140 degrees) up to 10kHz. While not the expected 20kHz, this is actually quite amazing for a speaker hidden behind a textured facade. The speaker delivers spacious, lifelike sound for use in rooms where background or ambient music is desired. It certainly won't perform as well as traditional in-walls or box speakers, but it will enhance a broad variety of rooms and fits a distinctive niche.
The flagship of the Invisible Series, the SA3 mates a 48-square-inch planar-diaphragm driver with an 8-inch conventional cone woofer to achieve impressively extended response from a completely concealable source. A second model, the Invisible Series SA1.5, pairs the same planar unit with a 6.5-inch woofer for similar performance with slightly less bass extension, while delivering a mounting profile that is reduced by one-half: 16x12 inches versus the SA3's 16x24 inches. The SAW subwoofer ($1000/each) has dimensions identical to the SA3's, with dual 8-inch low-frequency drivers for even greater deep-bass extension and dynamic potential when deployed in "subwoofer" applications. The SAW subwoofer is optimized for use with Sonance's Sonamp A800 subwoofer amplifier.
All three Invisible Series models require just 3-7/8 inches of depth and can be installed in any conventional 2x4-studded construction. All three incorporate new MDF baffle structures that ease installation while improving acoustical performance. The speakers also include integral, supplied metal back-boxes that ensure their specified low-frequency performance regardless of wall-structure details and dramatically reduce adjacent-room spillover. Additonally, Sonance offers inexpensive Space Savers - reusable, place-holding fixtures that handily and accurately fix installation locations during construction or renovation and quickly snap out for installation of the actual loudspeaker. These are available in the two sizes conforming to the dimensions of the main speakers.
For more information please visit
Sonance.com

See also:
Confused about what AV Gear to buy or how to set it up? Join our Exclusive Audioholics E-Book Membership Program!
Recent Forum Posts: