Revel Expands PerformaBe Loudspeakers With In-Wall Architectural Series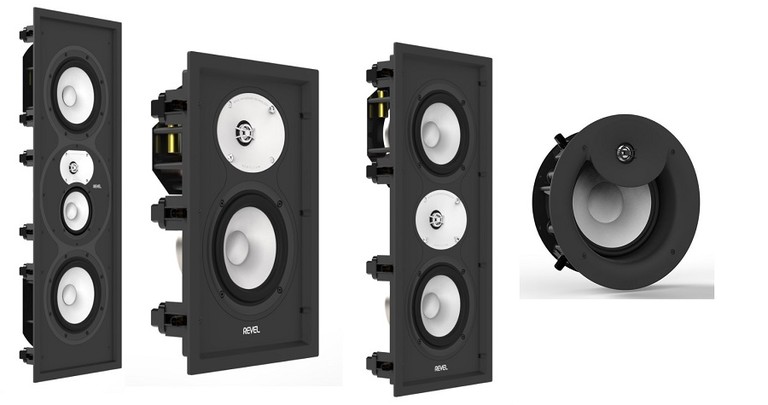 Revel PerformaBe Architectural Speakers
Summary
Revel Performa Be In-Wall Speakers Overview
There's no doubt that audio company Revel has released some amazing speakers in the past few years. When it came time for Jerry Del Colliano, a long time friend of Audioholics, to chose a speaker for his own home he chose the Revel Performa F228Be's. Of the F228Be's he said:
If you are looking for a speaker that does everything right, be it imaging, dynamics, depth and more, I encourage you to put the Revel F228Be loudspeakers on your short list of contenders at the $11,000 per pair price point. You get a super-sweet tweeter that is nearly perfectly integrated with the speakers in such a way that nearly every genre of music is well-represented. But the really strong performance is in the integration with the 5.25-inch Ceramic Composite mid-range driver. This is where those open, accurate, and engaging mids come from.
--Jerry Del Colliano, futureaudiophile.com

Now at CEDIA 2023 in Denver, Colorado,  HARMAN Luxury Audio Group announced the latest addition to the Revel PerformaBe line of loudspeakers: the PerformaBe Architectural Series. The new speakers utilize many of the same features of the floorstanding and bookshelf speakers including the same beryllium dome tweeters and Acoustic Lens waveguides.  
For two-channel hi-fi, home theaters, and whole-home audio distribution, our new Revel flagship architectural loudspeaker series is designed to deliver the renowned PerformaBe sound in a custom installation solution. And since all PerformaBe speakers utilize the same patented technology, architectural, floorstanding, and bookshelf loudspeakers can be mixed and matched in a single system without sacrificing audio quality.
 --Jim Garrett, Senior Director, Product Strategy and Planning, HARMAN Luxury Audio Group
The PerformaBe Architectural Series consists of three in-wall models — the 2-way 6.5-inch W126Be, 2-way dual 6.5-inch W226Be, and 3-way dual 8-inch W228Be — and one in-ceiling model: the 2-way 8-inch C128Be. At the heart of the speakers you get  the 1-inch beryllium tweeter and the powerful ferrite motor assembly that the PerformaBe line is known for.  The tweeter and ceramic-coated, cast-aluminum Acoustic Lens waveguide integrate with the directivity of the speakers' Deep Ceramic Composite (DCC) aluminum woofer and mid-frequency driver cones for what Revel says gives you "greater bandwidth, less compression, improved dynamic range, reduced distortion, and increased power handling".
The PerformaBe Architectural Lineup

The W126Be is an in-wall version of the M126Be bookshelf loudspeaker and shares the same 6.5-inch 2-way design as its in-room counterpart. The W126Be would work well as a smaller, two-channel hi-fi music loudspeaker, or as a surround channel loudspeaker in a system with its larger siblings.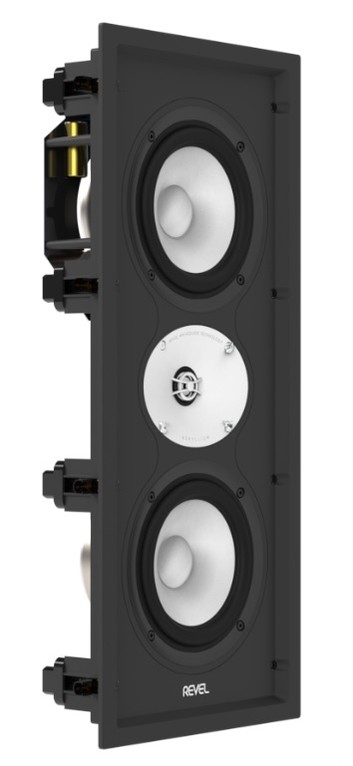 Stepping up in the range, the W226Be is a dual 6.5-inch 2-way LCR version of the smaller W126Be. Because of it's larger size and in-wall capabilities, we can see this being used as a  front channel in a custom-installed home theater system, or as an in-wall center channel companion to the F226Be or M126Be in-room loudspeakers.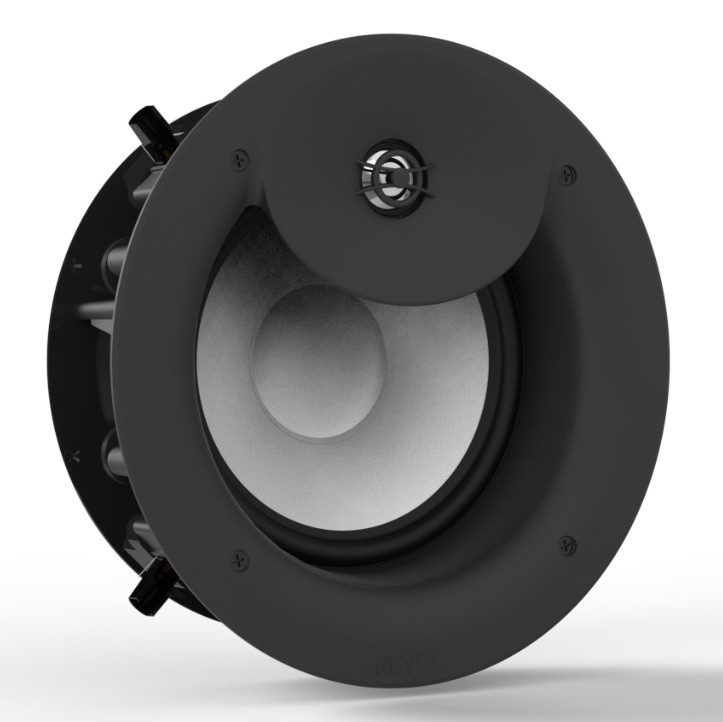 The C128Be 8-inch 2-way in-ceiling model offers a solution for high-resolution sound in a whole-home distributed audio system, or it can be deployed as an in-ceiling surround or height channel in a custom installed home theater system.
The largest model in the range — the W228Be — shares an identical dual 8-inch 3-way driver configuration with the F228Be floorstanding loudspeaker, but with the tweeter and midrange drivers mounted on a rotatable module located in the center of the baffle between the two woofers. This allows the W228Be to be used either vertically as a main channel loudspeaker, or horizontally as a center channel when the tweeter/midrange module is positioned for such use. This flexibility makes the W228Be a great choice for use as an in-wall LCR system, or as a matched in-wall center channel when paired with either the F228Be or F328Be floorstanding loudspeakers.
What we think

If you love your two channel Revel Performa F228Be speakers, but want to expand into a Hi-Fi home theater, we think the new architectural series from Revel would be a perfect fit. The W126Be, W226Be, W228Be, and C12Be are each available with an optional integrated back box enclosure (which we would recommend).  Revel says (and we agree) that the back box gives you a more consistent performance and reduced noise ingress into adjacent spaces. The loudspeakers feature a patented Cat Claw mounting system that makes installation far easier than traditional dog leg designs, and mounting depths that fit within standard 4-inch wall and 6-inch ceiling stud bays. Preconstruction brackets are available for all models as well.
The Revel PerformaBe Architectural Series will be available in the fourth quarter with the following manufacturer suggested retail pricing:
W126Be: $1,750 each; back box enclosure: $550 each
W226Be: $2,250 each; back box enclosure: $800 each
W228Be: $3,500 each; back box enclosure: $1,000 each
C128Be: $1,500 each; back box enclosure: $500 each

Unless otherwise indicated, this is a preview article for the featured product. A formal review may or may not follow in the future.