RBH Sound Massive AMT In-Wall & Active Speakers, and Dual 12" Subwoofer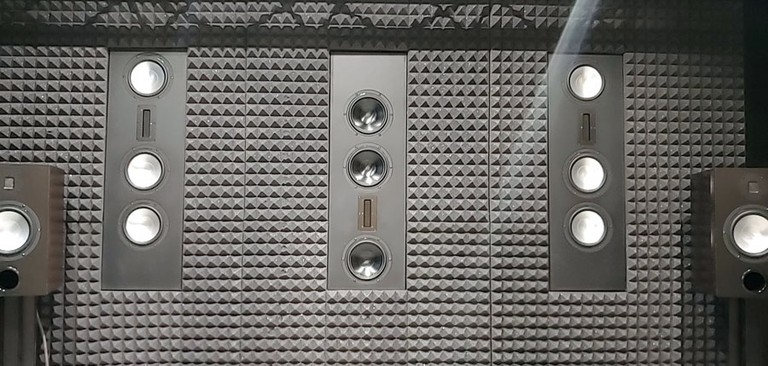 RBH Sound Demo Room CEDIA 2019
Summary
Coverage of RBH Sound includes:
SI-831R In-Wall LCR speaker
S-1212 Subwoofer available both active and passive varieties
PM-8 Powered Studio Monitor
Executive Overview
RBH Sound has been an audio company on the move with new owner, Todd A. Stewart who assumed Presidential duties last spring. Under Stewart's leadership RBH has further refined its place as an affordable high-performance speaker company with new specialized products it unveiled at this year's CEDIA conference and trade show. The new offerings run the gamut from the custom installation, to a new contender for an Extreme Bassaholic subwoofer and a first for RBH Sound in a new powered studio monitor. Audioholic's own President Gene DellaSala was in attendance and made the rounds with RBH Marketing and Sales Director, smilin' Daren Egan, you can watch the exchange between Daren and Gene in the YouTube video below as they preview the new equipment.
SI-831R LCR In-Wall Speakers - Putting the Sound Where the Action is!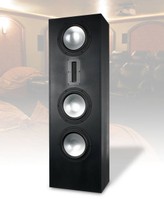 The SI-831R was designed specifically to fulfill a custom integration requirement for a narrow in-wall speaker that fits comfortably behind an acoustically transparent screen. RBH answered the call with a new in-wall LCR speaker design that the company's Darin Egan describes as the in-wall version of company's award winning SVTR speaker.
The ultra-thin design, consisting of three 8-inch aluminum cone woofers and an AMT aero-striction tweeter fits discreetly inside a baffled wall constructed behind the projector screen and fills left, right and center speaker duties for even the largest listening room. The new speaker system promises to provide all the performance of the company's SVTR speakers without the footprint of  floorstanding speakers. In the demonstration, Daren shows us a recommended configuration with the center speaker flipped upside-down to bring the tweeter down to the audience's ear-level. The middle SI-831R was inverted only to show how the in-wall can accommodate other cabinetry or framing below the speaker cabinet preventing the tweeter from being at ear level. It's important to have the tweeters for all three front channels at the same level, preferably and optimally at seated ear level and it's pretty cool how this speaker can accommodate that in this fashion.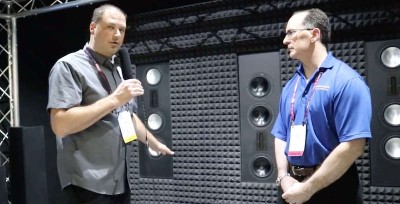 Daren points out that the behind-the-screen, in-wall layout offers the advantage of having sound delivered to the audience from exactly where the on-screen action is happening - directly behind the screen! The effect is a truly unique listening experience that captures a realistic presentation of a movie theater setting that elevates the connection between the audio and the visual. While we haven't reviewed the speaker yet, by the look on Gene's face at the opening of the video while listening to the jazz of Brian Bromberg over the new speaker system with the new S-1212 providing bass, odds are good that they provide an enveloping sonic experience.
The SI-831 speakers sells for $1,989 each, RBH authorized dealers can arrange on-site installation where required.
RBH Sound Unveils new High Power In-walls, Active Monitors, and Dual 12" Subwoofer  @ CEDIA 2019 YouTube Video Overview
PM-8 Powered Studio Monitor - Fine Audio with a Green Twist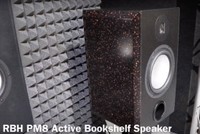 The PM-8 is a first for RBH, the company unveiled its foray into self-powered studio monitor with a two-way speaker that includes a built-in combination amplifier/DSP that can be optimized for both nearfield and farfield conditions. Using the speaker's XLR input provides complete control over the audio signal in the digital domain. All processing, level control and tuning is provided by the speaker's internal DSP and is only converted to analog at the very end of the chain before you hear your sound. At the heart of the new studio monitor is the company's own Signature Series drivers that includes an 8-inch aluminum cone midrange-woofer and an ATM (Air Motion Transformer) tweeter for treble. The speaker system packs a punch with a dual-channel Class D amplifier that dedicates 150-watts of power to the tweeter and 250-watts to the woofer. The on-board DSP includes eight separate DSP settings with a Finite Impulse Response (FIR) filter that enhances phase correction and doubles as an active crossover. This is why you won't find any passive crossover components inside the PM-8. Daren from RBH says the company will include an XLR to RCA unbalanced adapter with every unit sold to provide users with all of the speaker's digital functionality in situations where unbalanced signals are required.
The PM-8 will be offered in a variety of designs, the high-density cabinets are made from sturdy composite materials that are specifically designed to reduce errant vibrations. One cabinet variation is made from a material they call "paper-stone" made from sustainable blend of reconstituted paper and a non-petroleum-based resin that can be finished in a variety of colors. Another variation is made from a solid-surface kitchen countertop material that will also be offered in various colors and patterns, all will feature the same solid construction befitting a top-of-the-line studio monitor speaker, producing solid audio with a green twist.
The price of the RBH PM-8 will be $1949.95 each when it ships in October.
S-1212 Subwoofer - More Boom for the Bassaholic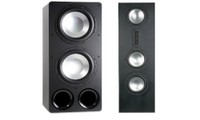 The new S-1212 subwoofers by RBH Sound will soon be available in two flavors including both an active and a passive design. Both subwoofers will consist of two 12-inch drivers and will be a fresh take on its award-winning SV-12. While details on the active sub are light at this time because it's still in development, RBH presented a fully-functional model of the new passive sub.
The passive version of the S-1212 can be powered by any amplifier up to 1500-watts. While the details on the upcoming active sub are not yet available, Daren gave us a sneak-peek at some of its advanced features when he revealed that they're working toward making it a connected-subwoofer design that you can control from an App on either Android or iOS. Controls will include adjustments to parametric EQ, level, phase etc. If the previously reviewed SV-1212 subwoofer from RBH Sound was used as the design benchmark for the S-1212, it is likely to meet Gene's own "Extreme Bassaholic" room-size rating. Audioholics love bass and we expect to hear good things when the active sub is released, anticipated to be  sometime in the first quarter of 2020.
At the time of writing, since the upcoming active sub is still in the final stages of development, the price is not yet available. But the new passive sub is presently offered under an introductory special at $999, but that price is subject to change in the future.
With its three new products presented at CEDIA '19, RBH Sound looks to be in good hands under the stewardship of its new owner, Todd A. Stewart. The company has filled in its product line with refinements based on its already proven speaker designs and included one bold new product for the acoustic studio. At Audioholics, we're looking forward to putting the new speakers through the paces at the lab, 2020 is sounding better already.

Confused about what AV Gear to buy or how to set it up? Join our Exclusive Audioholics E-Book Membership Program!
Recent Forum Posts:
Larry Welch posts on November 19, 2019 15:50
While we are talking JBL do you know the size of the voice coil in the new Jbl L100 classic 12 inch woofer?
xyvyx posts on November 06, 2019 10:27
I've got some JBL 708P's in my office and I really love them… but this new HDI center channel seems like a better way to get similar drivers under my screen. And far more reasonable than going the M2 route….
Danzilla31 posts on October 12, 2019 17:26
gene, post: 1339521, member: 4348
Hi Dawn; Sorry we've been non stop in meetings and shooting videos for the last 2 day. Next year hopefully we will be there long and can meet up.
Hey Gene really great videos and articles on all the CEDIA offerings man I was blown away by all the stuff out there this year these companies just went off
I just wanted to take this time and moment because I have no shame to my game and beg you guys sometime in the future if you can to grab the new JBL HDI series speakers for review
I've fallen in love with JBL thanks to you guys and love my 5 series my 590's and 580's but I am DROOLING over that new HDI lineup!!!!
I know it's not always possible but if it is I'm publicly groveling and begging for you guys to give those a review in the future!
gene posts on October 09, 2019 02:20
Savant Smart Soundbar, Precision Audio Meets Ultimate Home-Connectivity
gene posts on October 06, 2019 22:36
_Y6zjojfJBQ
Post Reply