Paradigm SA-25 Reference In-Wall Speakers Sound Quality Tests
Paradigm SA-25 Reference In-Wall Speakers Sound Quality Tests
I tested the Paradigm SA-25 in-wall speakers in the guest room of the Audioholics Showcase Home utilizing our reference gear such as the Yamaha RX-Z7 AV receiver, Emotiva MPS-1 seven-channel amplifier, Oppo BDP-95 Blu-ray player and Yamaha MCX-2000 MusicCAST digital audio server.  Speaker cables were Bluejeans 10AWG.  I ran the SA-25s full range and did NOT use a subwoofer for any listening tests.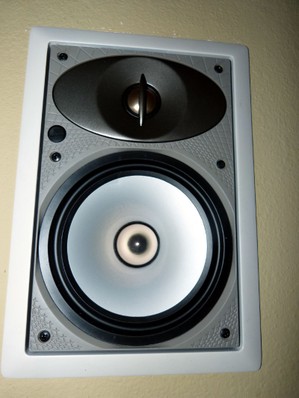 Paradigm SA-25 Speaker Installed
CD: Dire Straits - Brothers in Arms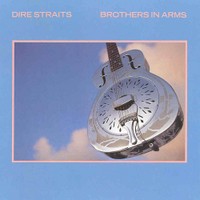 If I was stranded on a desert and could only bring along 10 albums to sustain me, Dire Straits Brothers in Arms would be on the list, not just because of its excellent music content but also because of its pristine fidelity that rivals pretty much anything recorded today in the rock genre.  The SA-25's were able to convey a spacious stereo image on track #5 "Why Worry."  The percussion instruments sounded airy much more so than they did on the Axiom M3 on-walls these speakers replaced. The masterful guitar work of Mark Knopfler was properly represented.  This track actually began to lull me to sleep which was a good sign that I was really enjoying it.  That is, until I got awoken by the wonderful percussion work of Omar Hakim in track #6 "Ride Across the River"  The shaker sounds were enveloping as they should be when played back on a highly resolute speaker system.  The bass was tight despite the lack of back boxes on these speakers.  Adding the dampening material in the wall really seemed to help here. 
CD: Fourplay – The Best of Fourplay
I use this disc to test a woofer's mettle.  Wimpy woofers will simply baulk at the bass in track #5 "Chant." I'm proud to say the hefty SA-25's had no complaints here.  Large motor structure, stiff cone, 1.5" voice coil, it's no surprise that the physics of loudspeaker science prevailed here.  The SA-25's were able to play as loudly as I demanded without any sign of woofer bottoming or distress.  These babies handled the bass better than some dedicated box speakers I've previously tested,even above this price range.  Track #10 "Amoroso" showed off the SA-25's ability to cleanly separate the instruments at high listening levels and avoid the congested sound of lesser designed speaker systems.  This is where I clearly heard improvements from the former on-wall speakers I had in their place.  The drums had a nice snap to them and the speakers just begged to be played louder.
CD: Dianne Reeves – Never Too Far
In track #2, "Never too Far," the chorus was wide and spacious and Dianne's vocals sounded natural and well balanced.  Bass was articulate, and the highs were crisp.  I really like the tweeter in these Paradigm speakers.  I would go so far as to say they are among the best metal domes I've heard.  Track #3 "Come In" is a bass intense song that will suck the life out of a weak amp or create havoc on a wimpy woofer.  While the SA-25's would have greatly benefited with the addition of a powered sub to deliver the full extension and dynamics of this track, they provided a satisfying experience nonetheless.  Dianne sings like an angel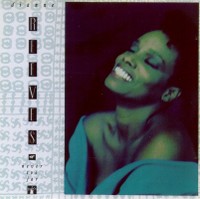 here and the SA-25's make sure you recognize that.
Final Thoughts on Listening Tests
While I would have liked to see Paradigm offer a dip switch to contour the bass and treble response like I've seen for most in-wall speakers in this price class, I had no issues dialing in the sound using a slight adjustment of my receiver's treble control (-1dB) depending on source material.  I wouldn't categorize the SA-25's to be "bright"; instead I would say they are very revealing.  They do have a lot of treble energy but the tweeter is so smooth and intoxicating to listen to that you probably won't want to tame it.  However, if you prefer to soften the highs, you can accomplish this by leaving the cloth on the grille covers as Paradigm suggests and/or install a subwoofer to get the bass level up a bit.  As good as the bass is in these speakers, a subwoofer would always make things that much better.  
Confused about what AV Gear to buy or how to set it up? Join our Exclusive Audioholics E-Book Membership Program!
Recent Forum Posts:
gene posts on November 17, 2015 22:08
Dhanula posts on November 17, 2015 20:30
I have 8 of SA 25s as my surrounds .. Very well engineered product.
I don't see SA 25 in the website when filter by in wall speakers. seems like its not in production any more.
gene posts on March 25, 2015 01:29
eftWhEDCLKw
gene posts on March 25, 2015 01:09
The Paradigm SA-25 speaker system is part of their reference collection and represents their best offering in a two-way in-wall. It features a 6.5" phase plug aluminum cone woofer and 1" gold anodized aluminum dome tweeter. It has been awhile since I've reviewed a Paradigm speaker but I'm glad I've had the chance to check out these beauties as it made me realize just how far the company has advanced its sound over the last decade or so. The SA-25s are among the best sounding compact in-walls I've heard and they will certainly satisfy even the most critical audiophile for two-channel or as a surround speaker. When you buy a speaker from Paradigm, you can rest assured that you will be getting a highly engineered product based on sound science and quality materials.



Read the Paradigm SA-25 In-Wall Speaker Review

What in-wall speakers are you using?
Post Reply