60-SM Design and Setup
Introduction
Living in Florida affords me the advantage of partaking in outdoor activities pretty much all year around, that is, when I can stand the heat. While the weather starts to cool during the fall season, I find myself spending more time outdoors strolling the neighborhood with my children, stargazing at night, or just chilling outside with some meat on the grill. Lately it's become a requirement of mine to take my music with me when hanging outdoors. Perhaps this is because I rarely have enough time indoors to enjoy so at least I have an excuse outside to listen as I vegetate. Perusing Paradigms website, I discovered their new Rock Monitor series outdoor speakers that not only offered various finishes, one of which just happened to blend well with my house, but were incidentally perhaps one of the most aesthetically pleasing and unobtrusive outdoor speakers I have seen to date. With another 70 deg F day upon me, I figured it would be a good measure for me to request a review sample. After all, I should looking out for my fellow Audioholics any moment I get, bringing them reviews of the coolest stuff I just happen to stumble upon, even while I am selfishly leaning more towards the pure recreational enjoyment of the product right?
The Design

The Paradigm 60-SM Rock Monitors have the appearance of a single driver design if you peer at the driver impression on the front baffle. There are no visible hole cut-outs for a tweeter. This is of course not the case as these speakers do in fact have two 1" titanium tweeters coaxially mounted and centrally positioned above the 6 ½" polypropylene cone cast woofer both of which fire at 30 degree angles in opposite direction or 60 degrees apart from each other. The SM-60's sport a 2nd order electro-acoustic crossover system centered at 3kHz and boast an on-axis frequency response of 66Hz to 20kHz +-2dB.
The enclosure is a sealed design so no critters or water can penetrate the cabinet. The grill covers are stainless steel so no rusting will happen over time and, according to Paradigm, the poly glass mineral filled enclosures feature self-draining "rock" fissures making them weather, water, and UV-resistant, even under adverse weather conditions such as what we have in Florida. The 60-SMs come in three finishes: Northeastern Granite, Western Sandstone (my review units) and Fieldstone.
Set-Up
For my equipment, I used the zone 3 output of my Yamaha RX-V2700 receiver fed to two channels of my Emotiva MPS-1. The source was the Yamaha MusicCAST MCX-2000 and the cables were 10AWG from Bluejeans with a Speakercraft volume control located near the front door inside of my home.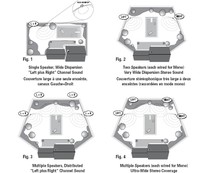 There are basically four ways to setup these speakers:
Single Speaker (L+R) Stereo Wired; Fig 1
Stereo pair (Left / Right) Mono Wire; Fig 2
Multiple Speakers (L+R) Stereo Wired; Distributed (4 or more); Fig 3
Multiple Speakers (Left/Right) Mono Wired; Distributed (4 or more); Fig 4
Unless otherwise noted, most of my testing was done as stereo pair mono wired (see Figure 2). I tried wiring them as a stereo pair dual wired to each channel like I did with the Boston Acoustics Voyager RK62T rock speakers, but I didn't feel there were audible benefits other than a slight increase in output volume and all it did was add further demand on the amplifiers by halving the load impedance. In addition, Paradigm doesn't even mention this option in their user manual so I stuck to their four recommendations depicted in this illustration only.
Figure 1 is optimal for small listening areas where only a single speaker can be utilized but still provide stereo imaging. Figure 2 is preferred if the installation can accommodate two speakers as it provides broader coverage and better stereo separation. Figures 3 and 4 depict installations of 4 or more speakers are distributed in a large listening area while the latter configuration is the ultimate solution for wide stereo imaging and if the installer wants to get fancy, they can even configure for surround sound. Imagine getting 5 of these rock speakers, a few subs, a projector screen and display and some lawn chairs for some outdoor viewing that all of your neighbors could enjoy too. Hmm, perhaps I need to start building a collection of rock speakers!
I prewired the front of the Audioholics Showcase home for four speakers in the front yard; two by the front of the house in the landscaped area to provide coverage to people walking on the sidewalk, and two by the front porch to cover the sitting area and front entrance. I installed the 60-SMs in the landscaped areas directly off the front wall of the house about 20 feet apart.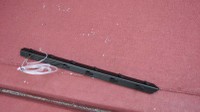 Because of their smallish size and very natural looking design, the 60-SMs truly blended seamlessly into my landscaping. I found that once I fired them up most people walking buy couldn't locate where the sound was coming from. One of my neighbors commented that he wished he had that quality of sound in his own home, let alone his front yard. I was a bit concerned about all of the attention they were getting once I unveiled their location that I opted to install the supplied security stake and cables. Using a rubber mallet and an old piece of concrete I had laying in the garage, I pounded down the stake all the way into the ground once the wire was looped through the loophole in the speaker cabinet. I rested well that night knowing that the rocks were anchored down. It isn't everyday that I leave a pair of $500 speakers outdoors, at least the Paradigms were somewhat secure do to their incognito design and stake grounding scheme.
Editorial Note on Wiring:

I unfortunately took my prewiring of my home to the extreme by running all 10AWG speaker wires to every location. This made it quite a challenge to connect in wall volume controls as well as self containing the wires in junction boxes. A note to installers and audiophiles alike, you're better off running 14/4 for redundancy and better flexibility. You can parallel them to yield an effective resistance of 11AWG. Paradigm provided standard wire nuts you get when buying ceiling fans or electronic fixtures. As an added precaution, I also used electrical tape in conjunction with the wire-ties to ensure total isolation and reduce the chances of oxidation from being outdoors.
Confused about what AV Gear to buy or how to set it up? Join our Exclusive Audioholics E-Book Membership Program!
See also:
Recent Forum Posts:
Dan Banquer posts on November 30, 2007 08:45
Rock Monitors

"The Paradigm 60-SM Rock Monitors are all around solid performers"
Yes Gene, but are they solid as a rock performers?
Sorry about that, I just couldn't resist.
d.b.
Post Reply