M&K Sound Goes In-Wall with New IW150A Home Theater Loudspeakers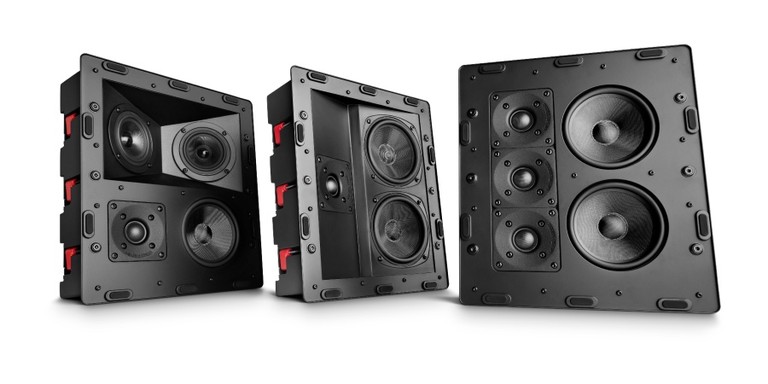 M&K IW150A
Summary
Frequency Response: 80 Hz - 20 kHz (+/- 3 dB)
Sensitivity: 90dB
Impedance: 4 ohms nominal, 3.4 ohms minimum
Dimensions (H x W x D): 12.95 x 11.25 x 3.74 inches
Executive Overview
M&K Sound has plenty of bragging rights, including the fact that the company introduced the world's first powered subwoofer in 1977, and pioneered the satellite/subwoofer system as we know it. But when M&K says in its press materials that its products are "the choice of professionals," is that really true, or just marketing? Well, consider this anecdote. My brother, Dan, lives around the corner from the Academy Museum of Motion Pictures in Los Angeles, so I've driven past it a hundred times. A few months ago, my girlfriend and I decided to check it out, and had a great experience taking in the historically significant props, costumes, set pieces, camera gear, and more. My favorite exhibit, by far, was a short film called "Boulder Roll," which was put together for the museum by filmmaker Ben Burtt of Skywalker Sound. Burtt is best known for his Oscar-winning sound design for movies like Star Wars, E.T., and the Indiana Jones franchise. "Boulder Roll" uses a scene from Raiders of the Lost Ark to illustrate the importance of sound in movies, and to provide a brief behind-the-scenes look into the creation of the sound design for the famous scene in which Indiana Jones runs for his life as a gigantic boulder accelerates down the corridor behind him. Viewers are treated to the scene multiple times, but with different 7.1-channel audio tracks each time, starting with only the sound captured on-set: you can hear camera rigs and lights, unimpressive pops and cracks from various special effects, and the noticeable lack of sound when styrofoam rocks fall to the ground. The dialog is nearly inaudible. Next the scene is presented with re-recorded dialog, along with foley work, such as crunchy footsteps on a sandy floor, and ancient stone doors grinding to a close. After that, major sound effects are added — explosions, falling rocks, and that gigantic boulder, picking up speed. Finally, the brilliant score is added, composed and conducted by John Williams, and performed by the London Symphony Orchestra. I think any Audioholics reader would enjoy experiencing such a well-known scene broken up into component layers of sound, before coming together as a completed moment in cinema history. Raiders of the Lost Ark won the Academy Award for Best Sound in 1981. In addition, Ben Burtt and Richard L. Anderson were awarded a Special Achievement Award for Sound Effects Editing. I left the exhibit curious to learn more about Ben Burtt, and what gear he uses at Skywalker Sound. As it turns out, Burtt's rig includes M&K S-150s for the front channels, M&K SS-150 Tripole surround speakers, and a pair of MX-350 powered subwoofers. Perhaps there's something to this "choice of professionals" stuff, after all.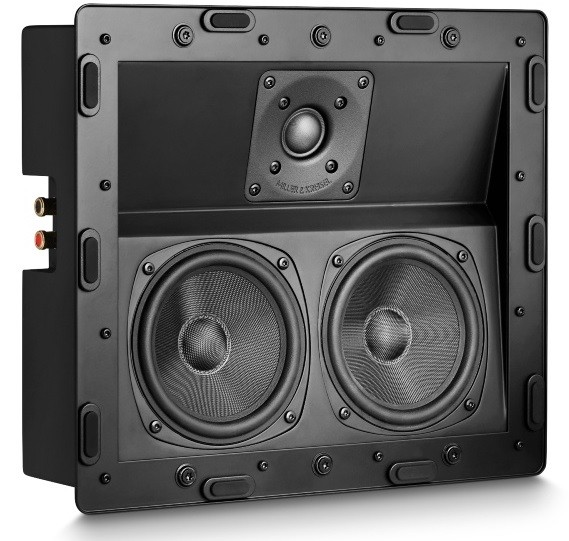 M&K 150 Series Expanded
Now M&K Sound is expanding the venerable 150 Series with a new in-ceiling and in-wall loudspeaker called the IW150A ($1,099 each). According to M&K, the IW150A "perfectly complements new or existing audio setups as a discreet in-ceiling or in-wall solution for immersive and object-based audio in home cinemas and media rooms." The new speaker is based on the performance specifications of the original M&K Sound S150 LCR, but includes a 15-degree fixed angled tweeter and 5.7-degree fixed angle pair of woofers, yielding what the company describes as "generous off-axis response characteristics." The IW150A is a natural choice for use as a height channel for Dolby Atmos, DTS:X, or Auro3D playback, but its use-cases don't end there. M&K says that the IW150A can also be used as an angled down-firing or up-firing LCR speaker for situations where more conventional loudspeaker placement isn't an option. For example, if your theater room is outfitted with LG's massive new 97-inch G2 OLED TV ($25,000), or Samsung's outrageous MS1A 110-inch micro-LED TV ($150,000!), you can't place your speakers behind the display as you would with a projection screen. The IW150A can also be used as an in-wall surround speaker, so you could potentially build out an entire immersive theater using nothing but IW150As and a few subs. Like all of the models in the M&K 150 Series, the IW150A can produce reference-level SPLs in rooms up to 3,000 cubic feet via its pair of 5.25-inch coated glass fiber woofers and a single 1.1-inch coated silk dome tweeter. Because these same drivers are used (in different configurations) throughout the 150 Series, there should be perfect timbre-matching for mix-and-match systems. In fact, M&K promises excellent timbre-matching across its whole portfolio of products.
A custom installation like an immersive M&K theater room isn't something I'd attempt without the help of a professional, but if you're going it alone, take note of these tech specs from the company: 
The IW150A supports a 30-degree voicing angle but its vertical dispersion enables an optimal listening window of +/- 30 degrees (+/- 2dB) from the line of sight, and a stable vertical dispersion window of +/- 45 degrees. Furthermore, the horizontal dispersion characteristics extend to +/- 60 degrees.
 --M&K Sound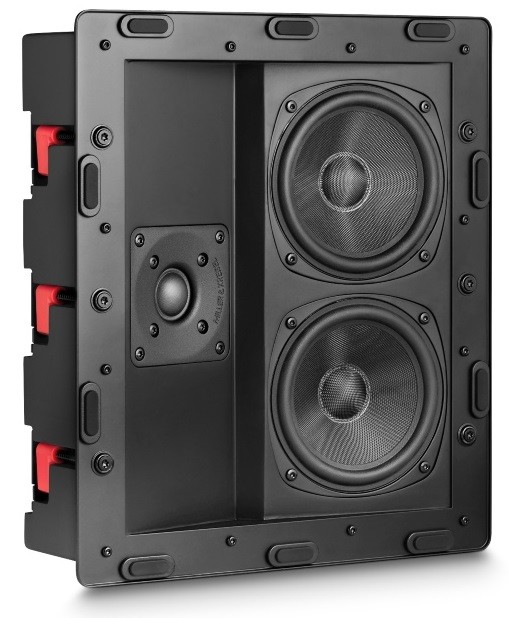 In plain English, those specs should ensure that more listeners can experience even audio coverage throughout the seating area, with fewer "hotspots," whether the IW150A is being used to reproduce height channels or surround channels. Its wide horizontal dispersion also suggests that dialogue should remain intelligible and front soundstage effects should be properly placed when the IW150A is being used as an in-wall LCR speaker at the front of a theater. M&K Sound's signature sonic neutrality is evident in the speaker's flat frequency response; it's rated (+/- 3dB) from 80 Hz – 20 kHz. It's relatively high sensitivity rating of 90dB suggests that it will sound appropriately dynamic when paired with quality amplification, and its modest 3.74-inch housing depth should make installation fairly easy.
We believe the IW150A's versatility and audio performance specifications solve numerous potential logistics challenges for both custom installers and end users alike. Our dealers were asking us to produce an in-ceiling and in-wall loudspeaker which could not only address common installation issues, but also act as a dedicated immersive audio height speaker to round out our world-renowned 150 Series product family. The IW150A delivers on all those requirements.
— Per Becher, Chief Executive Officer of M&K Sound
The IW150A is available now from M&K Sound authorized dealers.

Unless otherwise indicated, this is a preview article for the featured product. A formal review may or may not follow in the future.
Confused about what AV Gear to buy or how to set it up? Join our Exclusive Audioholics E-Book Membership Program!