Goldenear Invisa Signature Point Source In-Wall Speaker Preview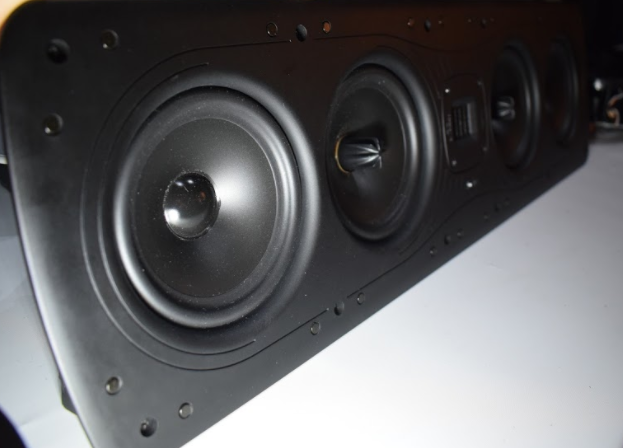 Invisa Signature Point Source In-Wall speaker
Summary
1- High-Gauss Neodymium Reference High-Velocity Folded Ribbon (HVFR) Tweeter
2- 5.25" high-definition cast-basket MVPP bass/mid drivers
2- 5.25" high-definition cast-basket bass drivers
Cutout: 26-9/16" (67.5 cm) x 7-1/8" (18.2 cm)
Lockarm Clearance Required (Inside Wall): 27-3/4" (70.6 cm) x 8-13/16" (22.4 cm)
Frequency Response: 25 Hz - 35 kHz
Efficiency: 92 dB
Rec. Amp: 20 - 350 watts/channel.
Nominal Impedance: eight ohms.
Speaker dimensions (H/W/D): 27-9/16" x 7-15/16" x 3-1/4", Depth with Optional Back Box 3-3/4"
When speaker manufacturer Goldenear released their Triton Reference Series in January 2017 and won the CES Innovations Design and Engineering Award, Audioholics was there to cover the news of their new super speakers.  So it's no surprise that as CEDIA 2017 rolled in we were there to cover Goldenear's newest release, the Invisa Signature Point Source In-Wall Speaker. As with other Goldenear Speakers, the Signature Point Source will feature their High Velocity Folded Ribbon Tweeter as well as four 5.25" UN-identical drivers. The outer two drivers have their upper frequencies limited to 500Hz, whereas the inner two go up to 3 kHz and blend with the tweeter.

The tremendous success of the Tritons underscores the fact that there is still a healthy market of enthusiasts seeking the finest sound quality possible, and happy to put a pair of gorgeous Triton towers in their homes in order to achieve it. But what about serious listeners who would prefer something more invisible due to interior design or significant other considerations? Meeting this challenge was our goal, and the Invisa Signature Point Source is our remarkably effective new solution.
-Goldenear
Through the successes of the their Invisa In-Wall series speakers, Goldenear has made the Invisa Sigatures significantly smaller than speakers from other companies incorporating similar size drivers, resulting in higher performance from a more compact size. Their goal was to create an in-wall speaker with the specifications of a floorstanding tower speaker. From the time we spent listening to the new Invisa Signatures at CEDIA we feel like they have accomplished their goal.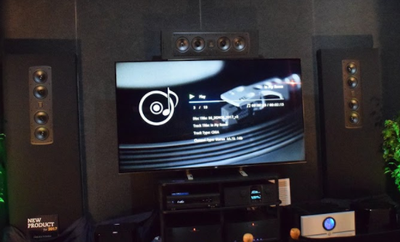 Unlike a set of tower speakers though, the Invisa Signature Point Source can be used as a main front left/right or center channel loudspeaker, as well as a side or rear surround, for use in high-quality multichannel home theater and music systems, as well as in simpler two-channel systems.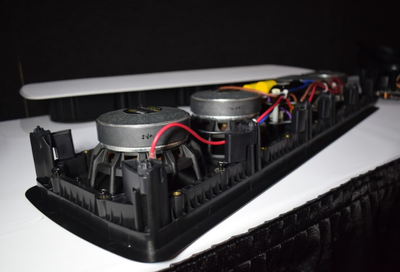 The Signature Point Source presents a compact 28.16" x 8.55" fascia and, of course, is of a proper depth (3.25" without optional backbox, 3.7" with) to allow it to easily fit into a standard wall depth.
We wanted to make the Invisa SPS as compact as possible while allowing it to deliver the dynamic performance of the larger Tritons, when paired with one or two appropriate GoldenEar subwoofers. And, of course, even when used without a subwoofer, a pair of Invisa SPSs is fully capable of delivering very satisfying full-range music reproduction.
-Goldenear
Each Invisa SPS incorporates four 5.25" high-definition cast-basket drivers, which are very similar to those found in the award-winning Triton One. The Invisa SPS also incorporates a full size High Velocity Folded Ribbon Tweeter similar to those used in the Triton towers. Even the crossover network utilizes the balanced topology incorporated in Goldenear's upper range models, with a special polystyrene film capacitor on the high-frequency section.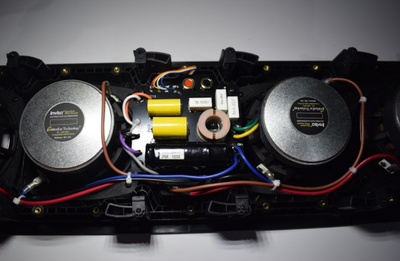 Other small but important details include: a switch to allow adjustment of the tweeter level, a magnetically attached low profile grille, non-resonant mineral-filled frame structure, special clips to allow easy and secure attachment to the wall, and a removable, rotatable tweeter to allow for correct orientation of the tweeter for vertical or horizontal positioning. There is also a unique optional backbox available that has been engineered with special EVA damping foam internally and open-cell foam externally to prevent bleed through of sound into the adjacent room. And, of course, optional pre-construction rough-in brackets are available.
We found the sound quality of the Invisa Signature Point Source In-wall Speaker to be an extraordinary, ultra-dynamic, speaker set that had the sound of a floorstanding speaker. The retail price of the Invisa SPS will be $999 each and the price of the optional back box is $149 each and will be available in the winter 2018.

Unless otherwise indicated, this is a preview article for the featured product. A formal review may or may not follow in the future.