Xbox Live Dashboard December 07 Update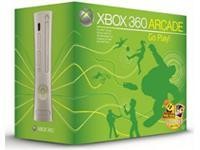 Facebook-like social networking and full game downloads are among the items to be included in an Xbox Live Dashboard update tomorrow. It includes a few interesting items even if it fails to measure up to some of the creative rumors.
Xbox Originals: The service that will let you download original Xbox titles you thought you'd lost forever. You can re-visit titles like Halo and Fable for a price of 1200 Microsoft Points apiece. But don't expect any additional fixes for reverse compatibility - you'll download the exact same game you would have taken home from the bargain shelves at the local game store. No additional Xbox emulation components will be included in the downloaded games.
DivX and Xvid support: The update will not only let you play back these files types on your Xbox 360, you can also stream them from the Zune software, Windows Media Player 11 or Windows Home Server.
Xbox Live Arcade Hits: Some Xbox Live Arcade games will get a price reduction. First up are Lumines Live, Bankshot Billiards 2, Small Arms, Marble Blast Ultra and Zuma.
Inside Xbox: Now you don't have to go to the web to get up to the minute gossip about goings-on in the Xbox 360 community. This newsfeed service will have everything in one easy to access place.
Updated Profiles: It looks like Xbox Live wants to get a foot into Facebook territory, with additional profile information and ability to view each other's friends lists.
You can apply a security setting to the new information. Everyone, reserved for gamers 18 years or older, means anyone with a Live account can view your most intimate details. If you're 13 or older you can use Friends Only to enable only your closest friends read your profile.  Blocked is the other option for you trolls who don't care to share. You've really got to be careful who you let keep tabs on you - that call-in-sick-from-work day you decided to spend polishing off Halo 3 might get into the wrong hands.
Parental Controls: Lets parents set a timer on their kids' gaming. Nice idea but I think I'll use it on myself as a reverse alarm clock. After four straight hours of Call of Duty 4, it's seriously time for me to get some sleep. Now, the question is, can the timer kick CoD4 back on when my five hours of sleep is up?
Despite earlier rumors, one feature that won't be coming yet is Xbox 360 implementation of IPTV.
See also:
Recent Forum Posts:
GlocksRock posts on December 04, 2007 13:12
I'm excited about this, I want them to keep adding support for more video file types.
Post Reply