Xbox 360, Troubles at Xbox Live Video Store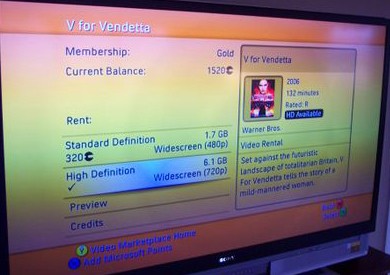 Xbox Live now supports movie and TV show downloads, but things aren't running smoothly just yet. Users from various regions are watching error messages instead of movies.
Media Usage Rights could not be downloaded.
Last month, to mark the 5th anniversary of Xbox Live, an update to Xbox Live Marketplace was rolled out that includes the long awaited Xbox Live video store. This is the place on the Xbox Live Marketplace where you can spend Microsoft points and download TV shows and popular movies. Many of these shows are available in high definition (720P).
Unfortunately, a lot of users are seeing technical difficulties and losing Microsoft points for their troubles. The most common error reads like this:
Media usage rights could not be downloaded. Please try again later. Any points you used for this transaction have already been deducted from your balance and will not be deducted again.
Status code 80070005
Yes, it means Xbox Live has already deducted your Microsoft points. You're free to try to re-download the movie anytime without fear of having more Microsoft Points deducted from your account. But, the points are gone and guess what - instead of watching a gore-fest horror movie in 720P you're twiddling your thumbs wondering, what the heck is a usage right?
As stated in the media usage rights agreement, when you rent movies from Xbox Live Marketplace you only have 14 days after the initial purchase to download your movie. The clock is ticking the minute the points are deducted.
The problem has been reported intermittently through the US but heavily in areas outside of the US. The majority of the problems seem to be from Canada, UK and Ireland.
What can you do?  
Microsoft support says a fix is coming with massive server upgrades they're unrolling now. In fact, a support rep told me that on Monday 17 Dec. server upgrades will go live and should fix most of Live users' problems.
Of course, Microsoft support is only too happy to try and walk you through a litany of disc maintenance measures, including deleting and recovering your gamer tag. But these measures aren't likely to be effective unless you're experiencing other difficulties that give you reason to believe your Xbox 360 has disc issues.
Xbox 360 Disc Maintenance
A super-secret disc maintenance option is available if you go to your Xbox 360 System Blade:
Go to System Blade
Select Memory
Highlight your system hard disc
Hit the Y key on your controller
You are now in the disc maintenance screen, which allows you to reformat your drive - don't reformat your drive!
Instead hit the following key combination:
X-X-Left Bumper–Right Bumper-X-X.
 You'll now be prompted with the following:
Do you want to perform maintenance on your Xbox 360 storage devices?
Select Yes
Doing so will clear your Xbox 360 HDD cache. This is a good method to fix various glitches you might experience with games. (I wish I knew about it when I was faced with a glitch in Call of Duty 3, but never mind. I just finished CoD4 and I'm not looking back now.)
Like I said before, disc maintenance probably isn't effective in relieving the technical problems with the Live Video Store, but if you're really desperate it might be worth a try.
Thanks to jkOnTheRun.com blog for the image of Xbox Live Video Store
See also:
Recent Forum Posts: