Wii Have a New All-Time Best Selling Video Game!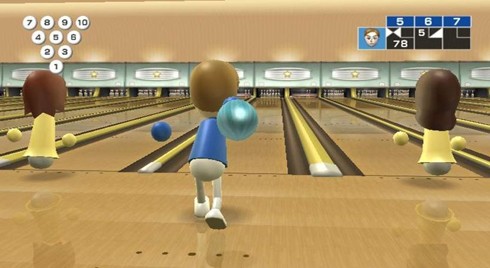 Wii Sports now top "seller" of all time
Heavy hitters abound on the short list of Best Selling video games of all time. Familiar Nintendo names like Super Mario Brothers and Tetris abound on the top ten list of best selling video games. As of their Dec. '08 tally, the number crunchers at VG Chartz have recently reported that a new game has moved into first place.
The traditional best-seller of all time was a video game that was first released way back in 1985, Super Mario Brothers. It came bundled with the historic Nintendo Entertainment System (NES) consoles that were released between 1985 and 1987 across Japan, US and Europe. Back in those days nobody would have mistaken a video game console system a as Home Theater peripheral - my, how times have changed.
You've got to hand it to Nintendo, its games literally own the top ten list of all time best sellers. Super Mario Brothers sold 40.24 million copies since its mid-80s release. But it's only taken Wii Sports a mere two years to top it.
Yes, Wii Sports – it's the game that revolutionized how video games are played and turned the current generation of video game consoles on its ear. It topped 40.24 Mill as of last month and shows no sign of slowing down.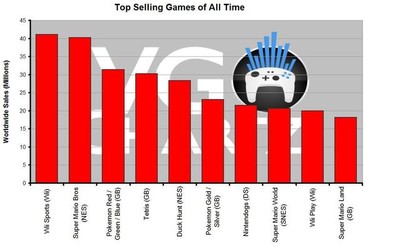 One side note may sully the numbers posted by VG Chartz for top video game sales. The top two spots are games that came bundled with their respective video game systems. Anyone who owns a Wii got recorded as buying a copy of Wii Sports (except in Japan) simply because it comes with the game. The same is true for Super Mario Brothers when your parents bought that NES back in the day.
VG Chartz struggled with adding these games to their tally. The conclusion they come to is that bundling is an integral part of successful sales because it ads value to the console itself and isn't simply given away.
That said, you can expect Wii Sports to continue its climb deep into the #1 spot for the foreseeable future as Wii sales continue to top the current generation of game systems.
See also:
Recent Forum Posts:
cym_city posts on January 14, 2009 11:08
The Wii is great whenever you are together with friends, thats for sure. But I think an even bigger reason of why I like it is because it's simple and I can just sit down and play it after being away from it for awhile. There is nothing worse than not playing a game for awhile and then trying to go back and relearn how to play it. I usually end up having to do all the tutorials again just to remember everything.
gene posts on January 13, 2009 23:09
Wii is a blast if you have children. Even my 21 mo old loves watching us bowl or duck hunting. My personal favorite is shooting pool since I don't have space in any spare rooms to put a full sized pool table, this is the closest I can come to playing pool at home.
aarond posts on January 13, 2009 19:53
I finally broke down and promised my kids a Wii this Christmas figuring since that it was its 3rd Christmas in stores it would be an easy find. Boy was I mistaken! I was able to land one in time. My kids aren't so happy that I enjoy it so much. I broke my back in a mortorcycle wreck a few years ago and now I'm able to play golf again! Wii sports is great because this non-gamer can compete with my kids!
Ito posts on January 13, 2009 18:07
Somehow, knocking Mario Bros. down to #2 makes me sad…
GlocksRock posts on January 13, 2009 13:19
Wii Sports is the reason that many people even buy a wii… it's so fun that you play it once at a firends house and you immediately want to go out and buy one. That's what happened to me, and I rarely play my Wii anymore, and I have only purchased one game for it, along with a couple of downloaded original nintendo titles… Super Mario Bros. and Punch Out. But you gotta hand it to Nintendo, they did much better this time around that they did with the gamecube.
Post Reply