What's New with the Audioholics Party & Event?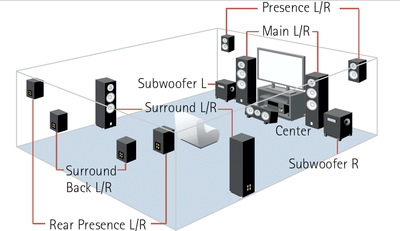 Yamaha Surround Scheme
Some cool things have progressed with the Audioholics 9th Annual State of the CE Union Party & Event since our last update. Tabulated below are the most recent announcements. Our August 31st registration deadline is coming up so get registered now before our limited seating runs out!
Yamaha Exclusive Demo and Debut of their NEW flagship RX-Z11 A/V Receiver
Ok its time to let the cat out of the bag. Yamaha will be demoing their new flagship RX-Z11 receiver at our party. This will be a full-fledged 11 channel surround spectacle with dual stereo subwoofers. There will be new height channels and new signature Yamaha DSP processing to add new dimension to the surround sound experience. This room will be acoustically treated by Auralex. It will have the very finest speakers from RBH Sound's flagship Signature lineup including their soon to be released T-2/SER system with upgraded Status Acoustics drivers. This head-turning demo is something you simply don't want to miss.
Dolby / AIX Records
Dolby Laboratories and AIX Records are teaming up to provide the very finest high definition, multi channel audio experience imaginable. Featuring Dolby Laboratories scalable, 100% lossless, next generation audio codec, Dolby True HD and selections from the award-winning, HD Audio/Video catalog of AIX Records, this demo room promises to forever change your perception of surround music. Attendees will experience high-definition, surround tracks that bring them into the music in a way never before possible.
Dolby TrueHD encoding is the latest generation of lossless audio encoding adopted by HD DVD and Blu-ray formats and supported in hardware players, game consoles, and next generation AV receiver products. Dolby TrueHD delivers studio master playback performance; identical to uncompressed PCM, in home entertainment systems.
Dolby TrueHD as executed in high definition optical media allows producers to add additional channels to their music and soundtracks, up to 8 full bandwidth at 96 kHz/24-bit, and deliver them without any sonic degradation. To take advantage of this amazing new technology, AIX Records is preparing special surround mixes of some of their latest, as yet unreleased tracks.
Epson
Epson will be demoing their next generation 1080p DLP front projection displays as well as hosting an educational seminar about calibrating display devices. You've seen all the great reviews of Epson projectors on our site. Now witness the firepower of these fully armed and operational top of the line projectors personally in three of our demo rooms.
Important Notice About Registration
While the demo rooms will be open to the public, our ballroom dining event has limited seating available.

Our registration deadline is August 31, 2007.

Should you decide to register after that date, our registration fee will be increased to $75 per person so register NOW while it only costs $50 and we still have available seating. Registering for our Event is the only way to be eligible for our door prize giveaways so if you're itching to win a new speaker system, DVD player, amplifier, acoustical products, or special discount coupons from our sponsors Register NOW!