Warner Offers Red2Blu HD DVD Trade-in Program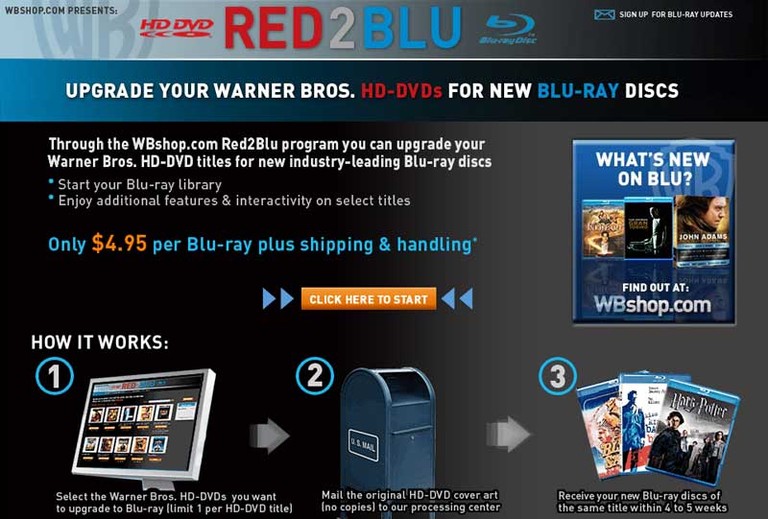 Red2Blue.com - Blu-ray for your HD DVDs
Warner Bros, the company HD DVD adopters love to hate, has finally done something worthy of some consumer loyalty. Warner Home Video has announced the launch of "Red2Blu," which offers HD-DVD owners the opportunity to upgrade their Warner Home Video releases on HD-DVD for a Blu-ray Disc of the same movie.
It's not free, but it's close. For only $4.95 plus shipping and handling, it's a nice way to get some bargain-priced Blu-ray discs to replace the HD DVDs you early adopters nabbed when the format war was still raging. By visiting Red2Blu.com, consumers can trade up virtually any of their Warner Home Video HD DVD titles (up to 25) for the same title on Blu-ray for $4.95 plus shipping and handling. Warner Home Video even picks up the shipping tab for sending in the labels - providing a free shipping label to you once your order is placed.
We tried it with three titles we had on hand and the combined shipping fee, was $6.95. So for $22.67 we have 3 new Blu-ray discs coming our way (Batman Begins, 300, and The Departed). Not bad.
And we get to keep our HD DVD discs.
That's right, Warner only asks for the original color cover to the HD DVDs, not the discs themselves or the case, meaning you can hold on to your HD DVD discs. Personally, I ran mine through my color copier and placed the copies back on my disc boxes, sending in the originals.

For details and restrictions, visit Red2Blu.com. "Red2Blu" is available to residents of the United States only.
mperfct posts on June 01, 2009 17:52
Just got HP box set, Ultimate Matrix Collection, V for Vendetta, and Troy DC today. I would have to give WB rep points I'm so tickled.
jostenmeat posts on May 15, 2009 20:05
They came in today. Just over two weeks, and even the "promotional" 300 was exchanged. $49.47 for 9 titles.

I've had issues with WHV, and I still don't expect to buy directly from them again, but I'm glad they offered this program. I wish others would follow suit.
jostenmeat posts on May 01, 2009 15:27
So I sent my sleeves in for every Warner title I had. I didn't research before sending in my "promotional" 300. The others were Batman Begins, Dog Day Afternoon, Blue Planet, Last Samurai, Terminator 3, Constantine, and the Ocean's 11-13 box set. The only titles I actually bought were BB and Blue Planet, heh. It was about $50 all in. (Ocean's set is $10 to replace).

I made color copies of the sleeves on gloss paper, cut em out, and put em in. Looks good. The copy store just gave me the paper for free, and so I paid something like 40 cents for each replacement sleeve.

btw, the employees can't do the actual copying for you, because they can get in trouble over copyright stuff, so you will probably have to use the self-service copiers.
Wayde Robson posts on April 24, 2009 21:07
FirstReflection, post: 556912
I guess I just have to take solace that all the TV shows and movies are being filmed in my proverbial backyard. I may not be able to watch the finished product via streaming, download or a reasonable Blu-ray price, but I can go drink a nice strong beer with the movie stars themselves, so I guess that's something
I was in Peterborough a coupla summers ago and walking the main street (Water) I realized there were Ann Arobor "things" it was wierd. There was a fake label on a bookstore that said Ann Arbor, there was an American mail box and a row of Michigan plates on the street. I was kind of freaking out.
THen I saw a crowd and a camera and Samuel L Jackson talking to that kid who was Darth Vader in the new Star Wars movies. I was able to walk pretty close before guys with cards-on-strings were obviously keeping people back.
It was kind of neat, but they were filming that stupid movie Jumper. When you watch it in front of you it's funny how much makeup they wear. I mean that Vader kid (Heyden I think) looked like a creepy doll or something with his face caked brownish and thick black all over his eyes. In real life it looks creepy. Somehow on screen it just looks "glamorous" and I guess that's why everybody is so "beautiful" on screen.
allargon posts on April 23, 2009 09:26
I actually don't see anything wrong with this. I have nearly 200 (probably more) HD DVD's. I would venture a guess that 60-70 of them are Warner titles.

It wouldn't be a bad idea to get the Blu versions of remasters/re-encodes like Full Metal Jacket and The Perfect Storm. With Warner, there's no sound upgrade as with Universal. But, there are a few titles where the Blu is slightly better or has different extras (Harry Potter and the Order of the Phoenix). This gives HD DVD owners a chance at a nominal cost upgrade.

Besides…one can always sell the Blu copies and make a profit!
Post Reply