Did Wal-Mart Benefit Black Friday HD Player Sales?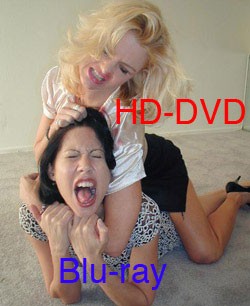 The picture says it all
Did Black Friday HD Player Sales Benefit from Wal-Mart?
Results for Black Friday sales related to the two HD optical disc formats have been trickling in and sales of both discs and player appear to be up compared to this time last year.  A small glimmer of good news for those hoping that the format war does not leave both combatants defeated and relegated to an atrophied niche market status like DVD-A and SACD.
Video Business: High-def Hardware sales jump with Black Friday discounts
Many have heard about the results from large national retailers, with the two largest competitors, Wal-Mart and Best Buy, whose pre-Black Friday competition lead $99 Toshiba HD-A2 players for the masses.  This competition resulted in over 90,000 HD DVD players sold in a day, the majority of that number moved by Wal-Mart.  But there has not been much information from some of the other retailers until Video Business spoke with a cross section of local, regional and mail order retailers including Crutchfield of Charlottesville, VA, Ultimate Electronics out of Thornton CO, and Bjorn's of San Antonio TX.
Many of the retailers noted considerably more consumer interest than the previous year as well as significant sales increases relative to Black Friday 2006.  While in an absolute comparison the improvements are on what is still a very small market, trends have to start somewhere.
Bjorn's, a single store A/V specialty retailer located in San Antonio, saw HD player sales jump from 15% to 50% on Black Friday 2006 compared with 2007.  Executives from the company felt that Wal-Mart's move definitely raised awareness for HD hardware and helped the store sell out of stock on Toshiba's new HD-A3.
Crutchfield, primarily a mail order retailer but with two brick and mortar locations in Virginia, reports selling four times as many HD players on Black Friday as typically are sold in a week as well as selling out of stock on the Toshiba HD-A2.  The jump in HD player sales exceeded jumps in other electronics categories such as digital cameras by 50% or more.
At Ultimate Electronics, a regional chain of 32 stores located though the southwest and lower Midwest, sales of HD-A3 players exceeded that of all the combined Blu-ray models they carry by a factor of three.  Overall, Ultimate saw HD hardware sales go from a 30-70 split with SD hardware in 2006 to a 50-50 split in 2007 and revenue from HD hardware increasing to 72% to 28% over SD hardware verses 40% the previous year.
As for the sales split between formats, the stores reported different results.  Bjorn's indicated that consumer demand was equal for both formats, but Crutchfield and Ultimate saw higher demand for HD DVD players.  Both Crutchfield and Ultimate attributed the difference in demand to the price differences between the competing hardware platforms.
Now before any fan boys for either format get their panties in a bunch, sales of both formats are miniscule to the overall SD DVD business.
Twice the amount of sales of this or three times the amount of sales of that are still almost irrelevant at this point and are far from showing signs of the format war concluding anytime soon.  Perhaps war is a bit of a misnomer, skirmish is more like it. Yes, there are many combatants, but not many bullets are making it out of their guns into the hands of consumers.  But war gives a presupposed importance to the little battle for consumers who otherwise could care less.
The conclusion of representatives from all three companies is that sales, media attention, and advertising seems finally to be slipping HD hardware from both formats into the average consumer consciousness.
Like it or not, Wal-Mart is the mainstream, and moves by the company have an effect on the consumer market.
This is good news if either of the HD formats are to survive, much less supplant SD DVD, the real competitor that both have to face.
Recent Forum Posts:
mtrycrafts posts on December 07, 2007 18:56
darien87 posts on December 07, 2007 11:52
Post Reply