Vudu Service Joins Entone IPTV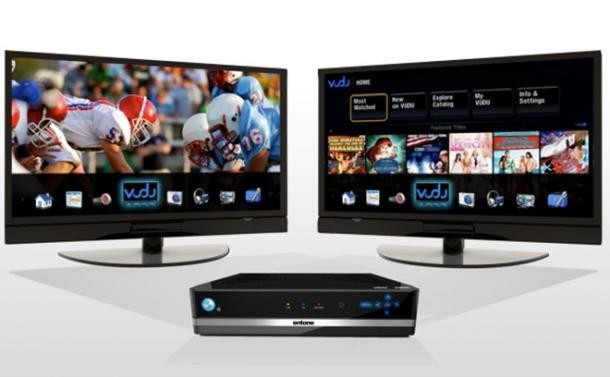 On Demand movie services and set-top products are forming alliances like Intergalactic Empires in a Star Trek movie. Soon after Blockbuster On-Demand began quarterbacking TiVo, Amazon On-Demand also teamed up with TiVo and Roku as well as select IPTV models. Now Vudu is teaming up with Entone, set-top-box provider to smaller phone companies throughout the US.
Vudu has long been held as the upscale On-Demand service. It's $149 set-top-box promises access to a 14,000-plus movie library including about 1,500 high-def movies. Many of Vudu's high-def offerings include a Dolby Digital Plus soundtrack. Broadcast HD quality video and DD Plus audio is as close as any Video On-Demand service has come to Blu-ray.
Soon all the goodness offered-up in the Vudu BX100 set-top-box will be found in Entone boxes. Entone makes IPTV DVR units and hardware for telco-video service providers. There are about 50 smaller phone companies throughout the US using Entone IPTV gateways. Offering Vudu through its IPTV DVR shores up a hole it once had in On-Demand movie rentals.
This is the first time Vudu has ever offered its content through third party hardware. It's a shift away from its status as a box manufacturer to a service provider, putting it on a footing with Netflix and Amazon. It opens up Vudu's service to a new audience of customers that wouldn't otherwise want to buy additional hardware for their home entertainment system.
Expect to see new Vudu enabled Entone boxes available this summer.
See also:
Recent Forum Posts: