Toshiba Rolls Out Glasses-free 3D Displays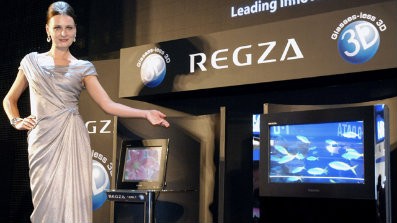 AP Photo/Kyodo News
Toshiba seems to really be on the cusp of things of late. First it was using the cell processor to upconvert standard definition DVD content to HD-quality material, and now it seems to be taking the reigns in bringing glasses-free 3D content to the masses. While this is not the first time we've seen 3D technology without the glasses, it does present an interesting take on the state of 3D in the marketplace. Is Toshiba seeing the market put out a strong reluctance towards not wanting to don the apparel required for 3D? At this year's CEDIA the company showed off several 3D televisions, so they are definitely keeping up with the movement of 3D in the marketplace. That means that these new products aren't a "sour grapes" defense, but rather a genuine movement towards technology they believe will be desirable or usable in the near future - at least starting in Japan. 
Toshiba's flavor of this technology works via a thin lens that overlays the screen surface - though it's actually more like a series of lenses. It splits light from the screen and sends it to nine points in front of the TV (along a viewing angle arc that we'd surmise is approximately 90 degrees wide). You'll need to shift a little to get into one of the specific "zones" but once you do, the optical system will be sending discrete information to each eye, generating the 3D image.
Toshiba plans to sell a glasses-free 12-inch 3D model for just over $1,400. Obviously, they are dealing with either a limited yield scenario, or recouping R&D costs. Either way, there won't exactly be a scramble for these new sets anytime soon. It also remains to be seen whether or not the sets work well in 2D mode, as most active 3D televisions do. With the overlay screen and optical diverters, we're doubtful. Toshiba will also sell a 20-inch television for around $2900. Both sets are only available in Japan and no specific plans seem to be in the works for a US roll-out - which isn't surprising since the U.S. likes to "go big" and these sets simply won't make it (similar to Sony's current OLED bomb).
Source: hothardware.com
tcarcio posts on October 05, 2010 18:06
The only people that will buy these are people with too much money on their hands. I mean seriously I would not want a 20" 3d tv that I would have to jam everyone together to watch a commercial never mind a 2 hour movie. I do like them getting rid of the glasses but I wouldn't be interested in anything under 50" and at a price that I won't have to sell my liver on the black market….
zhimbo posts on October 05, 2010 17:30
I haven't tried one of these, of course, but I wonder about the trade off. It sounds like you're trading off the inconvenience of the goggles for the even greater inconvenience of staying in exactly the same location the whole time - find one of the "sweet spots", and then don't move. Maybe it's more forigiving than I'm making out, but from the description I conclude that you could only move a small fraction of the width of your head before things go screwy.

Are people truly this keen on 3D?
Post Reply