Sony's New 2mm OLED Display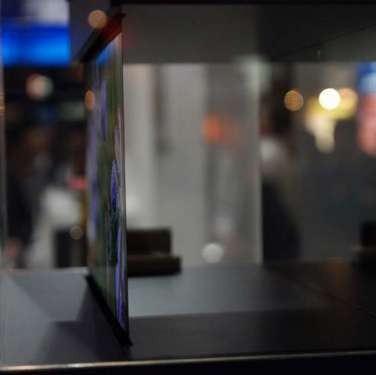 Sony improves OLED
Sony is really pursuing this OLED thing to its biggest potential and put out a new display this week that measures just 2mm thick. We thought the original 3mm model was thin, but it seems Sony is still working on making the process even better.
The new display was recently shown off at the Display 2008 expo trade show in Japan, where Sony also debuted a new version of its $2500 11-inch XEL-1, the world's first mass-produced OLED TV. In this unit, the display panel "glass" measures just 0.3mm thick, about 1/4 the thickness of the prior model. We'll be terribly impressed when the pricing drops by about 1000% and sizes go up to 42-inches or more. Until then, it's fun to watch and wait.
A lot of Sony's technology is proof-of-concept and not slated for commercial release anytime soon - such as a thinner 3.5-inch prototype display which was shown off that measured a mere 0.2mm (0.008in) and featured a 320 x 220 pixel resolution. MP3 players and cell phones might be getting even thinner soon!

yettitheman posts on April 25, 2008 01:50
davo, post: 404396
You mean Rick Astley, don't you?

I'm sorry that I even know that.
Nothing wrong with that song…. wait.
BMXTRIX posts on April 24, 2008 21:37
Midcow2, post: 403647
… structural integrity will require much thicker than 2mm (0.0787401574 inches thick or slight thicker than 5/64 inch).

Maybe this will require less power? Maybe this would allow faster refresh and faster switching technology? But does it offer and other advantages?
If you haven't gone into a Sony Style store and have seen the model, you really are a bit off the mark for the quality of these displays. For the size, they are phenomenal… for any size, they are truly incredible. I watched the Cars Blu-ray on one and just kept coming back.
Some people talk about their LCD screens being about as thick… Not sure about others, but my LCD screens look horrible if I stand about 20 degrees off center, and suffer from severe hotspotting depending on your angle. This is not an issue whatsoever with OLED. Likewise, the black levels are serious enough that you can't tell the display is even on when a 'black' scene comes up within a movie.
As for the structural support… OLED is actually produced on a thin film, and the supporting 2mm is just a substrate for the OLED to sit on more than anything else. Some of the real technological 'WOW' capabilities will likely eventually include military applications where a 50" OLED sheet is rolled up and carried into the field where it can be unrolled and receive strategic mapping of the terrain for people to view what is going on. Lay it out on a table so everyone can see, but maintain a bright, vivid image that anyone can see from any angle.
For homes - it can be put on a really nice plexiglass substrate and be hung on the wall. Less pacakging protection will be necessary and delivery costs will go down for larger sizes. One person hanging a 50, 60, or 100" display without issue.
Definitely the biggest holdup is the insane pricing and the limited size. But, I think if Sony came out with a 50" model for 25 grand next week, and put it head to head with plasma and lcd that is out right now, there would be buyers from day one.
big-frank23 posts on April 23, 2008 22:13
We should wait till they make something over 40". Then worry about it.
Biggiesized posts on April 23, 2008 09:01
davo, post: 404396
You mean Rick Astley, don't you?

I'm sorry that I even know that.
I was going to make a similar comment after reading Clint's post, but I restrained myself. Thanks for making it for me.
davo posts on April 23, 2008 04:58
Clint DeBoer, post: 404102
I read that if you stare at an OLED display for too long, your brain will melt and you'll start inadvertently humming tunes from Rick Springfield.
You mean Rick Astley, don't you?
I'm sorry that I even know that.
Post Reply