Sencore Partners with SpectraCal CalMAN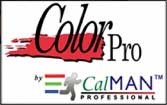 ColorPro by CalMAN
Sencore, Inc. and SpectraCal, LLC announced a strategic partnership to develop and market a combination of SpectraCal CalMAN video calibration software with Sencore ColorPro calibration features. The new Sencore ColorPro by CalMAN Professional Display Calibration Software (try saying THAT in one breath!) is designed as a comprehensive software measurement and management tool for professional display calibration.
According to John Suranyi, CEO of Sencore, the company selected SpectraCal as a partner because of their years of experience in software development and based on customer feedback raving about the CalMAN software package for video calibration. Sencore is combining the best technologies of both companies to support their residential and commercial AV customers.
SpectraCal hopes that the move results in the entire display calibration community benefiting from this combination of the two companies' strengths.
ColorPro by CalMAN software offers a lot of versatility in configuring a display calibration system that meets or exceeds all application and performance requirements. The software provides interface control of all industry leading luminance/color meters (X-Rite, Klein, Photo Research and of course the Sencore re-branded meters) and test pattern sources. Combined with the Sencore VideoPro series generators, the ColorPro by CalMAN software's unique workflow and guided wizards provide unparalleled display calibration ease and accuracy.
The new ColorPro by CalMAN software uniquely manages system components and calibration workflow processes for optimum meter measurement accuracy and stability while minimizing the chance of user errors. The software offers users the ability to customize workflow processes, measurement graphs, and customer reports. ColorPro by CalMAN software solutions will provide luminance/color measurement solutions to manufacturers, broadcast/production facilities, government installations, commercial integrators and professional calibrators.
The new product is available for immediate ordering and will begin shipping in June 2009. ColorPro by CalMAN will also be bundled with several Sencore hardware packages. Pricing starts at $2,495.