Samsung Meets Thomas Kinkade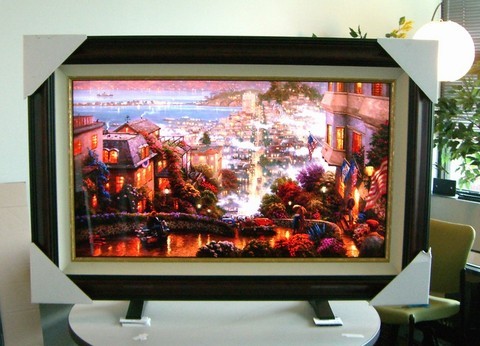 The Thomas Kinkade Samsung LCD
Even traditional artists are getting into the HDTV craze. Samsung announced today that it has collaborated with The Thomas Kinkade Company to develop an LCD TV that would be able to shift between artwork and TV programming at a moment's notice.
The eventual concept would enable the distribution of additional Thomas Kinkade artwork, and possibly accompanying audio, via wired or wireless 802.11b/g/n Internet. The audio track could included an overview of an art style or period or a biopic about the artist or the work itself. There is also talk of eventually featuring a customizable integrated touch screen to allow the purchaser to modify overall image lighting or subtly enhance specific colors within the Thomas Kinkade Company's guidelines to take maximum advantage of the lighting in the home or office where it has been installed. The Thomas Kinkade Company's distribution network would format images so that they displayed correctly on a 16:9 screen.
Honestly, I think pressing a Blu-ray or DVD disc of the artwork would be MUCH more practical for most... but hey, we're just throwing that out.

Initially the display will only be available through Thomas Kinkade Signature Galleries, due to appear in the gallery shop later this year.  More broad distribution will occur in the second half of 2009.  No pricing has been revealed, either for the Digital Masterworks Art-TV itself or ongoing costs for imagery.

The Digital Masterworks Art-TV, a prototype of which was displayed to news media today, is housed in a Thomas Kinkade frame designed to accentuate the fine art theme.
As conceived, the 46-inch diagonal Art-TV would allow viewers to switch between any number of digitally re-mastered pre-loaded Thomas Kinkade paintings or original 16x9 art digitally created by Thomas Kinkade specifically for the new medium.
"From the outset, we're going to deliver a truly superior digital viewing experience, that's a quantum leap beyond the staid world of screen savers, an easy-to-enhance electronic gallery befitting the tradition of artistic excellence that has been a hallmark of Thomas Kinkade art," said Todd Stewardson, Vice President, Thomas Kinkade Company. "We will later modify our planned system to permit consumers to be able to see the brush strokes, shading and texture of the canvas in a rendering comparable to the finest artistic reproductions," he added.
Hidden touch controls then also would permit viewers to electronically flip through their favorite Thomas Kinkade selections, showing one, two, four or all of the selected paintings at once. Users would also be able to zoom in and out of portions of any painting.
What hasn't been discussed is the most obvious fault of the system: it would presumably have to be on 24/7. If you're into energy conservation that would rule out this product, and your flat panel is going to hit its 40,000 - 60,000 hour mark a lot more quickly (4 - 7 years) with that type of use.

The Digital Masterworks system prototype, developed to prove out the market viability of the concept, features a 1080p resolution, 40 gigabyte (GB) hard drive, 500-nit brightness level and 3000:1 contrast ratio, with an eight millisecond response time.

Plans are for the new system to be first available late this year, through any Thomas Kinkade Signature Gallery worldwide. Sometime in the second half of 2009, the Thomas Kinkade Company may also make it available through a select group of leading retailers.