Rush Adds Moving Pictures to Rock Band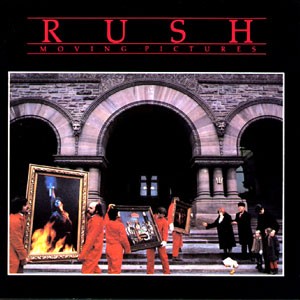 Moving Pictures comes to Rock Band!
I don't know about you but I've been fence-sitting as to whether I'd grab Rock Band 2 this September when it releases, or hold out for the next iteration of Guitar Hero (IV). But when Harmonix and MTV Games announced that the fourth complete album to the Rock Band Music Store catalog would be Moving Pictures by Rush - the decision was sealed in stone. Available August 26, Rush's biggest selling album, Moving Pictures, will be added to the Rock Band DLC catalog giving rock fans the opportunity to build a complete set list to take on their virtual world tour.

Moving Pictures joins the five other Rush tracks in the catalog including the recent release of the Rush Masters Vault selections which includes exclusive Rock Band versions of "Closer To The Heart" and "Working Man (Vault Edition)" and cover versions of "Tom Sawyer," "Limelight" and "Working Man." Moving Pictures, Rush's eighth studio album, released in 1981 has sold more than five million copies. One of the most successful yet "dissed" rock bands in music history, Canada's Rush has sold more than 40 million albums worldwide and continue to sell out arenas across the globe.

Moving Pictures will be available for $10.99 (880 Microsoft Points) for the album, or $1.99 (160 Microsoft Points) per track, including the following master tracks:

Tom Sawyer
Red Barchetta
YYZ
Limelight
The Camera Eye
Witch Hunt
Vital Signs
Moving Pictures joins the influential Pixies album, Doolittle, Judas Priest's Screaming For Vengeance and The Cars' The Cars as the fourth full-album DLC release available at the Rock Band Music Store. With the addition of these albums there are now more than 200 tracks available to date via disc and download purchase (complete list of tracks at http://www.rockband.com/dlc). Rock Band has scored over 18 million downloads since its launch on November 20, 2007 and seems to be almost single-handedly ushering music purchases into the 21st century. For those of you living in a box, the Rock Band Music Store allows players to preview and purchase downloadable individual music tracks and packs without ever leaving the game. This allows each gamer to build their own custom Rock Band library.

Rock Band's downloadable content is playable and integrated into setlists in all game modes including: Solo Tour, Band World Tour, head-to-head competition either locally or online, and from any Quickplay mode. In order to play downloadable content for head-to-head matches or multiplayer online, all players must own the same downloadable track. New tracks download directly to your Xbox 360 or PS3 storage device.

On June 30, Harmonix, the world's premier music video game company in the world, and MTV Games, announced the release of Rock Band 2 this coming September and will support all previously downloaded content. Rock Band 2 will make its debut on Xbox 360 and be available for additional platforms later this year.

Rock Band is rated "T" for Teen (lyrics, mild suggestive themes) by the ESRB. For more information on Rock Band and Harmonix Music Systems please visit www.rockband.com and www.harmonixmusic.com .

Doug917 posts on August 25, 2008 08:42
I love Rush and this album…the thing I don't like is the fact that Tom Sawyer and Limelight are already available in the game and they expect people to double-dip. They need to come up with something to solve the issue of buying an album cheaper when you already have some songs that comprise the album.

I understand some of the previous versions of songs on the album are covers…but does this even matter when you take or hand someone the mic anyhow? I don't think so.
ned posts on August 22, 2008 16:59
I'm either too young or old. I don't recognize any of these artists.
hillbill posts on August 22, 2008 13:17
Hmm, that album's pretty good I guess.
darien87 posts on August 22, 2008 11:48
STRONGBADF1 posts on August 22, 2008 11:35
Do you have to buy 3 or 4 "rock band drum sets" and link them to play the drum parts???

SBF1
Post Reply