RSL Speakers Speedwoofer 12S Subwoofer Giveaway!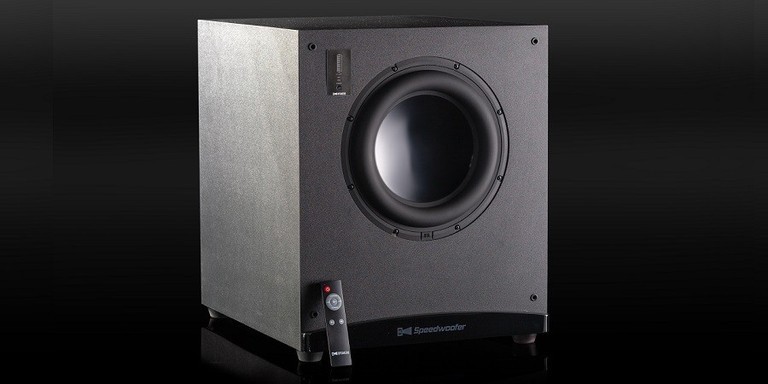 RSL Speedwoofer 12S Subwoofer Giveaway!
"We Review it, You WIN it!" Audioholics Contest is back and sponsored by our good friends at RSL Speakers!
"We Review it, You WIN It!" is the only Audioholics Contest that sends one winner the review model. Tested and approved for full serviceability, the winner will receive the very unit that played a starring role in an Audioholics review. The otherwise brand new unit is resting in its original box, but already put through the paces in our rigorous testing. Welcome to the RSL Speedwoofer 12S Sub Giveaway!
Note: Since this was our review unit, some slight cosmetic blemishes are to be expected, but the unit is 100% fully functional and tested.
Our giveaway this summer is from an audio company that needs no introduction on Audioholics. RSL Speakers has made a name for itself with high-end loudspeakers at surprisingly reasonable prices, you'll find something in its lineup for everyone at any budget. Last year's Speedwoofer 10S MKII sub impressed Audioholics reviewer, James Larson so much that it was awarded the 2022 Product of the Year Award in the budget sub category. This year, RSL has followed up with a bigger and badder sub that reaches down to even lower frequencies. The 12S Speedwoofer brings potent, musical bass from 16-Hz to 200-Hz at +\-3dB with 500 watts RMS < 1% THD and 1550-watt peaks. Our testing confirmed the 12S has class leading 16Hz output in its category.

How the Audioholics Contest Works
As usual with Audioholics sweepstakes-style contests, entry to this random draw is FREE! But now you can optionally improve your chances to win by engaging with Audioholics across the Internet and earn even more chances by sharing the contest with friends through our sign-up form (below). Only your email address and name are required for initial registration. By registering for the sweepstakes you agree to receive awesome newsletters from Audioholics and this contest's sponsor, RSL Speakers. But register soon because by midnight Friday, August 3rd the sweepstakes entry form will be closed and ONE lucky winner will be picked and contacted via email in the following week! See the Audioholics Contest Rules Terms and Regulations sticky on the Contest Forum for all the details.
IMPORTANT NOTE: Audioholics Contests are always FREE, from registration to shipping of the prize. Nobody from Audioholics will attempt to contact any registrant until after registration has closed and at no time will you be required to pay a fee regarding this contest. So, watch your spam filters in case we attempt to contact YOU!
RSL Speedwoofer 12S Subwoofer

The Speedwoofer 12S is RSL's latest powered sub and an evolutionary step forward in the company's Speedwoofer line. The 12S is more than just a larger Speedwoofer 10S that delivers bigger, deeper bass than its 10-inch counterparts. Speedwoofer 12S is named for its 12-inch driver powered by a 500-Watt RMS XDR-Series class-D amplifier capable of delivering 1500-Watt peaks when the soundtrack gets demanding. Like previous Speedwoofers, the sub employs RSL's patented Compression Guide Technology, a porting system that enables greater transient response than other ported subs. The driver/transducer is also built to the usual high standards of RSL's Speedwoofer line with a cast aluminum basket and Kevlar-reinforced paper cone driven by double-stacked magnets in its FEA-optimized motor.
RSL Speedwoofer 12S Livestream Event - Product Details Revealed!
12S Speedwoofer Evolution
Besides presenting a larger box-size, there are some improvements in the 12S Speedwoofer design outside of adding a couple of inches to the driver size over the 10S. RSL has tuned the 12S frequency response to go significantly deeper with even lower bass extension than 10S. According to Jame's testing, documented in his Speedwoofer 12S review on Audioholics the new sub is capable of...

...plunging down to a subsonic 16Hz within a +/-3dB window. The driver uses two mirrored spiders whereas the 10S only used one spider. The advantage of this is that the moving assembly of the driver will be much more restricted to a single plane of motion, and this will help to reduce distortion and also protect the voice coil former from hitting the interior sides of the motor. By mirroring the spiders, any non-linearities on one side of the spider's travel are negated by an inverse motion, and this design should help to reduce even-order harmonic distortion products. The amplifier of the 12S uses a new heatsink technology for greater thermal efficiency and capacity. There is also a front-mounted LED meter that can show levels for volume as well as display muting or DSP modes. This is useful because the 12S comes with a remote control, so the user can see what adjustments are being made on the sub itself. These are just a few aspects that should make the Speedwoofer 12S a qualitative improvement over the Speedwoofer 10S as well as a quantitative one.
One thing you can count on with the Speedwoofer line is that RSL does NOT shirk the provision of a remote control, couch potatoes everywhere rejoice! It's a simple remote that lets you intuitively set volume and the Speedwoofer amplifier's sophisticated DSP settings. Honestly, playing with DSP settings on a sub can bring hours of fun with sighted A/B bass-response comparisons using your favorite movie scenes or songs. And RSL's XDR-amp has all the subwoofer DSPs you'd need. What follows are just some of the Speedwoofer 12S specifications. See RSL's product page for the full rundown.
Speedwoofer 12S DSP Settings:

REFERENCE: Minimal EQ processing, "natural" response for ideal transient performance
MOVIE: Enhanced output between 25-35Hz to augment low frequency content at low levels
MUSIC: Shelved response for extension, but with good upper bass impact
BOUNDARY: "Neighbor friendly"…Reduced lower frequencies to limit rumble through walls
XDR Series Amplifier:
IR Remote Control (Power Toggle, Volume +-, Mute, DSP Mode direct select (Reference, Music, Movies, Boundary)
External 3.5mm IR input for wiring external IR sensor (eye)
500 watts RMS < 1% THD
1550 watts peak
Patent Pending HSS™ Heat Sink/Shield Technology for greater thermal efficiency and capacity
DSP Modes – Reference, Music, Movies, Boundary (Rear LED indicator matches front display)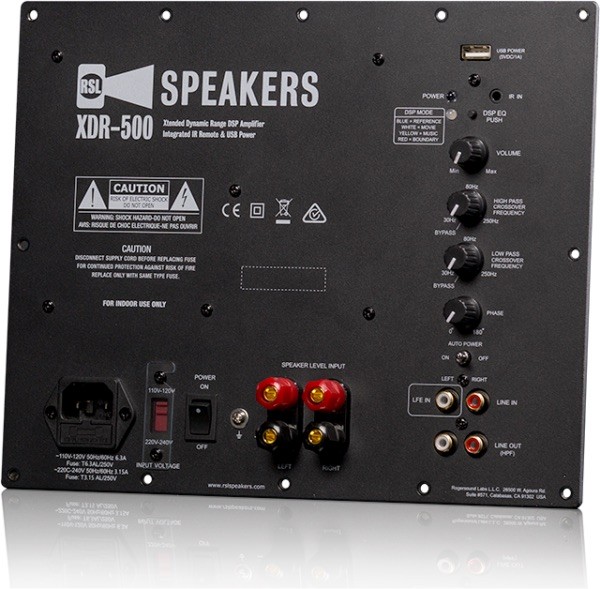 RSL Speedwoofer 12S Back with Amplifier Plate
Woofer:
12" 500+ watt rated woofer
4 ohm nominal Impedance
Proprietary RSL Die-cast aluminum frame with dual spider integration
Klippel optimized linear magnet motor and matched suspension
High-Excursion FEA optimized design motor structure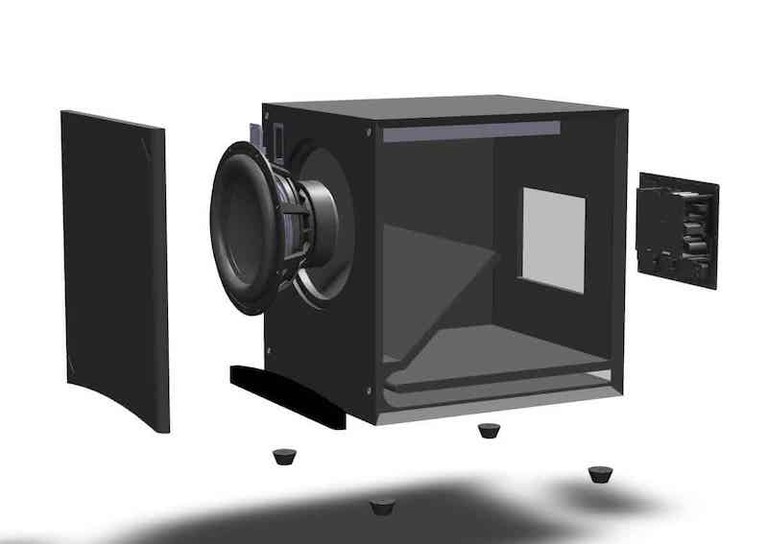 Speedwoofer 12S Exploded Box Diagram
More Details About RSL Speedwoofer 12S Direct From the Source

► Read James Larson's Full Review of the Prize: RSL Speedwoofer 12S

► Get Complete Product Details at RSL: RSL Speedwoofer 12S Subwoofer

Audioholics Contest Notes:

Please Read Before Entering: Contest Rules, Terms and Regulations
Entry must be received BEFORE 08/03/23 at 11:59 PM EDT
By registering for the contest, you are agreeing to receive both the Audioholics and RSL Speakers email newsletters. Entries Limited to the Contiguous 48 States Only.

To enter the Giveaway, simply:
1. Register with name/email to receive the Audioholics and RSL Speakers email newsletters, earn optional points with additional engagement and recommendations.
2. Respond using that same address if you are contacted as the winner.
Note: You will ONLY be contacted from an authentic Audioholics email address AFTER the contest ends, you may be contacted for verification of having entered an Audioholics Contest.
IMPORTANT NOTE:
Prize sent through Aug 2023.
CONTEST RULES OVERVIEW: Please go our Contest Rules sticky-post in the Audioholics Forum for the complete rules. To enter, simply provide email address and follow confirmation to sign up for the Audioholics and RSL Speakers newsletters. Read the complete Contest Rules, Terms and Regulations before entering. One new subscriber who joins between now to 08/03/23 will be chosen at random as the system winner. Only one entry is accepted for the contest. The system will know if you already entered and will prevent you from multiple entries. * Don't wait, the entry period ends Aug 03, 2023 at 11:59 PM EDT! Entries Limited to the Contiguous 48 States Only.
Thank You for Entering Another
"We Review it, You WIN It"

Audioholics Contest!

Special Thanks to RSL Speakers for Sponsoring This Contest

Good luck in the contest! Have a safe and happy summer.

KEEP LISTENING!