Regal Cinema Allows Users to Tattle on the Unruly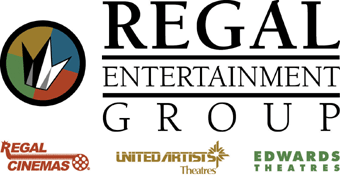 Regal Cinemas
Regal Entertainment Group today announced 114 locations are now utilizing the "Regal Guest Response System" (RGRS). With RGRS, select moviegoers can utilize an in-theater paging device to alert management of any disturbances in a theater. The idea is to enable Regal's managers to react more quickly to disturbances and issues that would detract from a movie-going experience.
"Our initial test of the Regal Guest Response System was a success, and we are happy to offer this service to more of our moviegoers. The Guest Response System works in combination with regular auditorium checks by our staff to assist managers in providing superior customer service," stated Dick Westerling, Regal Entertainment Group Senior Vice President of Marketing and Advertising. "We work hard to ensure the best possible moviegoing experience in our theatres, so if a guest has a concern, we want to know about it. With the Guest Response System patrons can be our extra eyes and ears to alert us if there is a disturbance without having to miss part of the show."
Right now Regal allows only one select patron to carry a device into a theater per show time. The Guest Response device is a hand-held pager with four buttons. Each button alerts local management of a different problem such as: sound, picture, piracy or other disturbance (we were hoping for a "Hey this popcorn is way overpriced" button, but that doesn't look to be in the cards.) When the patron pushes a button, a message goes to a pager worn by a manager which tells them the nature of the concern, and in which auditorium. From what I've seen they had better be careful which theaters ultimately get this technology. It is NOT uncommon for most theaters to have some sort of audio or video problem with almost every showing. If I had one, chances are they would have my photo on some wall banning me from ever using the device again...

Those patrons assisting in the Guest Response System are also members of the Regal Crown Club loyalty program. Through the Regal Crown Club, moviegoers accumulate credits at the box office and concession stand to earn free popcorn, soft drinks and movies. For their participation in the Guest Response System, Regal Crown Club members receive extra credits toward earning rewards. Regal Crown Club membership is free and is available either at REG theaters or online.
The Guest Response System was initially tested in 13 Regal Entertainment Group theaters. After receiving positive feedback from both managers and guests, Regal now offers RGRS in 114 locations. Regal will continue to roll out the Guest Response System as the program is further developed.
The Regal Guest Response System is available at theaters in these markets:
Albany, NY
CROSSGATES STADIUM 18
Amarillo, TX
AMARILLO STAR STADIUM 14
Atlanta, GA
ATLANTIC STATION STADIUM 16
HOLLYWOOD STADIUM 24 @ NORTH I-85
MALL OF GEORGIA STADIUM 20 + IMAX
Augusta, GA
AUGUSTA EXCHANGE STADIUM 20
Austin, TX
METROPOLITAN STADIUM 14
Baltimore, MD
HUNT VALLEY STADIUM 12
Baton Rouge, LA
CITIPLACE STADIUM 11
Bend, OR
OLD MILL STADIUM 16
Boise, ID
BOISE STADIUM 21 + IMAX
Buffalo, NY
ELMWOOD CENTER STADIUM 16
Charleston, SC.
CHARLES TOWNE SQUARE STADIUM 18
Charlotte, NC
STONECREST AT PIPER GLEN STADIUM 22
Cleveland, OH
MIDDLEBURG TOWN SQUARE STADIUM 16
SEVERANCE TOWN CENTER STADIUM 14
Dallas, TX
KEYSTONE PARK STADIUM 16
Dayton, OH
FAIRFIELD COMMONS STADIUM 20
Denver, CO
COLORADO CENTER STADIUM 9
DENVER PAVILIONS STADIUM 15
MEADOWS STADIUM 12
Denver, CO
COLORADO MILLS STADIUM 16
Fairbanks, AK
GOLDSTREAM STADIUM 16
Fresno, CA
FRESNO STADIUM 21 + IMAX
Ft Myers, FL
BELLTOWER STADIUM 20
HOLLYWOOD STADIUM 20 - NAPLES
Greenville, SC
HOLLYWOOD STADIUM 20
Harrisburg, PA
MANOR STADIUM 16
Hartford, CT
BRASS MILL STADIUM 12
Honolulu, HI
DOLE CANNERY STADIUM 18
Houston, TX
HOUSTON MARQ*E STADIUM 23 + IMAX
Jackson, MS
NORTH PARK STADIUM 14
PARKWAY PLACE STADIUM 10
Knoxville, TN
PINNACLE STADIUM 18
Las Vegas,NV
RED ROCK STADIUM 16
BOULDER STATION STADIUM 11
SUNSET STATION STADIUM 13
VILLAGE SQUARE STADIUM 18
Lexington, KY
HAMBURG PAVILION STADIUM 16
Los Angeles, CA
ONTARIO PALACE STADIUM 22 + IMAX
SOUTH GATE STADIUM 20
IRVINE SPECTRUM STADIUM 20 + IMAX
LONG BEACH STADIUM 26
AVENUES STADIUM 13
CAMARILLO PALACE 12
VALENCIA STADIUM 12
Los Angeles, CA
PARKWAY PLAZA STADIUM 18
TEMECULA STADIUM 15
ANAHEIM HILLS 14
Miami, FL
KENDALL VILLAGE STADIUM 16
MAGNOLIA PLACE STADIUM 16
SAWGRASS STADIUM 23
SOUTH BEACH STADIUM 18
Minneapolis, MN
BROOKLYN CENTER STADIUM 20
Nashville, TN
HOLLYWOOD STADIUM 27
GREEN HILLS STADIUM 16
OPRY MILLS STADIUM 20 + IMAX
New York City, NY
BATTERY PARK STADIUM 11
SHEEPSHEAD BAY STADIUM 14
STATEN ISLAND STADIUM 16
COURT STREET STADIUM 12
KAUFMAN ASTORIA STADIUM 14
COMMERCE CENTER STADIUM 18
NEW ROC CITY STADIUM 18 + IMAX
Norfolk, VA
MACARTHUR CENTER STADIUM 18
Orlando, FL
THE LOOP STADIUM 16
OVIEDO MARKETPLACE STADIUM 22
WINTER PARK VILLAGE STADIUM 20
WATERFORD LAKES STADIUM 20
Philadelphia, PA
BRANDYWINE TOWN CENTER STADIUM 16
DOWNINGTON STADIUM 16
HAMILTON COMMONS STADIUM 14
PEOPLES PLAZA CINEMA STADIUM 17
PLYMOUTH MEETING 10
RIVERVIEW PLAZA STADIUM 17
Portland, OR
CASCADE STADIUM 16
BRIDGEPORT VILLAGE STADIUM 18 + IMAX
LLOYD CENTER 10
LLOYD MALL 8
DIVISION STREET STADIUM 13
Raleigh, NC
BRIER CREEK STADIUM 14
NORTH HILLS STADIUM 14
Richmond, VA
VIRGINIA CENTER STADIUM 20
SHORTPUMP STADIUM 14
Sacramento, CA
NATOMAS MARKETPLACE STADIUM 16
EL DORADO HILLS STADIUM 14
MODESTO STADIUM 10
San Antonio, TX
NORTHWOODS STADIUM 14
CIELO VISTA STADIUM 18
LIVE OAK STADIUM 18
ALAMO QUARRY STADIUM 16
San Diego, CA
MIRA MESA STADIUM 18 + IMAX
San Francisco, CA
DEER VALLEY STADIUM 16
HACIENDA CROSSINGS STADIUM 20 + IMAX
EMERY BAY STADIUM 10
JACK LONDON STADIUM 9
Seattle, WA
EVERETT MALL STADIUM 16
PARKWAY PLAZA STADIUM 12
AUBURN STADIUM 17
LAKEWOOD STADIUM 15
MARTIN VILLAGE STADIUM 16
MERIDIAN STADIUM 16
Shreveport, LA
LOUISIANA BOARDWALK STADIUM 14
St Louis, MO
ST LOUIS MILLS STADIUM 18
Tampa, FL
HOLLYWOOD STADIUM 20 - SARASOTA
CITRUS PARK STADIUM 20
Washington, D.C
GALLERY PLACE STADIUM 14
BALLSTON COMMON STADIUM 12
FREDERICKSBURG 15
POTOMAC YARD STADIUM 16
ROCKVILLE CENTER STADIUM 13
BOWIE STADIUM 14
WESTVIEW STADIUM 16
West Palm Beach, FL
ROYAL PALM BEACH STADIUM 18