Sorry About the Naked Mutant Baby, Kids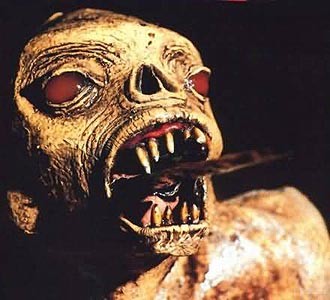 We've all been there... gathering the family for a nice movie outing. It's easy, right? Just get everyone dressed, stack them in the car, buckle everyone in, secure the financing for the tickets, popcorn and soda, and begin the journey to the theater. Unload the car and kids - make you way to the box office line, purchase the actual tickets and get past the pimply gestapo at the front checking to see if you've smuggled any contraband... Stand in line at the concession stand, break up a fight between the siblings (is this the third or fourth time I've had to threaten we'd leave?) Finally you make your way into the theater with your family and cozy up into the stiff-backed chairs - being careful to step cleanly so that the gum and old soda only gets on the bottoms of your shoes. Finally... peace.

The previews start... It is at this point that you're slightly concerned about whether you've entered the wrong theater... B-rated previews of slasher films just don't seem to go with "The Last Mimzy" - a movie about two siblings who begin to develop special talents after they find a mysterious box of toys. Still, you pull out your ticket and as the explosion on the screen clears, you're able to read that yes indeed you are in the correct theater. Must be a strange movie industry decision to cross promote other formats - who knows.

But it's the opening scene of a chained naked woman giving birth to a mutant creature that gives it away. Yes, the movie theater has mistakenly played The Hills Have Eyes 2 instead of your PG, family-friendly movie.

Sound funny? It happened this week according to a report by Action 2 News in Atlanta.

A National Amusements theater chain is apologizing to parents and children who were shocked by a movie mix-up on Long Island. The moviegoers were expecting to see the PG rated movie "The Last Mimzy" at the Island 16 multiplex in Holtsville on Thursday. Instead, they saw the opening scene of the R-rated film "The Hills Have Eyes 2." Some 50 people - including parents with young children - began screaming and ran out.

Fortunately the projectionist eventually stopped the movie, and the theater gave out free ticket vouchers to patrons who were upset. They eventually re-started "The Last Mimzy" about a half-hour late.
Now THAT'S something you certainly can't get in a home theater! Maybe that's the angle theater chains need to take to revitalize the industry. With movie window release times shrinking and home theaters getting bigger and bigger, perhaps a bit of excitement is what moviegoers now need. Perhaps they can offer a discounted "randomizer" ticket that will play any of 6 random movies in a theater. People like to gamble - why not with what they will see on the big screen?
I can see it now - theaters will never be the same!

Recent Forum Posts:
j_garcia posts on April 09, 2007 16:08
That IS funny. Never had it happen on the HT, but have had virus related porn pop up at inopportune moments on the PC… Now have a firewall.
avaserfi posts on April 09, 2007 15:46
j_garcia, post: 261881
So it was the projectionist who made the mistake?
From the article I read on Google news they made it sound like that.
Wescott - that may have been embarrassing for you but a great story. Almost got in trouble from laughing so hard at work. good times.
westcott posts on April 09, 2007 15:35
Now THAT'S something you certainly can't get in a home theater!


Well, I beg to differ. I was starting up my system with a teacher and a student from a nearby elementry school in the house conducting a science fair project (he took first place at state, by the way) in my living room. I had forgotten an XXX rated DVD was in the player and it started up as they were in the other room. No video but the audio was a dead give away. The teacher recognized the sounds but the student was fortunately oblivious.

I was really embarrassed and still am, but it can happen even in the seclusion of you own home theater!

If you want to bring your family over and fork over all the money you spent for your outing, I promise to give free admission if it happens again!
j_garcia posts on April 09, 2007 15:03
So it was the projectionist who made the mistake?
stratman posts on April 09, 2007 14:27
All things considered, why would someone spend an outrageous amount of money (especially if they have kids) to sit in a gum and soda infested (roaches?) auditorium when they can stay home and put to good use their HT? I say bring the wives along with the kids more often to the "movie" experience (let them pick up the tab a couple of times, for the shock value) and you'll see dedicated home theaters begin to sprout all over the country, it'll be a bonanza for this hobby of ours.
Post Reply