PlayStation 3 Movie Downloads Announced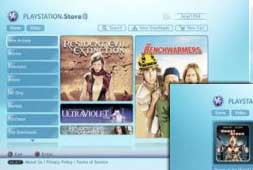 Soon your options for movie viewing won't be limited to media-streaming, Blu-ray and extended cut-scenes in your favorite games. President of Sony Computer Entertainment Kaz Hirai announced that a movie download service will hit PlayStation 3 this summer. 
The movie download service is part of what Hirai is calling an overall strengthening of the PlayStation Network to make it profitable. His goal is to squeeze profit from the free gaming network by 2009. The Chief PlayStation exec adds that you can expect more from its network as it evolves. The online gaming service is free to PlayStation owners so it's presenting Sony a challenge to make it profitable. Movie downloads are one way to offset cost. 
The Sony Computer Entertainment Chief revealed that PlayStation Network boasts 9.8 million accounts and a 45% PlayStation Network registration rate. In a Business Review presentation Hirai painted a rosy picture. It claims over 37 million PSP and over 12 million PS3 units sold for a total of over 50 million combined sales. We're pretty sure that should have been over 49 million – but who's counting?
Details about the PlayStation Network download service are sketchy. Hirai only made a limited announcement in Tokyo on June 26 in very early morning over here in the West. He says the movie service will be launched sometime this summer first to the US market followed closely by Europe and Japan. Hirai promises more conclusive details will be divulged at the end of this month.
See also:
Recent Forum Posts:
j_garcia posts on June 27, 2008 14:04
That's why I have an external drive I am going to upgrade my internal HDD also because I have a 60 and mine is almost full now. That is why I asked the question on the original thread (general discussions by Glocks) what the quality would be, because the better the quality, the larger the download. If it is SD DVD quality, then we're talking a few GB of data at least, and also relatively long download times.
MinusTheBear posts on June 26, 2008 21:41
Who's going to have room for movies on their hard drive when their is manditory install for their games now. I would not have a problem with the manditory install but the majority of ps3 owners have 40gb hard drives. To take full advantage of the ps3 capabilities of multi media and gaming, users will have to upgrade to a external or bigger hardrive.
Post Reply