Sony Announces dts-HD Support for the PS3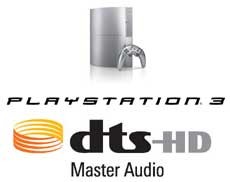 The PS3 Now has dts-HD
Sony today announced that the next system software update for the PS3 system, slated for release next week, will add DTS-HD Master Audio and DTS-HD High Resolution Audio support, enabling consumers to enjoy Blu-ray movies with studio-quality, high-definition audio. In addition to the new audio capabilities, the free system software update (v. 2.30) will allow PS3 owners to access the revamped Playstation Store, as previously announced. As part of the revamp, the new store will transition from an integrated online storefront to an application living natively on the PS3, enabling customers to more easily and quickly locate and purchase games, and download demos, game videos, Blu-ray movie trailers and other game-related content for PS3.
DTS-HD Master Audio has the capacity to deliver audio at a variable rate of 24.5 Mbps (megabits per second) on Blu-ray disc, a rate significantly higher than standard DVDs. DTS-HD Master Audio also offers 7.1 audio channels at 96kHz/24-bit. Currently, more than 100 Blu-ray movies and concert videos feature DTS-HD Master Audio soundtracks - so this is a huge announcement for Sony.
There is something to be said for the nearly future-proof PS3 as it continues to evolve as a gaming and home entertainment system. SO far it has really kept up with the newest technology innovations without requiring further investment from consumers. Try that on your first or even second generation Blu-ray players... For additional details and instructions on how to update the PS3 system software, please visit http://www.us.playstation.com.