Sony Announces dts-HD Support for the PS3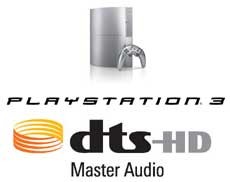 The PS3 Now has dts-HD
Sony today announced that the next system software update for the PS3 system, slated for release next week, will add DTS-HD Master Audio and DTS-HD High Resolution Audio support, enabling consumers to enjoy Blu-ray movies with studio-quality, high-definition audio. In addition to the new audio capabilities, the free system software update (v. 2.30) will allow PS3 owners to access the revamped Playstation Store, as previously announced. As part of the revamp, the new store will transition from an integrated online storefront to an application living natively on the PS3, enabling customers to more easily and quickly locate and purchase games, and download demos, game videos, Blu-ray movie trailers and other game-related content for PS3.
DTS-HD Master Audio has the capacity to deliver audio at a variable rate of 24.5 Mbps (megabits per second) on Blu-ray disc, a rate significantly higher than standard DVDs. DTS-HD Master Audio also offers 7.1 audio channels at 96kHz/24-bit. Currently, more than 100 Blu-ray movies and concert videos feature DTS-HD Master Audio soundtracks - so this is a huge announcement for Sony.
There is something to be said for the nearly future-proof PS3 as it continues to evolve as a gaming and home entertainment system. SO far it has really kept up with the newest technology innovations without requiring further investment from consumers. Try that on your first or even second generation Blu-ray players... For additional details and instructions on how to update the PS3 system software, please visit http://www.us.playstation.com.
Vagrant Pistol posts on April 18, 2008 23:55
Finally!!!!!
Jack Hammer posts on April 16, 2008 11:41
Copied from Sony's website:

Blu-ray Disc playback now supports DTS-HD Master Audio™ and DTS-HD High Resolution Audio™ output.*
* The PS3™ system does not support playback of DTS-ES and DTS 96/24 for DVD-Video or DTS-ES Matrix for Blu-ray Discs.

Jack
Longbow64 posts on April 16, 2008 09:39
This is what I found on the Playstation forums:

"I'm having the same exact issue. In fact, it's an issue with all New Line Cinema titles when played on the PS3. The PS3 shows DTS-HD MA and the Receiver (mine's an ONKYO 805) shows 5.1 PCM. But if you'll notice when the opening screen for the films comes up (The New Line Home Entertainment Animation) that is in 7.1. This is the explanation I found on AVS forum.

Quote:

"It's not a New Line Issue…


This is a Sony issue… they haven't properly implimented the decoder…

I have spoken to DTS and New Line about why this happens on certain pieces of hardware.

DTS-HD/MA has 7 supported channel configs… the only two 7.1 configs being used right now are 7.1 with side surrounds at 90 degrees and back surrounds at 150 degrees, and 7.1 with rear surrounds at 120 degrees and back surrounds at 150 degrees…

The NL titles use the later for logos, and the former for features.


The decoder should simply pass the side or rear surrounds out the same outputs, regardless of where they are physically placed.. this is certainly a decoder issue, and should've been caught during QC.. it might've been, and should be easily correctable."

End Quote.



That's what I was told. The guy showed some diagrams from New Line to illustrate the problem, but you get what he's saying. This is a PS3 issue that Sony will have to fix. I just can't believe they didn't catch this earlier. We've been asking for this update for a long time and when we finally get it. It doesn't work right. BTW Star Gate uses 6.1 DTS HD HR and that worked perfectly so it has to be a decoder issue for New Line's 7.1 configuration."

What I did find was that with DTS-HD MA in 5.1, if you set the PS3 to Linear PCM it plays just fine, but DTS-HD MA is not displayed on the receiver because it's already been decoded and is being sent as PCM, so "Multichannel" is displayed instead. The bit rate's not as high as I expected, but is the highest I've seen (7.0 Mbps)
Longbow64 posts on April 16, 2008 05:18
I have all of the audio options selected
Gaigebacca posts on April 15, 2008 21:26
7.1

Are you sure you have 7.1 LPCM enabled under all of your audio settings? You may want to check that.
Post Reply