Philips Cinema 21:9 LCD HDTV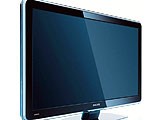 Widescreen HDTV is going to get a little wider from Philips this year. The Cinema 21:9 is an upcoming 56-inch LCD HDTV that'll use the 21:9 (2.33:1 for those who don't work at Philips) aspect ratio of a movie theater. The set will also feature Philips Ambilight background lighting feature.
The new ultra-wide screen reminds me a bit of razor blade manufacturers that try to one-up each other by adding one more blade than the competition for an even closer shave. Or is it more like the the 7-minute Abs Workout video that becomes obsolete the day the 6-minute Abs video is released?
You thought you had a wide-screen HDTV?
The popular 16:9 widescreen aspect ratio is the new standard that's been adopted by television. But few movies are exactly 16:9. Sure, 16:9 is a sufficient happy medium with minimal correction from those black-bars everyone hates.
But now that Philips has released an even wider screen you'll see vertical bars on the sides of your set every time you watch network television. Or you'll be treated to distortion in the picture due to aspect ratio correction as images are stretched into the shape of your screen.
There is always the outside chance that the format will catch on and you'll get a lot more commercial content in the new aspect ratio... perhaps in about 10 years.

There are no tech-specs available yet on the new set, except that it'll measure 56-inches diagonally. More info should arrive in late February. Philips Cinema 16:9 will be released in spring of 2009.
Recent Forum Posts:
mtrycrafts posts on January 29, 2009 00:17
deedubb, post: 515768
…and a lot of TV programs are still 4:3.
Or, 16:9 in digital. That leaves a lot of material off, or, sidebars
deedubb posts on January 28, 2009 13:41
GregS351, post: 515737
Does Blue Ray come in this format?
It depends on the movie. Many blu-ray as well as standard DVDs are 2.35:1 but there is no standardization, so some are 1.78, 1.85, 2.35, 2.4 as well as other aspect ratios.
I don't know how popular this TV will be since the HD standard is not 2.35 and a lot of TV programs are still 4:3.
GregS351 posts on January 28, 2009 12:12
Does Blue Ray come in this format?
septim posts on January 27, 2009 12:19
Seems like the people who care a lot about 2.35:1 already have a dedicated PJ and screen for that. I don't see this being very mass market although it is cool.
Post Reply