16:10 Aspect Ratio Goes Mainstream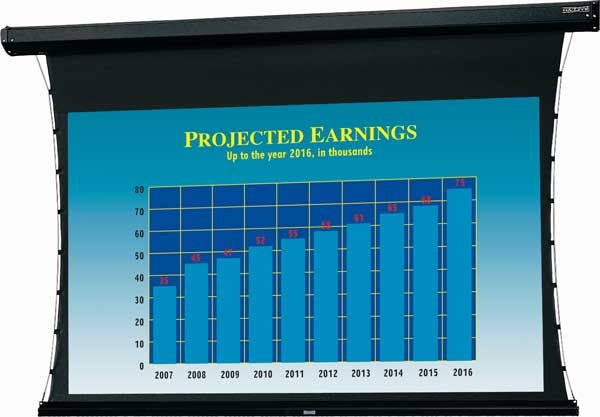 Da-Lite 16:10 Tensioned Cosmopolitan screen
The computer industry and the home theater industries have never really matched up well... Take, for examples, home theater PCs. Great concept - typically awful execution. Even the companies that claim to have very reliable products often fail to execute on there promised visions of seamless integration and ease of use within the home. Here at Audioholics we have yet to experience an HTPC system that has actually worked 100% out of the box and which didn't leave us wanting more when it came time to watch high definition television or discs... Another example of this "anti-synergy" come with the HDMI vs. DisplayPort drama working itself out in the CE world today. HDMI (unfortunately) seems to be the dominating force ruling the consumer electronics industry, while VESA's DisplayPort (at first glance a better format in nearly all aspects) seems to be the one the PC world is likely to embrace.
Fast forward to some observations this week of CE manufacturers like Da-Lite acquiescing to the emergence of 16:10 screen ratios on laptop PCs (think 1280x800 for example). They have actually come out with a new 16:10 Wide Format screens in most of their popular formats: Cosmopolitan, Tensioned Cosmopolitan, Advantage, Tensioned Advantage, Advantage Deluxe, Tensioned Advantage Deluxe, Cinema Contour, Da-Snap, Advantage Manual with Controlled Screen Return and Model C with Controlled Screen Return in sizes from 94" to 164" diagonal.
Does the world need another aspect ratio? No, but I will say one thing - if this helps, even the tiniest bit, in getting the PC world into a widescreen aspect ratio, then I can do with some minor scaling inconveniences. If you look across the landscape today of conference rooms, executive rooms and even churches, you're going to see a dominant force of 4:3 aspect ratios. I'd just as soon wipe out 4:3 altogether - it;s likely the ONLY way people are going to demand 16:9 programming in their homes.
Until this happens it's likely cable channels will go as long as possible in their current standard definition 4:3 aspect ratio formats. Without a wider demographic of widescreen-hungry consumers we're going to wait quite some time until 16:9 TV is the norm.
Here's hoping companies like Da-Lite can speed things up a bit...