OPPO Adds Dolby Vision Support to Ultra HD Blu-ray Players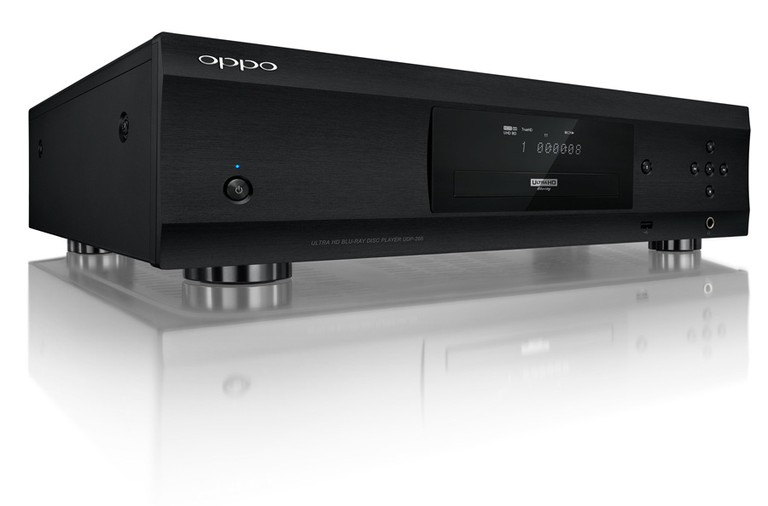 OPPO UDP-205 Ultra HD Blu-ray Dolby Vision
Powerful Cinema Technology Transforms Home Theater Viewing Experience
OPPO Digital announced that its UDP-203/UDP-205 4K Ultra HD Blu-ray Disc players can now receive a firmware upgrade that enables the Dolby Vision™ feature. Initially released in December 2016 and April 2017 respectively, the OPPO UDP-203 and UDP-205 have won numerous awards and have earned enthusiastic reviews from consumer and industry publications for their excellent picture quality. This new firmware makes the OPPO UDP-203 and UDP-205 the first Blu-ray Disc players to support Dolby Vision, elevating the players to a whole new level of video performance.
Leveraging the HDR innovation that powers Dolby's most advanced cinemas around the world, Dolby Vision transforms the home theater experience by delivering greater brightness and contrast, as well as a fuller palette of rich colors. Dolby's deep expertise in bringing advanced technologies from the cinema to the home has led to distinct features that enable Dolby Vision to deliver extraordinary viewing experiences to home consumers. Dolby Vision is the preferred HDR mastering workflow for major studios and a growing number of creative professionals, so consumers will have access to more of what they want to watch in HDR, including a robust portfolio of movies and episodic content. Dolby today delivers spectacular experiences in broadcast, gaming, music, and other genres, and this expertise serves as the foundation that will enable Dolby Vision to drive the future of entertainment tomorrow.
The OPPO UDP-203 and UDP-205 support the playback of 4K Ultra HD Blu-ray Discs as well as regular Blu-ray and DVD. Packing a resolution of up to 3840 x 2160 pixels, UHD Blu-ray delivers four times the pixels of regular Blu-ray. Prior to the Dolby Vision upgrade, the UDP-203/205 already supported HDR10 (High Dynamic Range) and Wide Color Gamut. With the addition of Dolby Vision, the players further transform the home theater experience by delivering striking highlights, brilliant colors, and deep darks never before seen on standard television screens.
"The addition of the OPPO Blu-ray player to the Dolby Vision ecosystem is a major milestone that will provide expanded choice and accessibility for consumers," said Roland Vlaicu, Vice President, Consumer Entertainment Group, Dolby Laboratories. "With Ultra HD Blu-ray, we are able to scale faster to meet the growing demand for Dolby Vision content globally."
"Delivering reference picture quality and a premium viewing experience has always been the core mission of OPPO's disc player products. We are thrilled to work with Dolby to incorporate Dolby Vision into our UHD disc players," said Jason Liao, CTO of OPPO Digital. "The home theater experience is even more lifelike and engaging with the astonishing brightness, contrast, and color provided by Dolby Vision."
The firmware upgrade that enables Dolby Vision is ready for installation on the OPPO UDP-203 and UDP-205 models. Customers who already have an Internet connection set up for their players can directly upgrade by answering the player's prompt on their TV screen, or from the player's setup menu. Customers who do not connect their players to the Internet can visit OPPO Digital's web site and download the firmware file or request a firmware CD.  The UDP-203 and UDP-205 are also available for purchase at OPPO Digital's web site and from OPPO's authorized retailers and custom installers.
About Dolby Vision
Dolby Vision transforms your TV experience with dramatic imaging - incredible brightness, contrast, and color that bring entertainment to life before your eyes via OTT online streaming, Ultra HD Blu-ray, broadcast, and gaming applications.
About OPPO Digital
Based in the heart of Silicon Valley, OPPO Digital designs and markets high quality digital electronics that deliver style, performance, innovation, and value to A/V enthusiasts and savvy consumers alike. The company's attention to core product performance and strong customer focus distinguishes it from traditional consumer-electronics brands.
*Dolby and the double-D symbol are registered trademarks of Dolby Laboratories. Dolby Vision is a trademark of Dolby Laboratories. Ultra HD Blu-ray is a trademark of Blu-ray Disc Association. Other registered trademarks and trademarks are the properties of their respective owners.